Player of the Year Eden Hazard can be 'best in world' - Shearer
Last updated on .From the section Football

MOTD2 pundit and double Professional Footballers' Association Player of the Year Alan Shearer explains why Chelsea forward Eden Hazard is a worthy winner of this year's award and says other accolades await him.
Team honours come first and wrapping up the league title with Chelsea will still be what matters most to Eden Hazard this season.
But being voted PFA Player of the Year will mean a lot to him too. He has been the Premier League's outstanding player over the whole campaign, and he deserves the individual recognition.
That is how I felt in 1995 when I won the title with Blackburn Rovers and was also Player of the Year for the first time.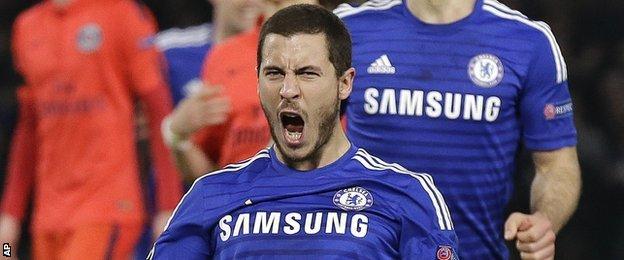 I felt the award reflected my performances and contribution towards my team's success that season, and it is the same with Hazard. I don't think anyone can argue that he is not a worthy winner.
The bad news for Chelsea's rivals is that at 24, Hazard is only going to get better.
In three or four years, I think we could be talking about the Belgian being the best player in the world - he has the potential to be that good.
'Hazard has been brilliant from start to finish'
When we are talking about who the best players in the Premier League have been this season then Hazard's Chelsea team-mate John Terry should have been on the PFA shortlist. It is ridiculous that he wasn't.
The six-man PFA shortlist
Diego Costa
(Chelsea),
Philippe Coutinho
(Liverpool),
David De Gea
(Man Utd),
Eden Hazard
(Chelsea),
Harry Kane
(Spurs),
Alexis Sanchez
(Arsenal)
But, of the players who were, Blues striker Diego Costa was brilliant for the first half of the season but has not sustained that form.
It was the same for Arsenal forward Alexis Sanchez, while Tottenham striker Harry Kane did it the other way round - he did not get his first Premier League goal until November then did not stop scoring for months.
Terry and Kane would both make my top three for 2014-15, but Hazard was a clear winner for me. He has performed brilliantly throughout the entire campaign.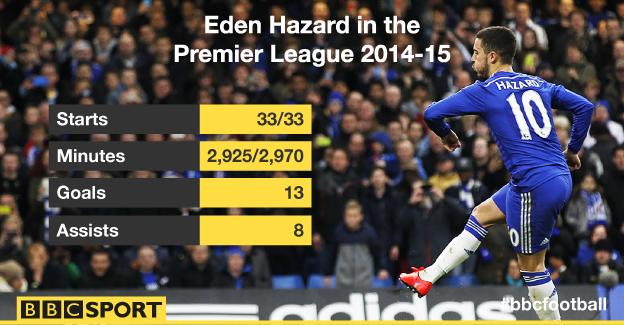 Hazard's consistency over the last few months has made a massive difference for Chelsea and, individually, he has shone all season.
He has created the most goal-scoring chances in the Premier League, and attempted and completed the most dribbles.
In the early part of the season, Chelsea were scoring goals for fun but in the last few weeks they have become more workmanlike.
Their form has dipped but their results haven't and Hazard is one of the biggest reasons for that.
He is the one player who has consistently produced pieces of magic for them at vital times to decide tight games, like he did with his winner against Manchester United last weekend.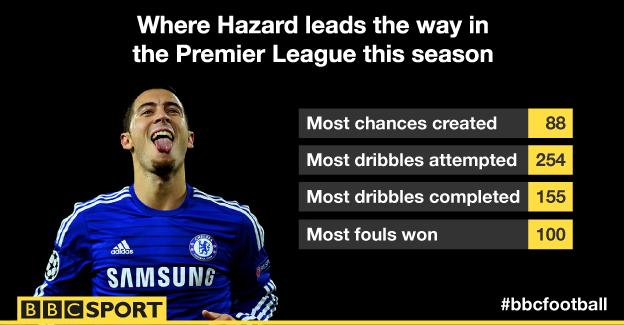 When you have got the skill that he has, and can cause the damage he can, then you get singled out by the opposition as the man to stop.
It's no surprise that Hazard is also the most fouled player in the top flight in 2014-15, because that is the kind of treatment you get.
Hazard is a marked man but he has handled that well, which is another big positive.
'Hunger will help make him a better player'
I still think Hazard has a lot of room to improve - and there are a few reasons why I think he will.
He is at a club where he has the ideal platform to reach a higher level, and he is playing for a manager who will give him the freedom to do so.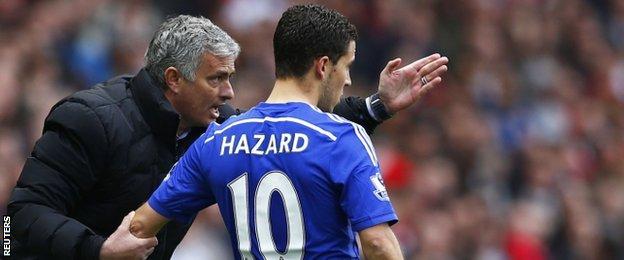 Hazard has already adapted his game under Jose Mourinho, when people were wondering how he would fit in when the Chelsea manager returned to Stamford Bridge in 2013.
Since then, he has improved his defensive discipline and works hard tracking back - you cannot fault his effort or attitude at all.
Hazard has started all of the Blues' Premier League games so far and has played in 98.5% of their minutes in that competition this season.
It is rare to see attacking players like him used so much, especially at a big club where you see a lot of managers rotate players or rest them towards the end of games, particularly forwards.
Hazard does not get left out very often and that probably suits him - it always suited me.
I always wanted to play because I wanted to score goals and make a difference, and Hazard seems to be very similar.
That hunger will help to make him a better player.
'Chelsea have the best player, and manager too'
As well as Hazard, there are five other players in the PFA's Premier League team of the year - Terry, Gary Cahill and Branislav Ivanovic in defence, Nemanja Matic in midfield and Costa up front.
That reflects their dominance this season as they close in on the title - they need only six points from their last five games to make sure of their success.
Chelsea have had the best players this campaign, and they have got the best manager too.
After Sunday's draw with Arsenal, Mourinho has now played 40 league games against the Gunners, Manchester United, Liverpool and Manchester City over the past 11 years and lost just three of them.
Until the big teams find a way to beat him, they are going to continue looking up at Chelsea in the table.
Alan Shearer was speaking to BBC Sport's Chris Bevan.