Captain Dean Keates critical of ex-Wrexham boss Kevin Wilkin
Last updated on .From the section Wrexham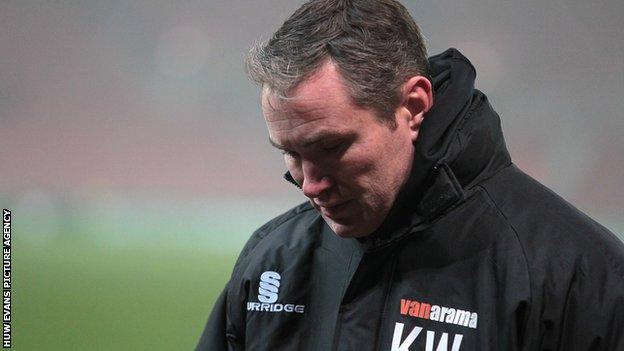 Wrexham captain Dean Keates has criticised former manager Kevin Wilkin for using outdated training methods.
Wilkin took over from Andy Morrell in March 2014 on a two-year deal but was sacked a year later.
Carl Darlington has been in temporary charge while the Dragons seek a new manager, with Gateshead boss Gary Mills the leading candidate to take over.
"If I'm honest things haven't been done right from day one... up until Carl Darlington came in," Keates said.
"He worked with us for a week before the Stoke game and you could see in the performance then that there was something there."
Wrexham reached the FA Trophy final this season but lost to part-timers North Ferriby United in a penalty shoot-out.
The north Wales club also finished a disappointing 11th in the Conference, 13 points below the play-off places.
Wrexham have been in the play-offs in three of the past four seasons, although in 2013/14 they did finish 17th.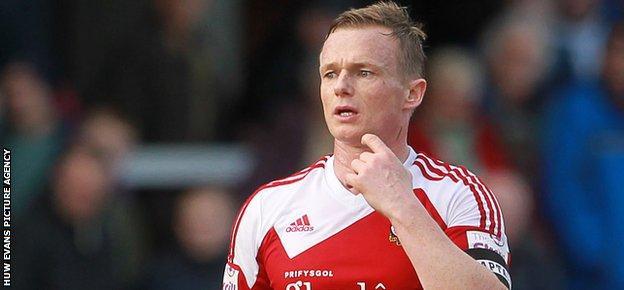 Wilkin arrived at the Racecourse with a glowing reputation, having won three promotions with Nuneaton to take them from the Southern League Division One Midlands up to the Conference Premier.
But Keates claims Wilkin did not use modern training methods and the players suffered from a lack of organisation.
"We came in, and I think running every line and back for pre-season, those are the things I was doing when I started 20 years ago," Keates said.
"The game's changed and I think if you look at us through the course of the season, it was what the pre-season was. We don't look sharp, we look a laboured team that works hard.
"We're an honest bunch of lads and we did the best we could, but when there's no pattern to the play we were all over the show.
"It wasn't until Darlo came in that we got settled down and were given a pattern to play with.
"You have to be organised at this level. Not just this level, you can go all the way up to the top. I think Fulham played in the Premier League for years by working every day 11 versus 11 in training. Everyone knows what their jobs are.
"When you're not doing 11 versus 11 and the lads are starting to request to do it and it's the end of October, then I think that tells you there's something wrong."