Jose Mourinho's Chelsea challenge: can they dominate?

By Phil McNulty
Chief football writer
Last updated on .From the section Chelsea561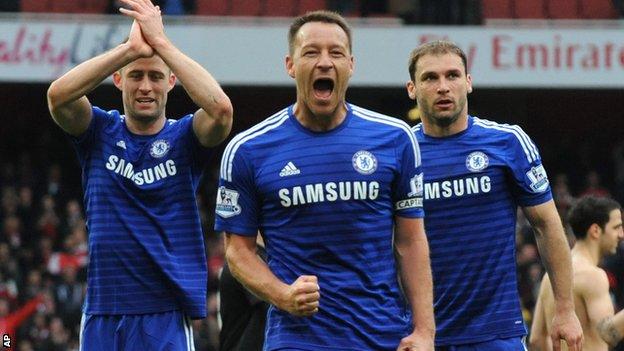 BBC chief football writer Phil McNulty
When Jose Mourinho returned to Stamford Bridge for a second spell as Chelsea manager in June 2013, owner Roman Abramovich turned to him with one mission in mind.
And after Chelsea clinched the title following a season of Premier League domination - Mourinho's third such triumph at the club - it meant phase one had been accomplished.
Mourinho's first term at Stamford Bridge saw him exert superiority over rivals such as Manchester United's Sir Alex Ferguson and Arsenal manager Arsene Wenger with back-to-back titles in 2004-05 and 2005-06.
The next part of Mourinho and Abramovich's modern plan will be to replicate this success while embarking on an age of greater achievement in Europe.
So is this latest Premier League triumph the start of a new era of domination for Mourinho's Chelsea or will he find it harder to repeat those previous achievements?
Is the Premier League title tougher to retain?
Recent evidence suggests it is - not that a manager of Mourinho's confidence will be worried by that.
Manchester United under Ferguson were the last club to retain the title, having won it three times in succession in 2006-07, 2007-08 and 2008-09.
Since then Chelsea reclaimed the league under Carlo Ancelotti before the title was passed back and forth across Manchester between United and City over four seasons.
In the last two seasons United took the title back from City with a gap of 11 points, inspired by the signing of Robin van Persie. Last season City edged out Liverpool by two points but finished 22 points ahead of a struggling United, with Ferguson's replacement David Moyes sacked before the end of that campaign.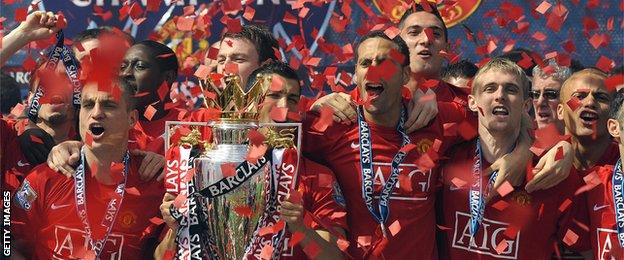 Chelsea will hope Mourinho has already moved the pieces into position (as well as adding more and promoting youngsters such as Ruben Loftus-Cheek, Nathan Ake, Lewis Baker, Dom Solanke, Izzy Brown and Jay Dasilva) to ensure a continued presence at the top of the table.
They have retained the FA Youth Cup and their under-19 team won the Uefa Youth League, so the foundations for the future are there - but continuing the success is easier said than done.
In recent seasons, either the champions have faded or the challengers have stepped up. So what will be the obstacles to Mourinho delivering another back-to-back success?
Will Chelsea face resurgent rivals?
No-one can seriously doubt Chelsea's right to be Premier League champions. They have been the outstanding team from the starting line to the finishing tape.
The task Mourinho and Chelsea now face - and it is one the Portuguese will address with relish - will be to keep three main rivals who could be resurgent for different reasons at bay.
Deposed champions Manchester City have had a desperately disappointing season in defence of their title, as they did the year after Roberto Mancini's team claimed the crown for the first time in 44 years in 2011-12.
Expect a powerful reaction after City's end of season review that will examine all aspects of the performance and pose serious questions of manager Manuel Pellegrini, his players, director of football Txiki Begiristain and chief executive Ferran Soriano.
The financial shackles will also be released somewhat as transfer policy last summer was dictated by a £49m fine, £32m of which was suspended, for failing Uefa's Financial Fair Play rules. They could only spend £49m on players last summer plus any transfer fees raked in - and their wage bill for 2014-15 had to remain the same.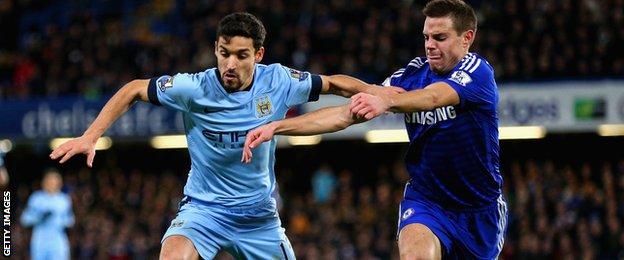 City's Abu Dhabi-based owners talked of a "holistic" approach when the more measured Pellegrini replaced the turbulent personality of Mancini in 2013 but this does not mean they will stand idly by and let a gap open up between themselves and their Premier League rivals.
This season will have hurt, such is the scale of their ambitions, and the response will be seen in an influx of younger, hungrier talent (perhaps with an English emphasis) and the potential departure of big names such as Yaya Toure.
Over at Old Trafford, Louis van Gaal has got the superpower that is Manchester United heading back in the right direction after the failings of the brief Moyes era. They are poised for a return to the Champions League and appear transformed from 12 months ago.
Not all of last summer's heavy spending has been a success - £59.7m Argentine Angel Di Maria has been a disappointment - but the second tranche of big spending in this close season will elevate expectations even higher for the start of next season.
United bow to no-one in their belief they should be the pre-eminent force in English football and this will be the priority, with Van Gaal understood to be armed with around £150m to restore their status as champions.
Borussia Dortmund defender Mats Hummels is thought to be a top target and expect United to try and sign more, such as Southampton right-back Nathaniel Clyne, to be in prime shape to challenge Chelsea next season.
And what of Arsenal?
There have been real signs of progress from Arsenal, particularly in the second half of the season. Boss Wenger is the eternal optimist but there now seems genuine substance to his assertion that they are on the move again.
If he can make some key additions - perhaps Chelsea's Petr Cech in goal and Southampton's excellent Morgan Schneiderlin to add presence and stature to midfield - they might be in a position to make even more of a challenge next season.
John Terry standing firm
Some things have changed in Mourinho's second spell at Chelsea. Some things have remained the same.
And one of the constants has been the presence of John Terry as Mourinho's voice on the pitch, captain and leader of the "band of brothers" spirit he demands.
Terry captained Chelsea to those two previous titles under Mourinho and his enduring presence has been a key factor once more in bringing the title back to Stamford Bridge, a decade after the 34-year-old picked up his first Premier League winners' medal.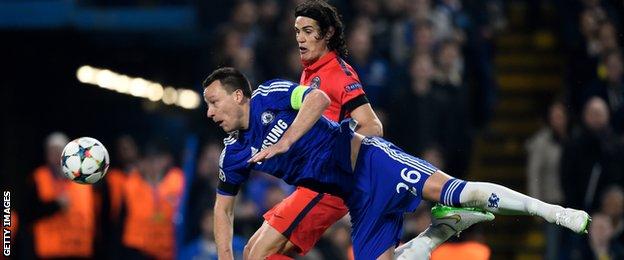 The spine of the outstanding Chelsea side is slowly being replaced. Thibaut Courtois has removed Cech as first-choice keeper, Cesc Fabregas has replaced Frank Lampard in the hub of midfield while legendary striker Didier Drogba's career is winding to a close.
Terry stands firm and many who have watched him this season remain convinced he is still England's best central defender. Freed from the demands of international football, Terry's body, which showed signs of betraying him a couple of years ago, has remained reliable throughout an outstanding campaign.
It has only emphasised the task Mourinho will face when it comes to replacing Terry, although 20-year-old Kurt Zouma looks to be equipped with the raw materials.
But Terry is still Mourinho's man and has signed a new one-year contract with the manager saying: "This new contract is not to say 'thank you very much'. It is because John continues to perform."
One thing is certain: the longer Terry remains at his current level, the better it is for Chelsea. How long can he do it? Can he add to the 14 major honours he has won?
Is Mourinho the man to build a Chelsea dynasty?
Mourinho's career path shows he is not a manager who stays at a club for the long haul. He spent just over three seasons at Chelsea in his first spell then two seasons at Inter Milan and another three at Real Madrid.
He is a combustible, polemic character which has led to tensions - but there is a different feel about his Chelsea reign this time.
Firstly, he has now satisfied any desire to work at the likes of Inter and Real. Secondly, he looks happy to stay, saying only in February: "I'm very, very happy. If somebody tells me I'm going to make 10 years at Chelsea I would say 'yes'.
"I'm happy to be part of this new Chelsea and hopefully I can stay for many years."
One target will be to bring the Champions League trophy back to Chelsea. The club won it in his absence under Roberto Di Matteo in 2012 but Mourinho, despite having won the Champions League twice, with Porto and Inter Milan, has suffered semi-final disappointment on three occasions with Chelsea, losing twice to Liverpool and again last season against Atletico Madrid.
Mourinho has the opportunity to fashion further successes with Chelsea's wealth of finance, talent, experience and a gifted group of youngsters coming through.
History tells us that shaping an era of dominance in England and in Europe is harder than ever - but Mourinho will give it a try.