The fall of Celtic Nation: Saying goodbye to a football club
Last updated on .From the section Football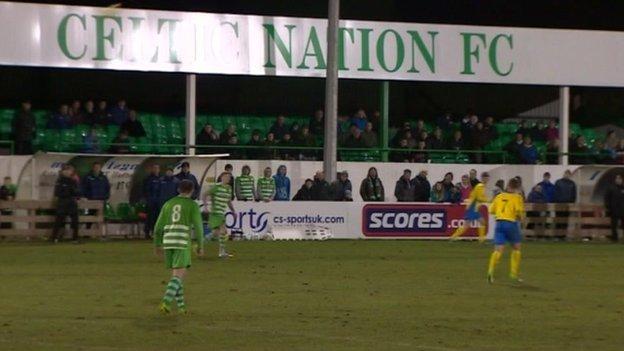 When the final whistle blew at Gilford Park at around 21:30 BST on Tuesday, 28 April, it was the haunting final note in the turbulent recent history of Celtic Nation.
Carlisle-based Nation, founded in 2004 as Gilford Park, were thrust into the limelight by the intervention of Scottish businessman Frank Lynch in 2012.
His finance, added to a name and kit change to Celtic Nation, resulted in an ambitious plan to reach the Football League and a number of high-profile appointments and signings.
Crowds swelled and interest grew but Lynch's decision to pull his investment in 2014 after two seasons burst the bubble of optimism.
With funding guaranteed until the end of the season, those left to pick up the pieces admirably limped through the campaign on the remaining funds, right up to Tuesday's 1-0 defeat by North Shields that marked the end of an eventful 11 years.
BBC Sport heard from those closest to the club after the team had taken the field for the final time.
Player: Player-assistant boss Jonny Allan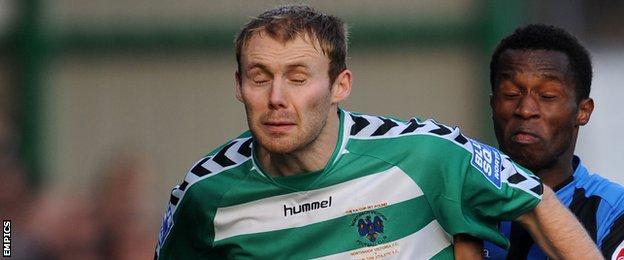 Cumbrian striker Allan, born in Penrith but brought through the Carlisle United academy system, enjoyed a reputation as a decent non-league goalscorer with Northwich Victoria, Halifax and Gateshead.
He joined Carlisle-based Celtic Nation at the height of the Lynch revolution in 2012 but remained with the club even after Lynch's withdrawal, helping team-mate Mark Boyd as assistant boss.
"It's a sad, sad day. It kicked in about the last five minutes to go what's about to happen, it's a really sad day," Allan told BBC Radio Cumbria.
"Everyone kept going this season as best they can and have been brilliant but it's unfortunately not sustainable.
"It's been a really good ride, a great ride, but just a sad day."
Fans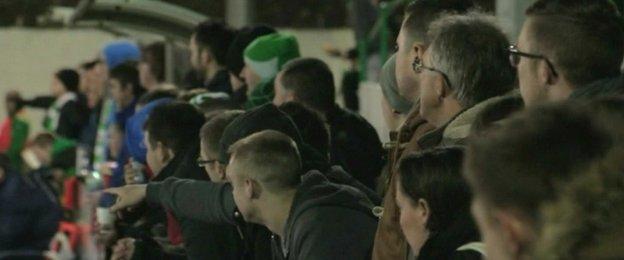 Although Carlisle has hosted professional rugby league, the city has tended to look to football for its sporting recognition.
Carlisle United play in the Football League, despite a brief dalliance with the Conference early on in the new millennium, and until the arrival of Nation had little competition for support.
The switch of colours and name to Celtic brought attention from fans of the famous Glaswegian namesakes, and gates in four figures.
However, once that interest tailed off along with the dream of the League, it was left to the old Gilford Park faithful to carry on.
"It's a surreal situation, last season with the rise of the team and how well we did and now this season how it's fallen away," said one supporter.
"It's a shame because we think the city could do with and support a non-league side. It's a shame it's gone away."
Another added: "We had the good times, unfortunately things went wrong.
"The guys who have been thrown together this season have done us proud and hopefully we'll come back.
"We'll continue to have Nation in our hearts."
Official: Northern League chairman Mike Amos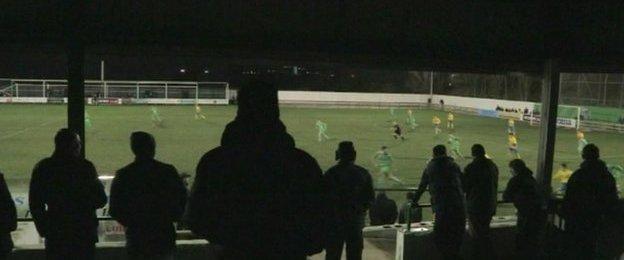 As chairman of the Northern League, Mike Amos is sad to see a once successful club fold.
Amos is a passionate devotee of non-league football, and has worked hard to make the Northern League one of the most successful outside of the professional game - as seven FA Vase finalists in six seasons testifies.
However, all those successes are put into context by the demise of Celtic Nation.
"I wanted to say thanks to the people who remain, who tried to keep it going," Amos said.
"What happened with Frank Lynch was a one off, he's built a good ground here, but the fair-weather fans have gone and small number of faithfuls remain - I guess that is what happens when the money goes.
"The dream a few people had is gone but the fact the team isn't just leaving the Northern League but folding all together is the most sad thing of all."
Celtic Nation's big name signings
Colin McMenamin:
The Scottish striker left league football in his native country with Greenock Morton to join former boss Mick Wadsworth at Celtic Nation.
Peter Murphy:
Ex-Carlisle United defender moved to Celtic Nation after his release by the Cumbrians.
Adam Boyd:
Former Hartlepool forward was one of the first professional players snapped up by Celtic Nation, again under Wadsworth.
Volunteer: Colin Seel
Colin Seel, a former Football League referee, has kept himself immersed in football through his role as a volunteer at Celtic Nation - particularly as Public Address announcer.
He and other volunteers have helped the club to honour their league fixtures in 2014-15.
"I'm a little numb, its difficult to realise that when the final whistle blows that is it for Celtic Nation," Seel said.
"Teams often go into administration if they're professional, or drop down a league, and it feels like the end but they're revived.
"To say: 'No. Tonight that's it,' That is when it hit me and a lot of people."
Temporary Chairman: Daniel Carruthers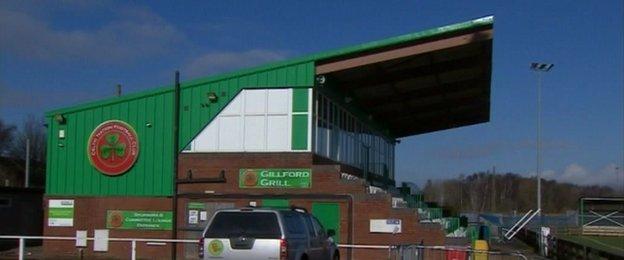 Daniel Carruthers will go down in history as the last man to hold the post of chairman at Celtic Nation, having steered the ship through to the end of the season.
He and secretary/co-founder Jeff Carr have fought hard to try to save the club, but were unable to procure the necessary investment.
"It's a good level of football and we're going to lose it in the city," Carruthers said.
"It's a real shame no businessman came forward and helped us, but we can't control that.
"You have to admire the fans, who are here through all weathers just like the lads who come down here and muck in and help and the players.
"For guys who aren't getting any money. they do pretty well."