Kilmarnock men 'playing for futures', says Gary Locke
Last updated on .From the section Kilmarnock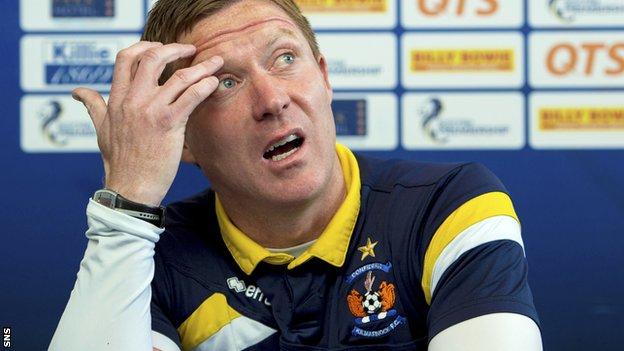 Kilmarnock manager Gary Locke has told his out-of-contract players they are playing for their futures as their side battles to avoid relegation.
"We have four games left and the boys have got to prove to me they are good enough to stay here," said Locke.
"They have to step it up from last week, but I'm not going to let one game change my whole opinion of players."
Captain Manuel Pascali is one of several players at Rugby Park who are out of contract this summer.
The defeat in Paisley was Kilmarnock's fifth is succession and they are only seven points clear of Motherwell in the relegation play-off spot with four game remaining.
"I've been relatively pleased with performances, but obviously I've not been happy with the way results have been going," said Locke.

"We've had a couple of tough games with Aberdeen and Celtic, but the others would certainly be ones I'd expect us to win.
"That's why we haven't got ourselves into the right position. We're not in a bad position, but we're not in the one we want to be."
"It's important we remember the boys have done reasonable well, but last week was a game we want to forget. A day when everything went wrong."
Locke refused to be drawn on reports that he was interested in taking Hibernian goalkeeper coach Alan Combe as his assistant and signing Falkirk goalkeeper Jamie MacDonald and Hearts midfielder Scott Robinson.
"The speculation is incredible at the moment," he said. "It's always the same at this time of the year with agents trying to get their players tied up.
"But we still need to get a result to make sure we stay in the top flight and, the sooner we do that, the sooner I start making plans.
"There's a couple of players I would like to bring to the club, but with our finances, I won't be able to make wholesale changes as we still have guys under contract.
"So it won't be until the summer that I can get things moving."