Muratti: Guernsey FA say sorry as online tickets sell out early
Last updated on .From the section Football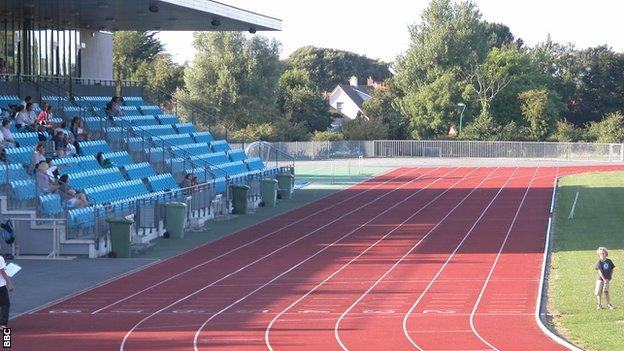 The Guernsey Football Association has again apologised after online tickets for the Muratti final with Jersey sold out before the website was due to open.
Buyers were advised the site would re-open at 09:30 BST, so they would have preference prior to the previously-announced opening time of 10:00.
However, this was made public and the tickets sold out well before 10:00.
"We would like to apologise to those supporters who have experienced difficulty in purchasing Garenne Stand tickets online," said a statement.
"Two years ago when Garenne Stand tickets were sold from the Guernsey FA headquarters, we were criticised because this prejudiced the chances of those who worked obtaining tickets," added chairman Chris Schofield.
"It had been hoped that making the tickets available online would provide a fairer system but clearly, given what has occurred, that will have to be looked at again as seat availability simply gets nowhere near catering for the demand."
On Wednesday, the Guernsey FA closed the website and were forced to void tickets for the stand at Footes Lane because of health and safety reasons, after a technical problem led to too many tickets being sold.
The 99th Muratti Vase final will take place on 16 May, with Jersey hoping to avoid defeat for the first time in four years.
"Whilst we appreciate that this situation is frustrating, it is probably no different to seeking to purchase pre-booked seating on an aeroplane," added Schofield in a Guernsey FA statement.
"If all 400 passengers tried to book seats at the same time, a similar situation would more than likely occur."
Between 09:30 and 09.35, 326 people were online - many wanting between five and 10 tickets - trying to purchase around 550 available seats.
The Guernsey FA have brought in temporary, uncovered seating due to demand, which will accommodate another 366 seated supporters.
Tickets for the temporary stand will not be available online and must be bought in person.