Manager sackings: Does bad hiring lead to too much firing?
By Alistair Magowan
BBC Sport
Last updated on .From the section Football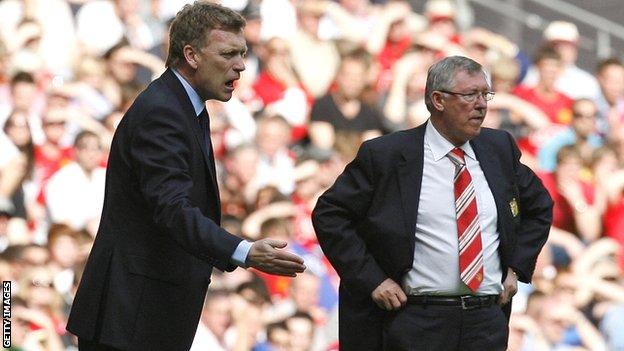 Sir Alex Ferguson may have been the best manager in Britain over the past 25 years, but even he was fallible when it came to nominating his successor at Manchester United.
David Moyes lasted only 10 months at Old Trafford after Ferguson called the former Everton manager round to his Wilmslow home and told him that the biggest job in English football was his.
Moyes was one of 12 Premier League managers sacked in the 2013-14 season, the highest figure in 10 years. This term 47 managers - as of Thursday, 28 May - were dismissed in England's top four divisions according to the League Managers' Association (LMA) - the highest for 13 years and second only to the record 53 of 2001-02.
With record TV money entering the game, and the demand of a 24-hour news media, the LMA recognises the "volatile nature" of the industry as club owners continue to lose patience with their appointments.
But it prompts the question: are clubs getting them right in the first place?
Is there a link between hiring and firing?
Southampton executive director Les Reed, who also had a short spell as Charlton boss in 2006, has a theory on this subject.
"The numbers of sackings are down to the fact that there are no recruitment policies that you can describe," he tells BBC Sport.
"It often happens as a knee-jerk reaction; the manager either gets sacked or walks out on the club and then panic sets in. There is a limited degree of succession planning. We have tried to introduce that at Southampton and it has worked very well for us."
It's hard to argue with that verdict. Since Reed arrived at the club in 2010, Southampton have risen from League One to a seventh-place finish in the Premier League this season.
In that time they have appointed three managers (Nigel Adkins, Mauricio Pochettino and Ronald Koeman), but in each case, a thorough assessment of who would take Southampton forward has reaped rich rewards.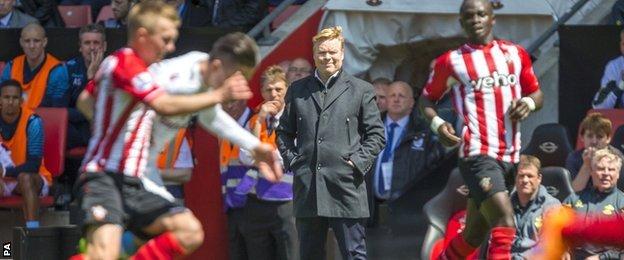 "We have a profile of a manager that suits our club and our culture and that's how we head-hunt the next candidate," Reed adds.
One of those Saints bosses, Pochettino, is now at Tottenham, where forward planning has appeared less prevalent.
Chairman Daniel Levy is on his ninth permanent manager since taking over in 2001 and former director of football Damien Comolli, who was at Spurs between 2005 and 2008, says a lack of a guiding vision has been part of the problem.
He also admits he made an error in appointing Juande Ramos as boss in 2007, with the Spaniard lasting only a year at White Hart Lane.
"Before he came, I didn't measure the culture shock between somebody who was having fantastic results at Sevilla and then coming to the Premier League," Comolli says. "He wasn't able to adapt to the English culture, the game and especially the British players."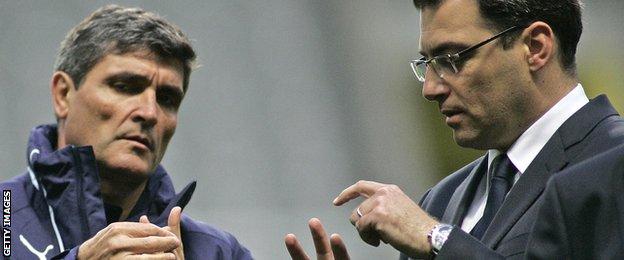 In a recent report into how football coaches are appointed, the LMA said it wanted to "help clubs identify the best and most suitable candidates, which in turn will hopefully improve stability not only for clubs but the managers themselves".
But in an industry where the average managerial tenure is 15 months, the LMA says clubs are more tempted to appoint who and what they know.
How are bosses appointed?
Comolli, who was also Liverpool's director of football strategy from 2010 to 2012, has quizzed many managers for vacant positions and remembers one instance when a candidate almost didn't make it to the end of the interview.
"The chairman asked the manager 'what would be your first decision when you come to the club?' When the manager said he wanted to get rid of the best player in the team, it didn't go down very well with the board."
At least the boss made it to that stage. The LMA says one of the key issues with the appointment process is "a need for a more effective, open and transparent system of recruitment".
Arguably the biggest stumbling block is that new positions are not often advertised. In many cases it seems there is no need. Notts County chairman Ray Trew says he receives calls from managers' agents before the previous incumbent has even been sacked.
When the manager is dismissed, the LMA says clubs can receive over 100 "serious" applications.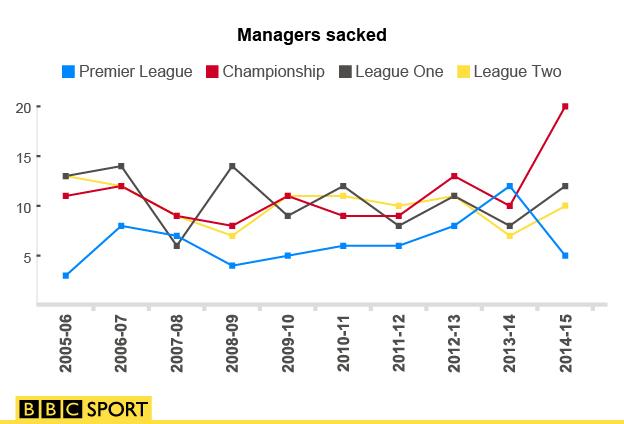 As a man who has made his money in recruitment, Trew sees the advantage in casting his net far and wide. At a time when there are questions about the number of black managers in the game, he has appointed four since taking over at the club in 2010.
"You have to plough through every CV because there may be one outstanding candidate you might not have considered," he says.
Trew, who has also dismissed seven managers in five years but has stuck with his latest boss Ricardo Moniz despite slipping into League Two, believes other clubs are not being as rigorous.
"Other clubs might have preconceived ideas," he adds. "But if they are doing their football club justice they would look at all the candidates and consider them all equally."
Reed, also a former Football Association technical director, says a more transparent recruitment system should help avoid a 'reverse interview' process which he thinks has already caused enough damage already.
"When mentoring the younger managers, the more experienced bosses often advise that you will never be in a stronger position than the day you are being interviewed, so get as much control as you can," the 62-year-old says.
"Essentially, it's the manager interviewing the club but that is maybe where the clubs make a mistake. They should be thinking about where the club wants to be in 10 years' time and what kind of manager they need to get to that point."
Why so many sackings?
Although the number of Premier League bosses losing their jobs has fallen from 12 in the 2013-14 season to five last term, the desperation to join the top-flight in time for a record £5.14bn TV deal starting in 2016 has led to soaring figures in the Championship.
Steve McClaren's departure from Derby made it 20 bosses given the boot - a record season - with the average life of current Championship managers now just 11 months (as of 31 March), a figure the LMA describes as "worryingly low".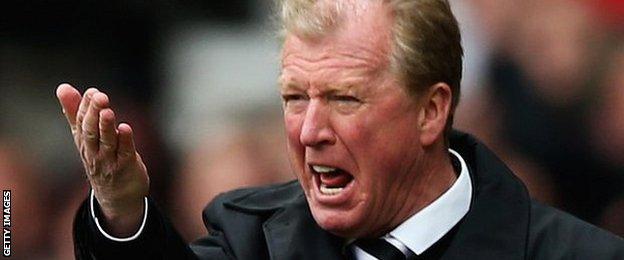 That falls behind an average of 17 months in the Premier League and a stay of 18 months in Leagues One and League Two.
One of the temptations for club chairmen is that there is always an alternative. Supply vastly outstrips demand and LMA chief executive Richard Bevan has accused owners of playing "stick or twist" as if they were at a casino.
The LMA has 375 members, about 140 of whom are looking for work, and there are only 92 positions to fill in the top four divisions. That doesn't include managers who were previously working outside England, such as Sunderland boss Dick Advocaat, who led his team to Premier League survival this season.
Comolli believes sackings are more likely when appointments are made during the season, given that the pressure is on to find a quick replacement.
Sunderland, who have hired their last four managers mid-season, appear a good case in point.
"Sackings happen because of the desire for results but what is success?" Comolli asks. "It's about expectation; if you have expectations that are unrealistic, of course a club is going to make changes, but they are not going anywhere because stability is synonymous with success."
Further down the football ladder, Trew says decisions are complicated by the financial impact of an unsuccessful team.
"I'm a hard taskmaster," he admits. "I set standards I want for this club and when we have not achieved them someone has to pay the price.
"Within society and football, we are becoming less tolerant because of the money in the game now.
"You can look at how many years Sir Alex Ferguson was at Old Trafford, but it's significantly different at a club like Notts County. With a lot of chairmen in Leagues One and Two, when the fans become disgruntled with a particular manager, stop coming through the turnstiles and it affects the revenue, we have to take notice."
What can be done to improve situation?
The LMA says there are many challenges, from the poor advertising of roles to the influence of agents.
It also believes the governance of a club can be a factor. Is a chairman, financially and emotionally involved in a club, the best person to hire a manager?
Then there is the introduction of directors of football, which the LMA says can lead to a lack of clarity in job specifications.
"I don't think it's a lack of objectivity and too much emotion when the chairman is involved," Comolli says. "But if you have a competent director of football, and Les Reed is a perfect example, I think you have a competitive advantage.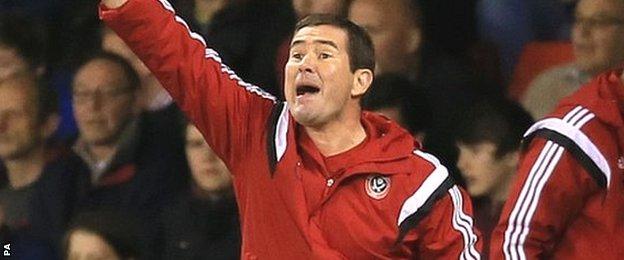 "Club boards or chairmen are not usually football people who travel the world to see what is going on. It's about knowing the market.
"The role of the director or football is not only about knowing players, it's about having awareness of the performance side of high-level sport. People like Les and [Manchester City director of football] Txiki Begiristain will be constantly aware of which manager is doing well in each country and how their teams play."
Comolli adds: "It goes back to what your vision is and that's a little bit what the problem has been at Spurs in a certain way. It's certainly the case with many clubs in the Football League."
In some respects it appears the Premier League is heeding that advice. Both Burnley and QPR stuck with their respective managers, Sean Dyche and Chris Ramsey, despite being relegated.
Swansea and Stoke have had their most successful Premier League seasons after appointing managers who fitted their playing philosophies.
But for every Garry Monk or Mark Hughes, there is a Nigel Clough. Reaching the Capital One Cup semi-final and the League One play-offs were not enough for Sheffield United to stick with their boss.
With results dictating, the life of a football manager will always be precarious. Just ask Moyes.