Nigeria target 2018 World Cup semi-finals
By Piers Edwards
BBC Sport
Last updated on .From the section Football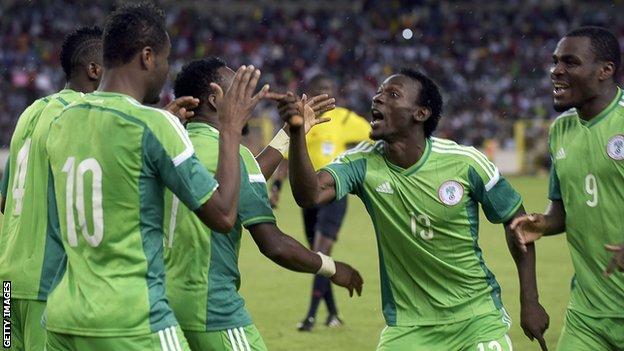 Nigeria aim to make history at the 2018 World Cup by becoming the first African team ever to reach the semi-finals.
The three-time African champions have reached the Round of 16 on three of their five World Cup appearances.
"All efforts we are building now are geared towards getting Nigeria to play the semi-finals in Russia," Amaju Pinnick, the Nigeria Football Federation president, told BBC Sport.
"We have the manpower to do that. The talent in Nigeria is amazing."
Pinnick's comments might come as a surprise given Nigeria failed to qualify for this year's Africa Cup of Nations in Equatorial Guinea.
Two years ago they won the title but their decline has been brought about by a mixture of turmoil within the NFF, the sacking and rehiring of coach Stephen Keshi and threats of Fifa bans for government interference in football matters.
Nonetheless, Pinnick, who assumed control of Nigerian football last September following protracted elections, lists a number of reasons why Africa's largest country - with a population of 170m people - can finally deliver at the World Cup.

He believes technology, 'capacity-building' for coach Keshi, a better local league, the country's natural ability and enhanced administration can provide the platform for significant growth.
The NFF boss travelled to London this week with five staff to belatedly tap into long-standing technological applications.
"Our coaches can be technically sound but technologically they were inept, because football for me is driven more by technology than anything else," said Pinnick.
"We are in the process of acquiring match analysis software, so that when we go back home, we won't play our matches blindly. We are starting late but we are getting it right - that's the most important point.
"We now have the match analysis software that can analyse games for us and give us directions because normally we play matches without knowing our opponents nor their strengths and weaknesses.
"If we had used match analysis, we would have beaten France and got to the quarter-finals of the World Cup in 2014."
Pinnick is now hoping another Frenchman, Arsenal coach Arsene Wenger, can push Keshi to greater heights.
"We've had a word and Arsene will be ready to take him in sometime in July," said Pinnick, who formerly headed up the regional Delta State Football Association.
"We are also looking at talking to other Premier League clubs and clubs in Germany to look at the various techniques - to see how we can grow and put these techniques into play whenever Keshi is playing a game."
The NFF's decision to reappoint Keshi as coach was a controversial one, with many fans having demanded his exit after South Africa and Congo qualified for the 2015 Nations Cup above them.
"Some guy called me and said 'we'll do this to you if you don't get Keshi out' while another guy said 'he's a hero and one of only two men to win the Nations Cup as a player and a coach," said Pinnick.
He also said a shortage of funds prevented Nigerian from aiming for a top-quality coach, with the NFF's long-term ambitions set very high.
"The truth is we don't live in the clouds. We are not just going to get any foreign manager - we're going to get a foreign manager in the mode of maybe a Wenger or a Jose Mourinho.
"That costs money and right now, we don't have that kind of money."
Pinnick also pointed to Keshi's success with local players, six of whom formed part of the 2013 Nations Cup squad (the most in over two decades). One of them, Sunday Mba, scored the winner in the final itself.
"Keshi is an apostle of the local players so we decided to say 'ok, let's see how we can build his capacity and use the technical study group'."
Jay-Jay Okocha heads the technical study group, with Victor Ikpeba, Nwankwo Kanu and Taribo West also involved.
"These ex-players have played under some of the best coaches in the world. So if you put all this together with our technical committee and technical director, coupled with our match anaylsis technique, we don't think we'll go wrong," added Pinnick.
"We think the combination is better than any foreign coach. That doesn't mean that if he falters tomorrow, we aren't going to get a manager who can take us to our perceived El Dorado.
"If we don't get to the World Cup semi-finals, we'll get very close I can assure you."