Brazil World Cup stadiums completed 10 months after event
Last updated on .From the section Football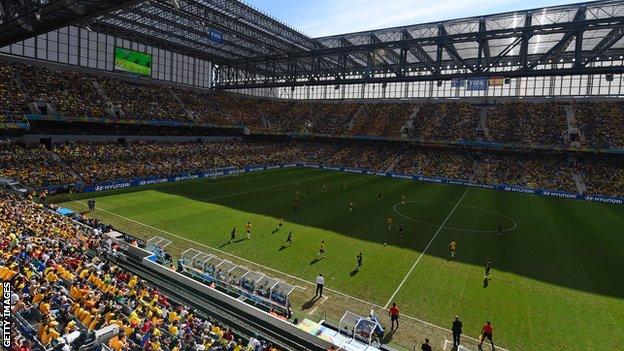 Some of the World Cup stadiums in Brazil are finally being completed, 10 months after the tournament.
The Itaquerao Stadium in Sao Paulo and the Arena da Baixada in Curitiba have only just been finished to their original designs.
Both venues were used during the World Cup, with completion works held back.
Brazil spent about $3bn (£1.98bn) on stadia for the tournament in June, with protesters demonstrating against how much money the government invested.
There were clashes between protestors in Rio de Janeiro, Sao Paolo and other host cities.
The Brazilian government had hoped the new arenas, which are an improvement on the older stadiums, would become a legacy for the country.
But the Arena da Baixada has only just added its retractable roof, after construction was delayed in the build-up to the World Cup amid safety fears.
And the Arena Corinthians has only now had glass panels installed in the roofing structure.
Corinthians own the $450m (£297) ground, where attendances have increased, but cannot keep any revenue because it is still being used to pay for its construction.
Flamengo, Brazil's most popular team, have been playing at the Maracana Stadium, the site of the World Cup final, and say that under the current contract with the stadium's new owners, they keep too little money from match attendances.
Meanwhile, two stadiums were virtually put up for sale this month, with Constructor OAS announcing it was selling its stakes in the Arena Fonte Nova and the Arena das Dunas.