SPFL reject Rangers' free season ticket play-off entry plan

By Alasdair Lamont
BBC Scotland
Last updated on .From the section Football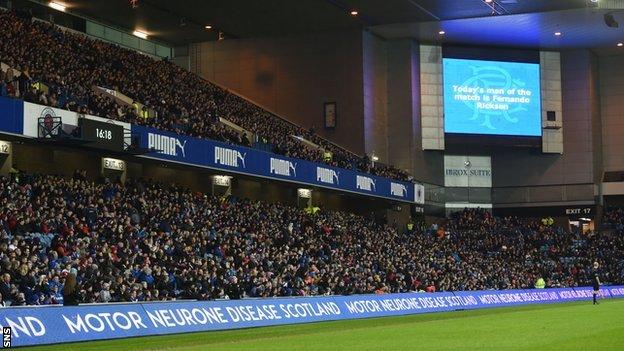 The Scottish Professional Football League have told Rangers they cannot let Ibrox season-ticket holders into the play-offs for free.
Rangers and Motherwell had both stated their intention to follow Hibs' lead from their home play-off last season.
On that occasion the Easter Road side were informed by the league that the rule breach would not be prosecuted.
However, SPFL Chairman Ralph Topping said: "Our rule book is not a pick and mix."
Hibs allowed season-ticket holders in for free last season when they lost out to Hamilton Academical in the play-off final.
They sought permission to do so from the SPFL board and were informed the rule breach would not be penalised on that occasion.
Rangers believe Hibs' move has set a precedent, meaning they cannot be punished for taking a similar stance.
With 50% of gate money from each play-off game due to the SPFL, up to three home ties at Ibrox would generate hundreds of thousands of pounds to be shared out among all member clubs.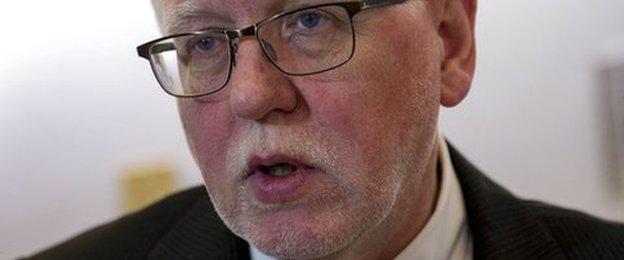 On Tuesday, Rangers confirmed that the club's board had "informed the SPFL of their intention that Rangers season-ticket holders will not be charged to attend the play-off matches at Ibrox".
It added: "The club believes supporters who bought tickets for the entire season should not be asked to pay more."
However, the SPFL have written to all clubs potentially involved in the play-offs, reminding them of the rules governing the play-off levy and ticket pricing.
Mr Topping said clubs "have a clear and vital duty to abide by the rules and not to disregard them when it suits".
The SPFL chairman added: "The rules on play-off levies and ticket pricing were agreed unanimously by all 42 clubs, including those likely to take part in this year's Premiership/Championship Play-Offs, less than two years ago and an attempt to amend them for the benefit of a limited few was overwhelmingly rejected by SPFL clubs at a general meeting just last week.
"These rules were introduced for the benefit of all 42 clubs, not a select few.
"That's democracy in action and it is a fundamental principle of the league. Everyone can see the dangers of trying to change rules part-way through the season, leading to accusations of self-interest and opportunism.
"An overwhelming majority of our 42 clubs voted to continue with the existing model and it is the clear duty of all clubs to respect the rules and the core principle of majority voting.
"We must ensure a positive, collective approach if we are to strengthen the league for the benefit of all clubs and as an independent chairman with no club affiliation, I am clear that this is the only way forward for our game. To do otherwise risks the very fabric of the league."