John Carver: Can Newcastle United boss keep Magpies up?

By Phil McNulty
Chief football writer
Last updated on .From the section Newcastle493
By BBC Sport chief football writer Phil McNulty
The media room at Leicester City's King Power Stadium has played host to so much pure theatre this week that is fast becoming the Premier League's very own Broadway - but it may be the place where the curtain came down on any chance John Carver had of staying at Newcastle United.
Newcastle caretaker manager Carver's savage attack on his own players will not be resolved so easily after a post-match scattergun assault following the 3-0 loss to Leicester that leaves them deep in trouble.
The highlight, if it can be called that, was Carver's criticism of Mike Williamson that came accompanied by the suggestion the defender got himself sent off deliberately to escape the pressure of a relegation fight.
Carver did not so much conduct a news conference as read out a resignation letter. If he survives until the end of the season - and to replace him now would hint at the sudden panic inside St James' Park - he will surely not last much longer.
So what next for Carver? And what next for Newcastle United?
Is Carver out of his depth?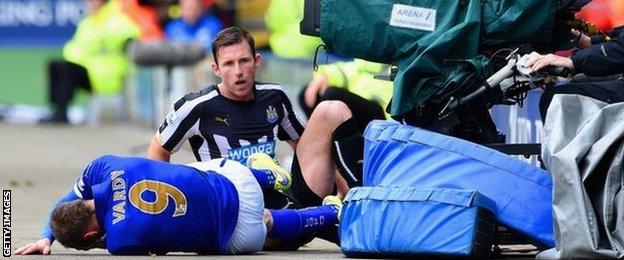 Carver's condemnation of Newcastle's players may make for compelling viewing and listening, demonstrate searing honesty and play to the gallery of fans, some of whom called the players "cowards" as they boarded the team coach. But it is a policy that goes beyond high-risk.
He is right to question his players after their recent performances but Carver also needs to keep the squad onside for three more vital games.
To even hint that Williamson may have deliberately engineered his own red card is an incendiary claim to make about any professional footballer and is sure to reverberate around Newcastle's dressing room.
Read these quotes and decide: "I spoke to Mike Williamson at half-time and had a few choice words. I thought he'd done that on purpose - it looks like he did. The ball was off the pitch - he had no need to make the challenge. He will miss two games now. Is it an easy way out?"
And there's more: "On a scale of one to 10, it's a minus 10. I can't accept it. I wish the players had as much determination and fight as I had. We can talk about systems and players but if we're not willing to compete, get your head onto the ball and risk getting an injury, you won't get anywhere."
While Carver talks about fight and bristles with defiance, his own record of eight successive defeats will not earn him many marks either.
Carver's words appear to be his nuclear option to wake up Newcastle's players as they sleepwalk towards relegation, but the dangers are clear and also drive at his own failure to motivate or inspire a squad lacking in fight and quality.
He has been an enduring figure on Newcastle's backroom staff but the step up to management after Alan Pardew's departure in January has proved too much.
Carver's combative approach has hardly resulted in harmony on the pitch and it has not proved much more successful off it, leading to an angry exchange with fans during the recent home defeat by Swansea City.
He revealed he has lost a stone in weight and has suffered sleepless nights - understandable as a passionate Geordie with Newcastle United at heart. Carver talks about players having the same fight as him but his fighting talk is falling on deaf ears.
This latest defeat, his very obvious public anguish and red cards for Williamson and Daryl Janmaat will not make him sleep any easier.
Where has it all gone wrong?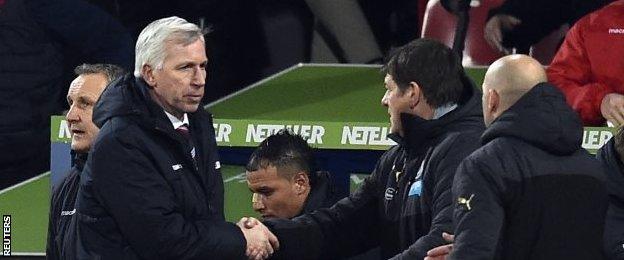 When Pardew left for Crystal Palace in January after four years on Tyneside, mourners were few as he was never a popular incumbent of the manager's job. He was regarded by so many fans at a stooge, a shield, for deeply unpopular owner Mike Ashley.
Newcastle, however, were on easy street in 10th position (fifth as far back as November) in comparison to where they stand now under Carver, whose reign is now in danger of complete chaos, summed up by capitulation at the King Power Stadium.
Of course some now revisit the Pardew era with belated affection but this is the same manager who abused Manchester City manager Manuel Pellegrini in his technical area last season and was fined £100,000 by Newcastle United for headbutting Hull City's David Meyler last March, picking up a seven-game ban in the process.
So while some may regard Pardew as a good manager, he was not necessarily a good manager for Newcastle either on or off the pitch. It is the attempt at a succession that has proved to be so badly flawed.
The appointment of Carver has only made matters worse and now smacks of a complacent choice from a complacent club - a club that thought it could make do and mend until the summer safe from any threat of relegation.
Carver's appointment carried all the hallmarks of "cheap and cheerful". Survive comfortably in the Premier League before ushering in the next manager at St James' Park.
Not any more. Relegation is now a real and present danger. Ashley's red line may yet be crossed.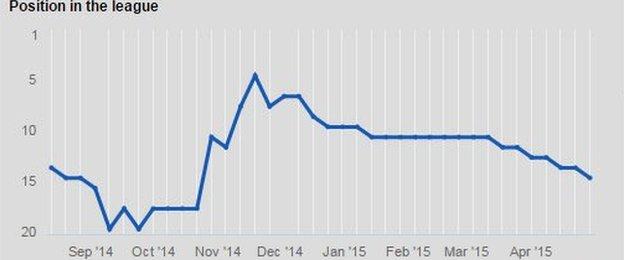 Do Newcastle's fans expect too much?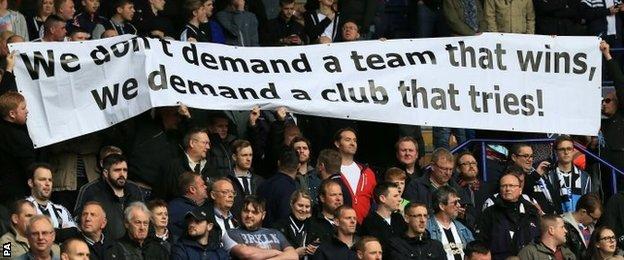 It is a question asked often and it can be answered in a word - no.
The banner at Leicester said it all: "We don't demand a team that wins, we demand a club that tries!"
The notion that the Toon Army expect a constant supply of trophies to be paraded over the Tyne Bridge is a myth.
What they do expect, and are right to expect, is a club that at least attempts to compete on regular attendances of 52,000 in a magnificent stadium at the heart of a vibrant city.
Kevin Keegan and Sir Bobby Robson never won trophies but they were loved because they connected with Newcastle's followers and their teams played with a swagger that was appreciated, even without silverware.
To describe Ashley as distant from the club's fans is to be generous. He appears (not that anyone knows as he never communicates with supporters) to be someone who is happy to run the club strictly as a business with relegation from the Premier League and the riches it offers his only concern.
In one of these matters he is highly successfully. Newcastle announced a record profit of £18.7m for 2013-14, the fourth consecutive year they have made money. Their debt remains at £129m but the club says this is an interest-free loan from the owner.
Now, startlingly and in a manner clearly not foreseen when Carver was appointed, the doomsday scenario of relegation is possible.
Can Carver save Newcastle?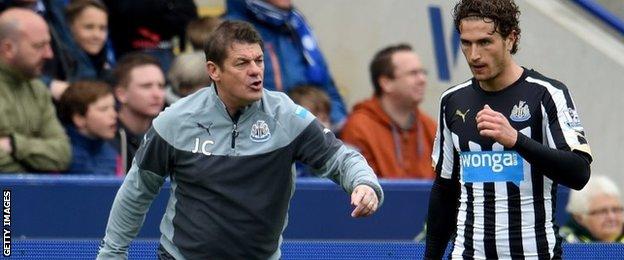 He may need to do something he has not proved very adept at so far… win a football match.
Sunderland's win against Southampton, Aston Villa's victory against Everton and Leicester's win over Newcastle means the Black Cats are two points adrift of Newcastle and Pearson's side just one. Villa are level on 35 points.
Salvation may come from Sunderland's fixture list, but Newcastle should not count on it. Sunderland have away games at Everton, Arsenal and Chelsea with a home game against Leicester - with so much riding on that game at the Stadium Of Light.
Newcastle are home to West Brom and West Ham with a visit to QPR sandwiched in between. Easier but not inevitable given their form.
So Carver may just save Newcastle but that may well be the last entry on his CV at the club.
So what next?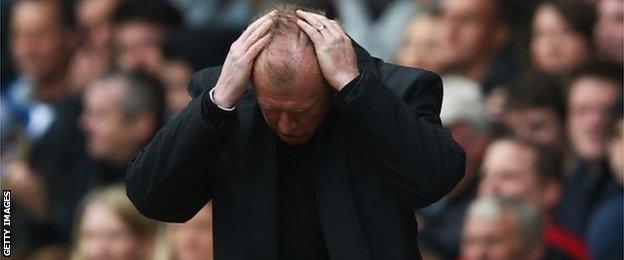 Rumours abound that Derby County's Steve McClaren will be the next cab off the rank at St James' Park. If so he had a bad day all round on Saturday,
A dramatic end-of-season collapse saw McClaren's side win only two of their last 13 games to move from play-off certainties to eighth on the last day of the season with a 3-0 home defeat by Reading. It means he would arrive, should he be Ashley's choice, with his reputation damaged.
McClaren had done a very good job at Derby up to a point. When it mattered, however, he could not arrest a dreadful slide and, unfairly, he is a man who needs real successes to bridge a credibility gap that still exists in England because of his ill-fated time as national team manager.
Rayo Vallecano's highly-rated coach Paco Jemez has also been linked but this is for another day unless Newcastle take drastic action so late in the season.
For now the only priority is to somehow get that elusive win.
What the BBC pundits said
Martin Keown:
"When you're in a position like Newcastle are in, you have to stick together, but John Carver is digging players out. There was a lack of desire granted, but he is out of his depth at the moment."
Robbie Savage:
"The performance from some of the Newcastle players was so, so poor. I have never seen such a poor display from a group of players. That was one of the worst sides I have ever seen in the Premier League."
Stuart Pearce:
"The finger of blame should not be pointed at the manager but solely at the players. They need to give more for this wonderful club."
Dion Dublin:
"I'm hoping John Carver is just trying to put the pressure on himself because they have had a stinking set of results."