Juventus: Gianluigi Buffon relishes 'extraordinary' season
Last updated on .From the section European Football
Champions League semi-finalists Juventus have had an "extraordinary" season, says captain Gianluigi Buffon.
Juve host Real Madrid in the first leg of their last-four tie on Tuesday.
The Turin club secured a fourth consecutive Serie A title at the weekend and face Lazio in the Coppa Italia final as they chase a treble.
"We are still fighting on all fronts. This is something that not even we imagined," Italy goalkeeper Buffon, 37, told Football Focus.
Buffon spoke on several topics and revealed he regretted never playing in the Premier League.
Buffon on Allegri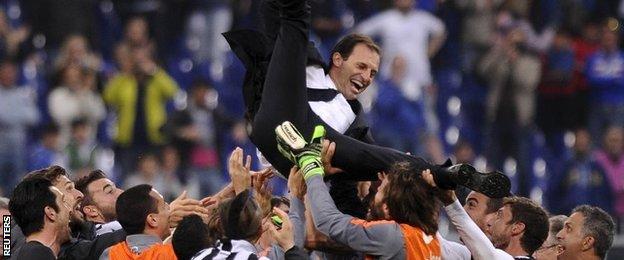 Juventus won three consecutive titles under Antonio Conte, but he stepped down in the summer and was replaced by Massimiliano Allegri, who had been sacked by AC Milan earlier that year.
Buffon said: "It was a great surprise for me to see the approach adopted by our new coach and the way in which he has been able to manage a group of players who had won a succession of major titles and a group of players whose common denominator was the characteristics and personality of their previous coach.
"So it was no easy task for Allegri to come to Juventus and to place his own stamp and imprint on the team. But it is something that he has been successful in doing by acting in a very intelligent manner."
On treble chasing
Juventus clinched their latest Serie A title by beating Sampdoria on Saturday and will face Lazio in the Coppa Italia final on 7 June.
"There is no doubt that the journey we have embarked upon with Allegri is becoming extraordinary," said Buffon.
"We knew that after many years of victories and successes it would have been easy to give in to a sense of fulfilment and to sit back, which is only human and even normal for sportsmen performing at this level.
"But perhaps we have been driven by the desire to show that everything we have achieved and won over the years is down to us, and as a result this year we are taking things on to the next stage."
On the Champions League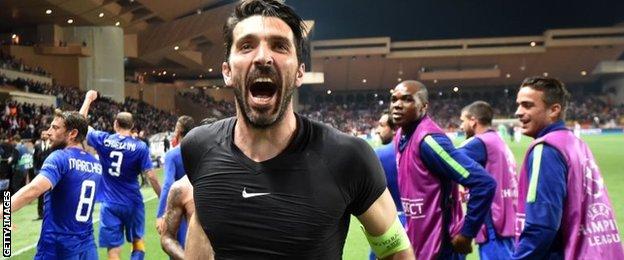 Buffon won the World Cup in 2006 and has six Serie A winners' medals, but only reached the Champions League final once - losing to AC Milan in 2003.
"It is a strange thing because I have won virtually everything but the one thing I haven't won is the Champions League, although I have got very close, losing a final on penalties," he said.
"But I think that life is very fair and you get what you deserve. I have not yet finished my career, even though I am pretty close to the end. I think that if it is my destiny and if I have earned it, then I will win it.
"There are at least three teams ahead of us in terms of experience at the international level and the players that they have. But I do believe that we are a team on the way up. As a group we have been playing together for a long time; every now and then a new player has come in to improve the team and that is why I think we can do well.
"In fact I am convinced of this and I think that we are able to compete with any other team. But there is a big difference between saying this and thinking that we can win the Champions League."
On his form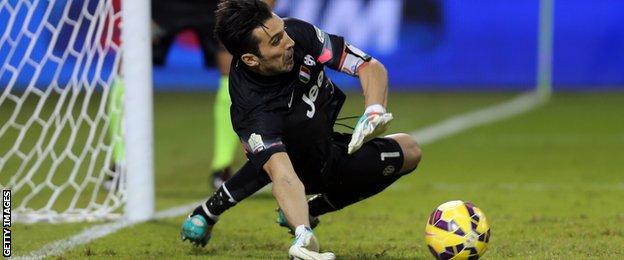 "If one were to make a comparison between my age and my performances then I have done some good and important things," said Buffon.
"I realise that I am still in very good physical shape and this surprises me from a certain point of view, but of course it also makes me very happy because I would like to get to the end of my career still playing at the top level. And if I can continue doing what I am doing at the moment then I think that I will be able to succeed in this.
"It is something that I have earned, as recognition for my talent and qualities as a player, but is also gives me a sense of gratification because it shows my perseverance, self-sacrifice and the professionalism I have always brought to my work.
"When you are a young lad and even in your early years as a professional, playing football is something to be enjoyed. And then slowly but surely as you grow up, it becomes a job, your work.
"If you are able to do it with a great deal of satisfaction and if you love your work and are able to demand the most from yourself, then I think that you have the opportunity to write an important page in the history of football. And I think that there are still a few small pages to be written."
On the Premier League
"I watch the Premier League. Unfortunately, or rather fortunately from lots of different points of view, in my career I have only ever played in Italy and in two teams: Parma and Juventus," said Buffon.
"Clearly I feel both flattered and proud of the fact that I have only ever played in two teams, having played for Parma for 10 years and now I am starting my 15th year at Juventus.
"But one small regret I do have is that I have never played in the Premier League. I think that I would have liked it a lot and I think that I would have been able to get on with the supporters because I think that they are very special."
On Manchester City & England keeper Joe Hart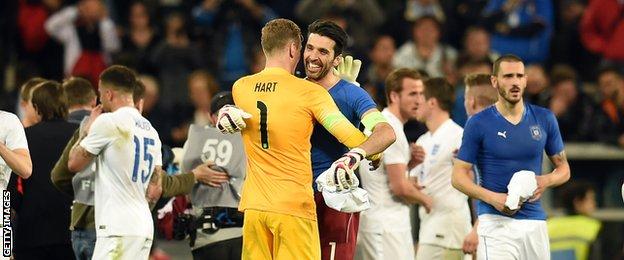 "He has extraordinary physical qualities because he is incredibly powerful and strong, has superb reactions and has great physical presence because he is such a big guy," said Buffon.
"I have the impression that over the last year and a half to two years he has matured a great deal. I can see that he is a lot more decisive during games, he makes fewer mistakes and I think that he has become fully aware of the fact that he is now a goalkeeper capable of playing at the highest possible international level.
"I am really pleased about that because he is a good guy, someone I like and a goalkeeper who I think can improve even more because he is very talented."
On Tottenham and England striker Harry Kane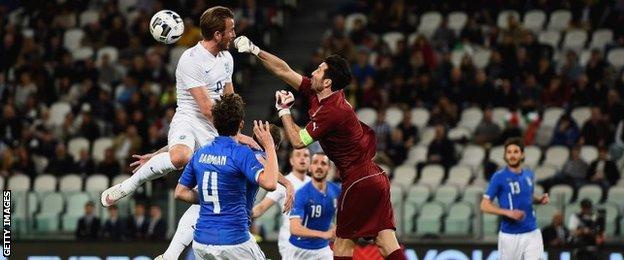 "He has been a bit of a surprise this year because no-one expected him to put in such exceptional performances. And yet here is a young lad who is showing that he is capable of playing in one of the most famous and historic teams in the Premier League, making the difference on the pitch and scoring important goals.
"It is almost like a footballing fairytale and it is the kind of thing that makes football romantic."