Mike Williamson: Newcastle player says red card not deliberate
Last updated on .From the section Football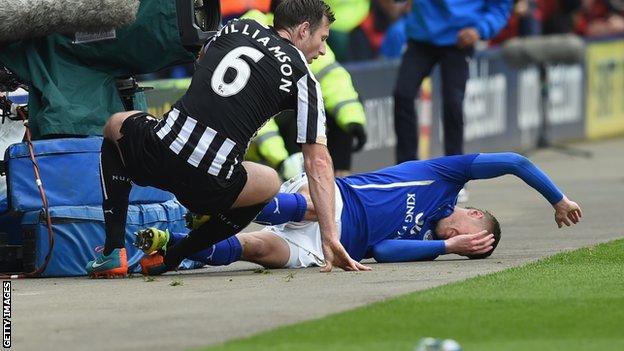 Newcastle United defender Mike Williamson has denied he deliberately got himself sent off during Saturday's 3-0 Premier League defeat at Leicester.
The centre-back, 31, was shown a second yellow card for crashing into Jamie Vardy as the ball ran out of play.
Manager John Carver said he thought Williamson was trying to be dismissed and that it was "an easy way out".
"There was absolutely no intent to hurt Jamie or get sent off," Williamson said in a statement released on Sunday.
"But I recognise that I should have been more composed and measured in my determination to win the ball.
"Unfortunately, it did the one thing that I never wanted to do, and that was to hurt the team."
Newcastle were trailing 3-0 to two Leonardo Ulloa goals and one from Wes Morgan when Williamson was dismissed in the 62nd minute.
The defeat was the Magpies' eighth in a row, and leaves them two points above the relegation zone with three matches left.
Williamson will be suspended for the first two of those fixtures - one match for his red card and another because it was his second sending-off of the season.
He said: "I would like to take this opportunity to apologise to the Newcastle United supporters and my team-mates for getting sent off."
Newcastle's remaining fixtures
Sat 9 May:
West Brom (h)
Sat 16 May:
QPR (a)
Sun 24 May:
West Ham (h)
Williamson, who joined Newcastle from Portsmouth in January 2010, added: "I will do whatever I can to help my team-mates prepare for the next two games and fight to get back into the team when I'm next available.
"I've had the honour to play for Newcastle United for five years now, and I can genuinely say that I feel privileged to play for this football club. I would never do anything intentionally to hurt the team or its supporters."
Carver, who was appointed as manager until the end of the season after Alan Pardew left to manage Crystal Palace in January, has lost 12 of his 17 games in charge.
Alan Irvine, on whose recommendation Ruud Gullit appointed Carver to Newcastle's coaching staff in 1998, was surprised how "scathing" the manager had been.
The former West Brom head coach told MOTD2 Extra: "It's very difficult to work with players if you are too severe in what you say in public.
"It is going to be a difficult conversation when John has a chat with Mike Williamson.
"Saying things to players in the confines of the dressing room is one thing but it's another thing to do it in public."