Celtic: John Collins 'praying' for Virgil van Dijk to stay
Last updated on .From the section Football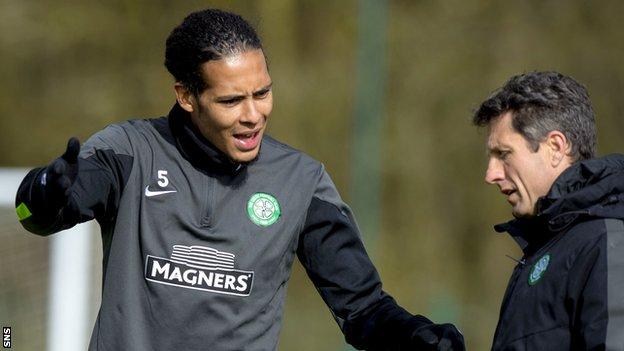 Celtic assistant manager John Collins is convinced Virgil van Dijk can reach the top of the game, but hopes he stays in Scotland for another year at least.
The Dutch defender has excelled at the heart of the Premiership champions' defence in his second season.
Collins told BBC Scotland: "Virgil's got two years to go [on his contract]. I think he is an outstanding player and it's a pleasure for me to coach him.
"I'm hoping and praying we can keep him for another year."
Van Dijk joined Celtic for £2.6m from FC Groningen in June 2013 on a four-year deal.
Last month the 23-year-old stated that he was enjoying "learning every day" at Celtic, adding that he would "see what happens in the summer, but as it looks right now, I am still here".
For Collins, the player of the year nominee has all the attributes to play at the highest level.
He said: "He is young, he is working at his weaknesses, he's got height, he's good in the air, he's got pace, he's a fantastic passer of the ball and he carries the ball well.
"I think he has the talent to play for any team. There's no doubt for me he can play at the top level.
"I think there would be many clubs out there who would love to have him.
"He makes it look so easy. When the day comes when he leaves he will be very difficult to replace.
"We're enjoying him at the moment. But I don't want to talk him up and talk him out of the club."
For all that the Dutchman has stood out in domestic competition, Collins accepted that in European matches Van Dijk found it harder to impress.
"Like all the players, when you step up into Europe you are playing against quicker players, quicker in mind and body, and you've got to deal with that," he said.
"In the earlier rounds in a couple of the games he maybe wasn't so good but as the campaign progressed Virgil got better and better and that comes with experience."
Collins suggested Celtic will be scouting to strengthen "all over the pitch", with a target of "20 players that are capable of playing at a high standard".
"It's never easy," said the former Celtic midfielder. "Every manager wants to improve his squad.
"It's the job of the management and the scouting department to find players who can create competition for places and make us better."
Speaking on BBC Radio Scotland's Sunday Sportsound programme, Collins shared his views on four other players at the club who have had varying degrees of success on the pitch this season.
Collins on defender Jason Denayer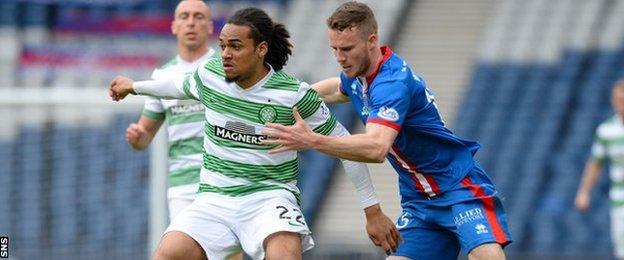 "Manchester City want to bring Jason Denayer back [after his loan spell] for pre-season training. There is nothing we can do.
"He has been absolutely brilliant for us - 19 years of age, he has played with so much composure and of course he's got aggression, as well, for a young man.
"We are hopeful we can maybe still get him back."
Collins on striker Leigh Griffiths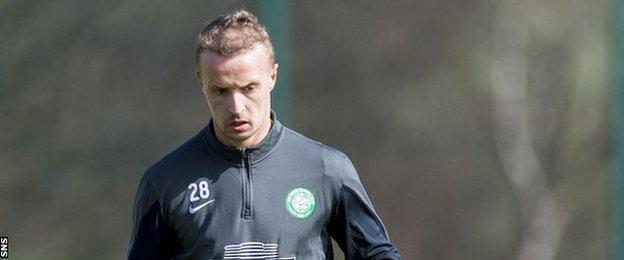 "The challenge for Leigh is to go and do it on the European stage. He's proved he can do it in Scotland. He has worked really hard on the training pitch so it's no surprise to me to see him scoring goals and different types of goals.
"The reason he has been scoring more with his head is because we've been doing a lot of crossing and finishing in training because he needed to work on that.
"Linking the play with the midfielders with his back to goal - that is a part of his game he's got to work at and he is working at it.
"Time will tell. The European games will come and he'll get his chance."
Collins on striker John Guidetti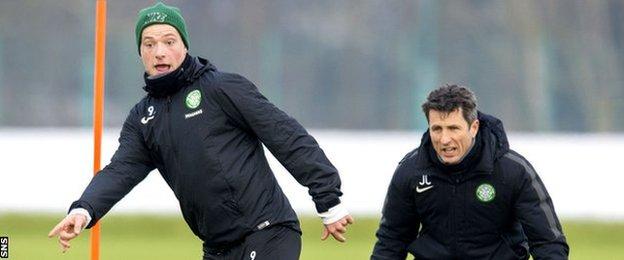 "The hardest thing for any footballer is consistency. Strikers have little bursts when they score goals and their confidence is high and then for one reason or another they lose a bit of sharpness, get rested and somebody comes in and takes their place, scores a few goals and they're out the team.
"That's what happened to John.
"He was unbelievable to start with, scoring goals, making goals, and then he tailed off.
"He hadn't played a lot of football before he came so we knew he was going to get tired, and he did. Leigh came in and, because we only play one striker, he dropped out. It was hard for him to get back in."
Collins on striker Stefan Scepovic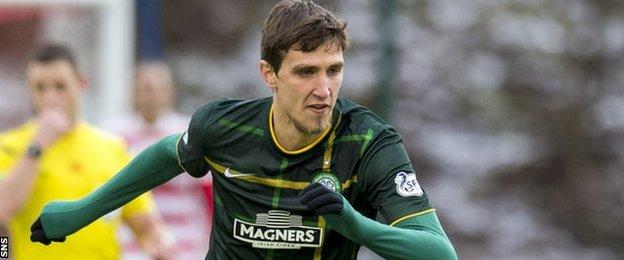 "It's never easy when a new player comes in from overseas. We play with one central striker so there were three playing for the position.
"It took him a little while to settle in. He never scored a lot of goals early doors.
"He's got to adapt to Scottish football and his team-mates. Now he knows it's high tempo and he doesn't get time on the ball. Often the first season is difficult for overseas players and the second season is usually better.
"He is learning more of the language.
"His stats in the Spanish second division were very good but he has had to sit on the sidelines and watch Leigh scoring lots of goals, so it has been difficult for him."