Some ex-Cardiff players 'did not care' about club - Ben Turner
Last updated on .From the section Football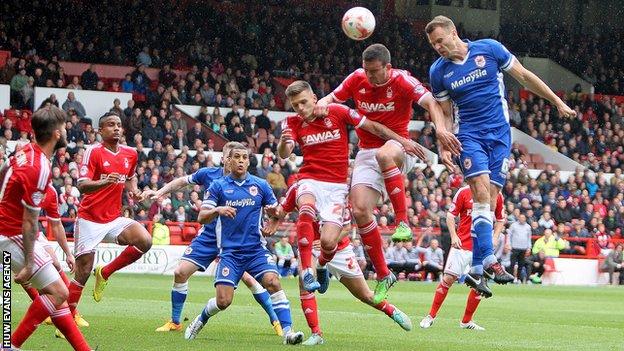 Ben Turner has accused some of the players that have left this season of not caring about Cardiff City.
The defender made his first appearance since January in the 2-1 win over Nottingham Forest on Saturday in their final Championship game of the season.
"Certain players were here and whether they cared about the club like the lads who are here now, who knows?" he said.
"But now we've got lads who care about the club, care about each other and want to do well for the manager."
Russell Slade took over as Cardiff's new manager in October 2014 following the sacking of Ole Gunnar Solskjaer.
The former Leyton Orient boss has come in for heavy criticism this season, with supporters booing him and calling for his departure.
But centre-back Turner, 27, said the criticism was unfair: "It's completely unwarranted," he said.
"First and foremost he's a very professional guy, he's a very good manager and absolutely... he's deserved the chance to manage in this league."
"He's paid his dues, he's managed enough games, he's got all that experience - 700 or something games he's managed - so he's got the shoulders to take that criticism.
"You can criticise a certain performance or run of results, but some of the stuff I've read, just to generally say the whole thing isn't right having Russell as our manager, I just don't understand that.
"One thing he hasn't done is take the club backwards, he's given us a platform for next season. It's a season to judge him and I hope everyone gets behind him.
"You can ask any of the lads that are at the club now, they all want to play for him, we all want to push forward and you don't go on the away run we've been on [five away wins from the last seven league games] if you're not playing for the manager.
"We've got ourselves into the top half of the league but we've had an absolutely disastrous season in terms of some of the stuff that's gone on with the changes.
"The wage bill was ridiculous, there's no secret about that.
"You just look at the last time we got promoted [to the Premier League], everyone was pulling in the same direction: players, staff, manager at the time with the owner at the time.
"All the fans were onboard and the home ground was rocking, we'd come away and we'd ground out results. If we haven't got that we haven't got any chance, but if we have got that we've got every chance."
Turner returned against Forest after a long-term ankle injury and said that Cardiff's 11th-place finish in the Championship gave them a platform to build on.
"I'm glad it's worked out. We've won the game, we're in the top half and hopefully it's something positive to take into the summer," he added.
"There's a lot of work to be done, we all know we've not been good enough this season and we need another six or seven wins [more] next season minimum to be in the play-offs or higher.
"But from some of the doom and gloom that has been around this season, we definitely believe we can get six or seven more wins.
"That's very, very possible - our away form has been great at the end of the season and we need to add that to our home form.
"We want the whole club rallying together because it's definitely doable."