Dundee Utd: Jordan Moore battles back after planning own funeral

By Alasdair Lamont
BBC Scotland
Last updated on .From the section Dundee Utd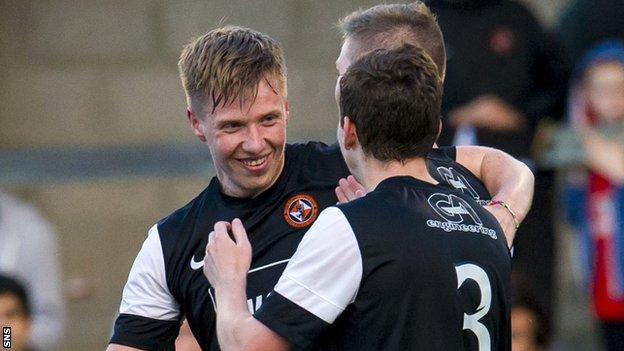 It's not uncommon to hear footballers who have endured a long period out of the game describe low points during their spell on the sidelines.
But the notion of preparing for your own funeral probably trumps most of those stories.
Yet that's how bleak things became for Jordan Moore of Dundee United after he was diagnosed with skin cancer.
On Sunday night, the 21-year-old was given a special merit award by PFA Scotland in recognition of his recovery from the disease.
After picking up his award, the striker recalled a supportive message from the former England defender, Rio Ferdinand, whose wife died of cancer this week.
"Rio Ferdinand was one of the guys who tweeted me before my charity night to say 'have a great night, such a fighter' and so on," Moore recollects.

"Now I kind of realise why he did it because maybe his wife was going through it and he knows more than anybody really how hard it must be."
Moore acknowledges how fortunate he has been to survive, particularly given how poor the prognosis once was.
"The worst time is when you're planning your own funeral," he reflects candidly.
"You think that's it, to be honest, once you get to a certain stage, but there are good days as well and you always need to stay positive.
"I always felt that if I was negative then you've lost already, so you might as well be positive and, if it's bad, you deal with it and if it's good then brilliant."
Moore has spoken in the past of how Hibernian manager Alan Stubbs has helped him through his recovery, having himself survived testicular cancer.
But he also aims to repay Dundee United and manager Jackie McNamara for their support during a difficult time.
"It's not just the manager - the chairman made sure my contract was sorted," he adds.

"I was kind of rushing it back because I only had a year left on my deal, but they said 'what are you rushing for? We're going to give you another contract to give you time, there's no rush'.
"I always say to the gaffer 'I just want to repay you'. I was on loan at Dunfermline when I first got diagnosed and they were brilliant with me as well.
"But Dundee United are the main club that have helped me so much and I just want to score goals and try to repay 1% because, no matter what I do, I'll never be able to fully repay what they did for myself and my family.
"I don't think I would have got through it as well as I did without having Jackie McNamara and his staff. They've been brilliant."
Moore says he was told, after receiving his final dose of treatment, he had only a 1% chance of playing football again, but he returned to first-team action in February, on loan at Queen's Park.
He scored three goals in four starts there, but having defied the odds several times already, the striker now has his sights set on earning a place in United's first team next season.
And who would bet against him achieving that?