Liverpool's Steven Gerrard will be great manager - Gerard Houllier
By Neil Johnston
BBC Sport
Last updated on .From the section Liverpool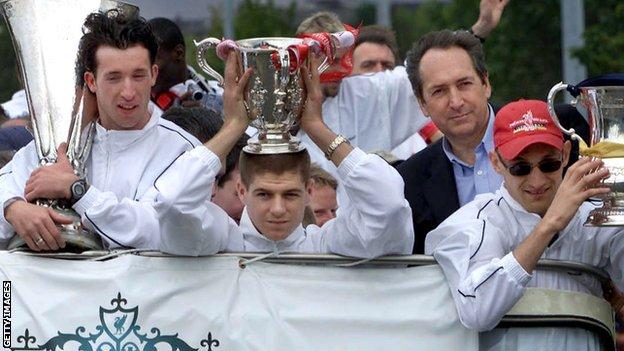 Steven Gerrard will make a "great manager" when he retires from playing, says ex-Liverpool boss Gerard Houllier.
Gerrard, 34, makes his final Anfield appearance for the Reds on Saturday when Crystal Palace are the visitors.
"He will make a great manager because he has always put the team first," Houllier, who gave Gerrard his senior debut in 1998, told BBC Sport.
"He has got everything it takes to think about the team, the club and the development of others."
Houllier added: "He is a natural born leader, a very inspirational leader. He is somebody you want to follow."
Houllier on Gerrard leaving Liverpool
"I don't think he wanted to show the fans his decline. I personally think he could play in a different role, a bit like Andrea Pirlo, in front of the defence like an anchorman. Maybe he wanted to have a new challenge and that's typical of Stevie."
The Liverpool captain is joining LA Galaxy in the USA's Major League Soccer (MLS) this summer after 17 years in the Reds' first team.
Gerrard made his first-team debut aged 18 as a second-half substitute for Vegard Heggem in a 2-0 home win over Blackburn on 29 November, 1998.
He has just two game remaining in a Liverpool shirt and former France manager Houllier hopes to be at Anfield on Saturday where Reds fans will give Gerrard an emotional send-off in his last home game.
"The fans will miss him. He is a leader and has always done that," said Houllier, who was also responsible for appointing Gerrard as Reds captain in 2003.
Houllier on first seeing Gerrard in action
"I went to watch the Under-19s and Steven, who was part of the Under-17 team at the time, was playing to help them out in terms of numbers. He was running from box to box, he was tackling and shouting at his team-mates. He was already behaving like a leader. The next day I asked him to come and join the pros."
Former England captain Gerrard has gone on to make 705 appearances for the Reds, scoring 184 goals.
In addition to skippering Liverpool to their 2005 Champions League triumph, Gerrard is a two-time FA Cup winner and a three-time League Cup winner.
He played a key role as the Reds, under Houllier, won the FA Cup, League Cup and Uefa Cup in the 2000-01 season and has won a total of 10 trophies at his hometown club.
Gerrard is the second former England captain to join Galaxy, after David Beckham played for them between 2007 and 2012.
Houllier, who says he has has a "special" relationship with Gerrard, believes the midfielder, who turns 35 on 30 May, will return to Anfield.
"He will be as much in the heart of the Galaxy fans as Beckham was," he said. "Stevie was a world-class player and makes your team win.
"The MLS is very lucky to get him. He will be extremely successful there. He will come back to Liverpool in some capacity, I'm sure he will.
"Maybe not in the coming years but sooner or later he will come back."
What the MOTD pundits say about Gerrard's exit
Robbie Savage:
"I think he has been Liverpool's best ever midfield player and their second best overall after Kenny Dalglish. But I think the time is probably right."
Martin Keown:
"I disagree. I think you keep these great players as long as you can. You can't blame Steven Gerrard for where they are in the table right now."