Hearts' title helps heal Craig Levein's Scotland bruises

By Chris McLaughlin
BBC Sport
Last updated on .From the section Football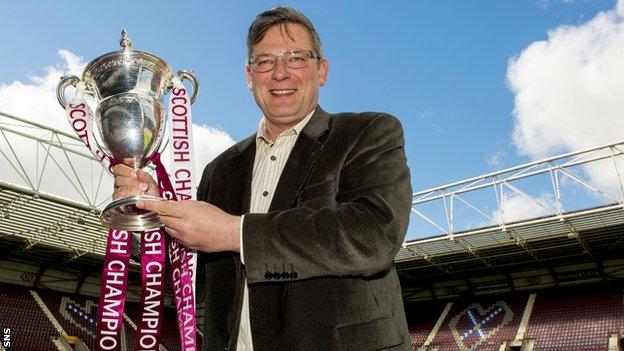 Craig Levein says life behind the scenes at Hearts has helped him get over the bruising experience of his time as manager of Scotland.
Levein has helped the Edinburgh club win the Scottish Championship as director of football.
"It worked perfectly well for me," said the 50-year-old, who was appointed last summer with fellow former Hearts player Robbie Neilson becoming head coach.
"After my Scotland days, I was quite happy to sit in the background."
Levein was sacked in 2012 following a poor run of results after three years in charge of the national side.
"I enjoyed it, but I've never particularly enjoyed being in the limelight as such," he told BBC Scotland.
"It is quiet for a long period and then you are thrust into the limelight - whether it's a fortnight or week, it's just constant attention.
"Me having a thin skin doesn't help either."
Hearts, who were relegated from the top flight last summer, won the title on 22 March and finished with a record number of points - 21 ahead of city rivals Hibernian.
But Levein recognised that there has been much speculation about whether he was making the major decisions and not Neilson, whose previous experience was as player-coach at East Fife.
"He is responsible for selecting the players, the tactics, picking the team and managing from the touchline on match day," explained the director of football.
"The other stuff is my responsibility. I deal with the contracts, agents, scouting, the academy."

Former Cowdenbeath, Hearts, Leicester City, Raith Rovers and Dundee United manager Levein said that, as he was at training every day, he was available should Neilson want opinion on team affairs.
"I think it was really important for Robbie and it was really important for me as well that he had the autonomy and was allowed to manage the team," he said.
"He's taken to it like a duck to water. He's made some good calls and, nine times out of 10, he's got it right."
Edinburgh businesswoman Ann Budge appointed Levein after taking over the club following administration.
Levein said her regime was different from "the scepticism, the backstabbing and short-term thinking that goes on that really shackles our game".
"She's a fantastic person," he said. "She's a breath of fresh air. It is refreshing to have somebody who thinks about things completely differently.
"All she ever talks about is how the club will look in four or five years time and that's the type of thinking that Scottish football needs.
"She's significantly better than anyone I have worked with."
Asked if he would consider a return to team management, Levein added: "I spoke to Ann about this job when she offered me it and she talked about a three-to-five-year plan and I committed myself to be involved in that.
"I feel good here. I played here, I was manager here, it feels good to be back associated with the club, especially something as vibrant as what's going on just now."