Michael Gault says assistant referee apologises for cup blunder
Last updated on .From the section Football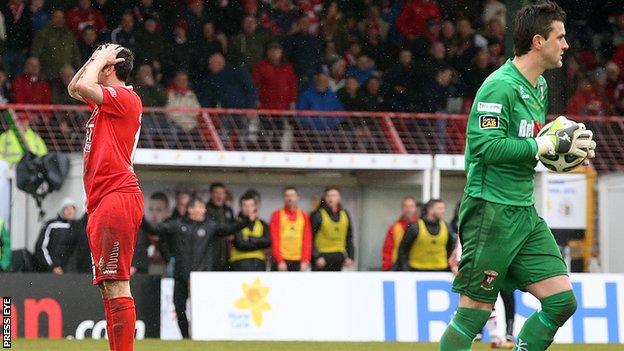 Portadown midfielder Michael Gault says assistant referee Raymond Crangle has admitted the wrong call was made in Saturday's Irish Cup final controversy.
Gault fell after Willie Garrett tackled him as he broke clear on goal but no foul was awarded and Glentoran's David Scullion scored seconds later.
Referee Ross Dunlop maintains he made the right decision but Gault says Crangle has apologised to him.
"He admitted it was a foul," Gault told the Newsletter.
Gault also said that Crangle, one of five assistant referees on duty, had told him that his microphone wasn't working at the time of the incident and that he had been unable to relay information to referee Dunlop.
"I phoned Raymond Crangle this morning and he apologised," added Gault.
"He also said his microphone wasn't working so he couldn't relay the information to Ross Dunlop.
"But why not wave your hands and get the referee's attention?
"I know Raymond well and he is a good guy but they got it badly wrong on Saturday."
Referee Dunlop said after the game that he believed there had been "minimal contact" between Garrett and Gault in the decider's massive talking-point.
Garrett underhit a back-pass to keeper Elliott Morris and Gault spotted the opportunity - he went down as he attempted to pass the defender, who would have been red-carded if it was deemed a foul.
"I haven't seen it again, but my recollection of it was the players came across each other," Dunlop told the Sunday Life.
"Gault appeared to go down rather easily. I spoke to my assistant on my headset and his reply was 'nothing, nothing, nothing'.
"Portadown still had enough players behind the ball but I made an honest call as I saw it.
"If I've made a mistake I'll hold up my hands and apologise, but that will be no consolation to Portadown Football Club."
Portadown manager Ronnie McFall was incandescent with rage about the incident following the game.
"There was no question, it was a straight red card," said McFall.
"In a cup final of this importance the officials have top be up to the mark and unfortunately they were not up to it."
McFall also claimed his team were denied two penalties in the game.