From Addicks striker to Arrows coaching hero
By Mark Gleeson
BBC Sport in Durban
Last updated on .From the section Football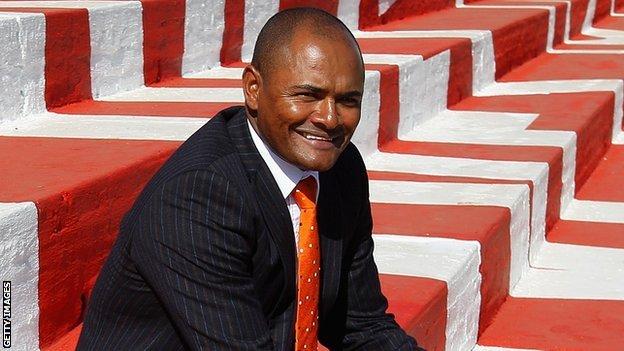 Shaun Bartlett has paid tribute to the role Charlton Athletic played in his evolution from top-notch striker to promising coach after winning promotion with Lamontville Golden Arrows of Durban to the top flight of South African football.
The former Bafana Bafana captain achieved the feat in his first full season in charge, and only a year the team were relegated from the Premier Soccer League.
He told BBC Sport: "I'm thankful to the people in England who set me on the path to my coaching badges."
Arrows secured their place with a home draw on Sunday to move out of the reach of the chasing pack in the 16-team division.
With only two defeats in 29 games this season - they have one match left next Sunday - and an impressive run to the cup quarter-finals, it has been a dream season for the 42-year-old Bartlett.
"It's very difficult at this moment in time to put it all into words," said Bartlett, who played for Charlton between 2000 and 2006.
"I'm still trying to get over the emotional side of it, but the great satisfaction for us as a team, and me as a coach, is that we achieved the goal we set out on day one of the pre-season.
"It's never easy to bounce back after one season of rebuilding the whole team and me obviously as an inexperienced coach in my first head coaching job. It was a challenging season but with the support I had, it all contributed to the success."

Bartlett, who was a youthful but prominent member of the South African side that won the 1996 African Cup of Nations, has very quickly made a name for himself on the bench to match his status as one of the country's best strikers.
But he wants to set modest ambitions for his club next season and work slowly but consistently on improving.
"I'm a coach who wants to achieve things. It's what I said to the players at the beginning of the season. I'm not going to settle for second best. I'm very pleased and proud of what my players have achieved," he said.
"I've still got a long way to go. I'll be honest when I say that when we started the season not many people gave me a chance but I've always had the confidence in my own ability.
"On day one of the pre-season I said to the players, 'I'm here as your head coach, what I've done as a player is out of the window'.
"Any player making that transition will tell you that. All our past achievements go out the window although obviously you try to bring the experience from playing into your mentality, how you want to play and approach the game.
"But as far as the coaching side is concerned, I've got a long way to go and this is just part of my learning curve."
Bartlett, who is South Africa's second-highest all-time scorer with 29 goals in 74 caps, returned home to play at Kaizer Chiefs and Bloemfontein Celtic after his spell with Charlton before turning to the coaching profession.
He has Uefa qualifications which he completed in England during his playing days.