Blackpool protest: Abandoned match will not be replayed
Last updated on .From the section Football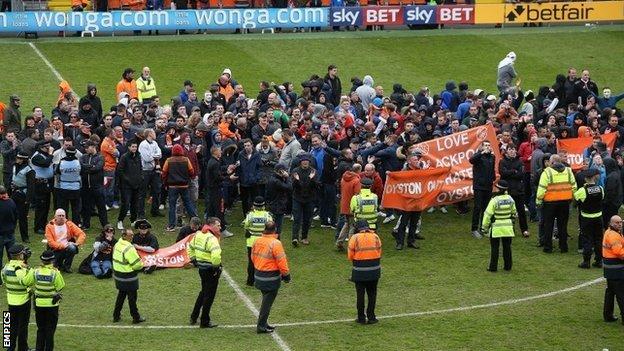 Relegated Blackpool's abandoned Championship home match against Huddersfield Town will not be replayed.
The game was held up for more than an hour before the fixture was called off.
"Playing the match again would serve no justifiable purpose seeing as its result has no bearing on promotion or relegation," said the Football League.
The league added that the result of the match would be decided at its next board meeting on 14 May.
With the game still goalless, Blackpool supporters made their way on to the pitch and headed towards the centre circle.
Some fans released flares and began angrily chanting towards the club owners - the Oyston family - in the directors' area, as tensions rose inside the stadium.
The scene soon became somewhat farcical, as one fan entered the pitch to join the protest on a mobility scooter, while others started a conga line as supporters continued to voice their frustrations.
Despite pleas from the referee to restart the match, the protesting fans stood firm and the match was eventually called off on safety grounds after over an hour of on-field protesting.
Before the match, 2,000 Blackpool fans protested outside the ground against the Oyston family.
The Seasiders had already been relegated from the Championship and have endured a miserable season, collecting just 25 points from their 45 games before Saturday's final match of the campaign.
Saturday's protest was the second in just under a month at Bloomfield Road, after home fans threw fireworks and eggs before their draw against Reading.