Fifa presidential election: Prince Ali Bin Al-Hussein may back rival
Last updated on .From the section Football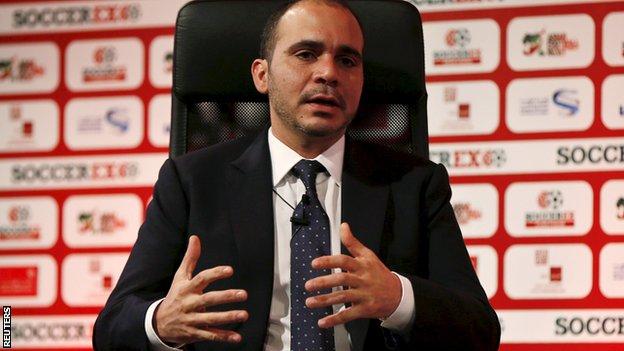 Prince Ali Bin Al-Hussein would consider withdrawing from the Fifa presidential election to allow a single candidate to challenge Sepp Blatter.
"The important thing is that we support the person who has the best chance of making a change in Fifa," he said.
"At some point there will be a discussion about that."
Blatter, 78, is seeking a fifth term as president, with Fifa's 209 member associations set to vote in the election on 29 May.
Prince Ali, an outgoing member of the governing body's executive committee, believes they could be faced with a straight choice between two candidates.
Speaking to the BBC's World Football programme at the Soccerex convention in Jordan, he added: "I have tremendous respect for both the [other] challengers.
"We all have our different approaches but I think we have one common goal and that's about the need for change in Fifa.
"It's never about one person and that's been the case for me from the very beginning."
Fifa to consider Israel suspension request
The Palestinian Football Association is seeking the suspension of Israel from world football.
A proposal to that effect has been included on the agenda for Fifa's annual congress in Zurich and would need a 75% majority to succeed.
Palestine has complained that Israel has continued to hamper its football activities through restrictions on the movement of their athletes between the Gaza Strip and the Israeli-occupied West Bank.
Israel cites security concerns for restrictions it imposes but says it has eased travel for Palestinian athletes between the territories.
There will be more from Prince Ali Bin Al-Hussein on the BBC World Football Show on Friday, 8 May at 21:30 BST.