Andy Whing: Injury-plagued Oxford defender hints at retirement
Last updated on .From the section Oxford Utd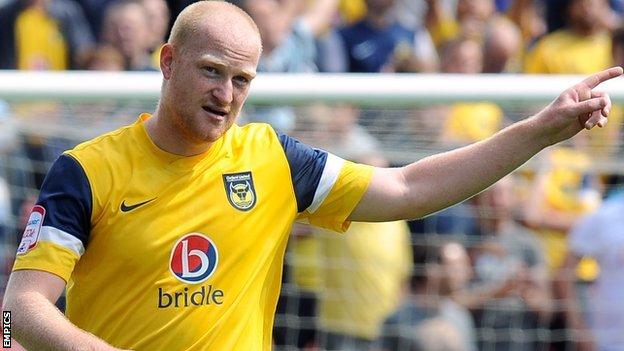 Oxford United defender Andy Whing has hinted at retirement, admitting he is sick of tablets and injections to get him through games of football.
Whing, 31, has suffered from various injuries over the past two years.
He has been offered a coaching role at the League Two club and is now considering hanging up his boots.
"It's been difficult the past couple of years," Whing told BBC Oxford. "I had four operations in the past two years and it's not got that much better."
Whing, who joined the U's in May 2011 and has made over 100 appearances for the club having begun his career at Coventry, revealed how tough it has been to keep his career going.
"Getting through training has been quite hard," he said. "I'm sick of taking tablets and having injections.
"The gaffer has been brilliant with me the past few months. He's said he wants me around, likes my character and I couldn't wish for a better manager, especially after what he went through as a player."
Whing is keen not to end his career prematurely but with a young family he admits he now has to think about the future.
"We are still in discussions, we will see," he added. "I don't know if I will keep playing professionally here or elsewhere. We'll have to see how my body recovers.
"Hopefully in some capacity I'll be back here next season. If I was 35 and the gaffer was asking me to join the backroom staff then yes, it's an easy decision.
"But if it starts affecting your home life. Playing with your children, it becomes quite hard, I've got another one on the way so I need to think about them."
He added: "It's what I love and you don't want to end it too early, but that's the way the cards have been dealt. I'll keep plugging away and see what happens.
"I've had a great time this club and If I can do anything I can to help this club get to where they should be, I'd be more than delighted."