Gareth Bale: Is Real Madrid's Wales forward lacking inspiration?
Last updated on .From the section European Football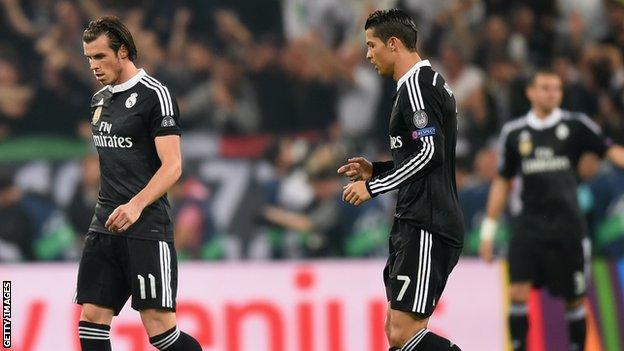 Short of confidence, no real impact and without a shot on goal to his name, Gareth Bale cut a disappointing figure during Real Madrid's 2-1 defeat at Juventus.
The fit-again 25-year-old Wales forward was eventually substituted after 86 minutes, his performance in the first leg of this Champions League semi-final drawing criticism from both Spanish and British media.
Roy Keane was arguably Bale's harshest critic. The former Manchester United captain said: "It was very difficult for Real Madrid playing with 10 men. Gareth Bale gave them absolutely nothing."
Was he really that bad?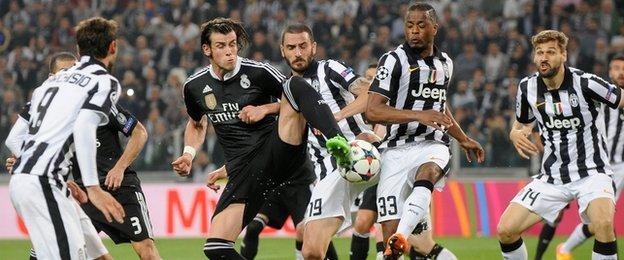 Let's take a look at Bale's night in numbers...
0 -

shots on target, tackles and chances created. Although the Welshman did have one shot blocked.

18 -

total passes - the fewest of all Real's players, and three fewer than the total made by goalkeeper Iker Casillas.

32 -

total touches - again the fewest of any Real player, including Casillas, who had 36 touches of the ball.
So what's wrong with him?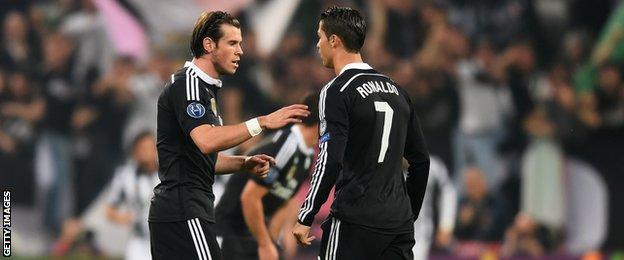 Real manager Carlo Ancelotti blamed fatigue for his poor performance.
"He was tired," said the Italian, who said he substituted the Welshman late in the game to protect him.
"He's just back from injury and he's too important for us. He's our most dangerous player. Because he was tired, I just preferred not to take any risks, so I took him off."
Former Chelsea and Scotland winger Pat Nevin, BBC Radio 5 live's summariser at the Juventus Stadium, suggested Bale was not fully fit.
"We know he has incredible pace," said Nevin. "Ordinarily, four or five times a game he will burn off past defenders. Not once did we see that today."
A lack of confidence?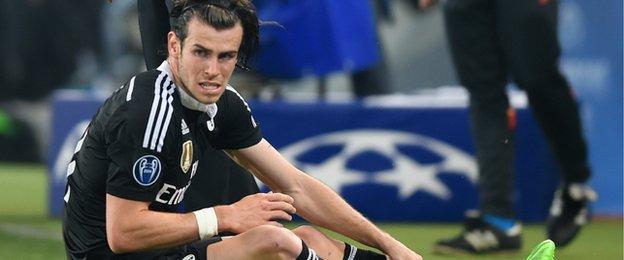 Former Manchester United and England defender Phil Neville thinks so.
"Normally he would turn and run straight at the defender, but instead he would turn out and pass it back," Neville told BBC Radio 5. "That is not the Bale we know."
Keane agreed, claiming: "His team-mates can't be happy with him because he took the easy option every time.
"The reason he's at Real Madrid is to be brave and get at people. Every time he got at people, even on one-on-ones, he turned back."
Is Ronaldo the problem?
Nevin said Bale's display also indicated he had a problem playing alongside fellow striker Cristiano Ronaldo.
"Personality-wise, Ronaldo bosses things at Real Madrid," said Nevin. "That must be hard to deal with.
"Bale and Ronaldo have absolutely no understanding whatsoever. That's not really good enough for a centre-forward partnership.
"James Rodriguez was poor, too. He's another perhaps playing in the shadow of Ronaldo."
Are fans losing patience?
"It's certainly not the case - yet - that he is the victim of a witch-hunt or that he is forced to play in an atmosphere of negativity," says Spanish football writer Andy West.
"However, Madrid fans are aware that arguably their team's best two performances of the season - a Champions League win at Liverpool and a league victory over Barcelona - came when Bale was sidelined through injury."
West said Bale went into Tuesday's game on a "positive note" after playing well on his comeback from injury in Saturday's win at Sevilla.
But he added: "The optimism generated by that promising cameo display has now quickly been forgotten, with the focus returning to his overall lack of productivity over a worryingly long period of time."
What's the view of the Spanish media?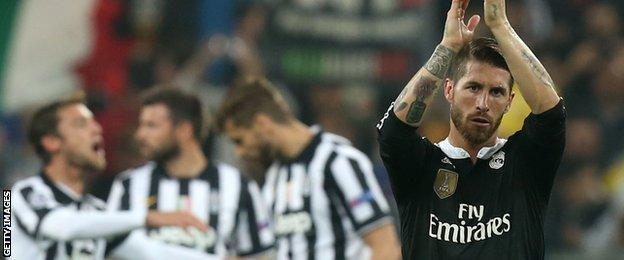 In the immediate aftermath of Tuesday's defeat in Turin, Real defender Sergio Ramos was the subject of most of the criticism after his poor display in midfield.
But Bale's play still generated some negative commentary, with newspaper Marca particularly scathing: "Madrid needed something to light a spark. It wasn't going to be Bale, who was switched off all night."
AS was far from impressed with Bale either. It accused him of being "lost" and said Javier Hernandez would have been a better choice.
The Mexico striker, on loan from Manchester United, started the game on the bench before replacing Isco on 63 minutes.
"The Mexican creates space, not like Bale who is always static," AS said. "And on the right, he didn't do anything either."