Bristol Academy must be the Crazy Gang of the WSL, says chairman
Last updated on .From the section Women's Football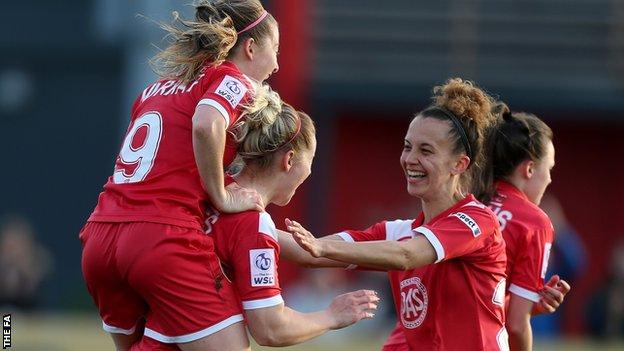 They may refrain from burning clothes and throwing punches at one another in the centre circle, but Bristol Academy are prepared to be a little crazy as underdogs of the women's game.
When chairman Simon Arnold went looking for a new boss to replace head coach Dave Edmondson last month, his top priority was finding a figure for players to rally around - a motivator who could harvest the riches from a side assembled with one of the smallest budgets in the top flight.
It is the misfits who formed Wimbledon's 'Crazy Gang' who beat Liverpool 1-0 in the FA Cup final in 1988 that Arnold says his side must emulate if they are to avoid relegation and rebuild as a Women's Super League force.
"What we have to do is have something a bit different and that is this siege mentality," Arnold told BBC Sport.
"When we play here the fans will get behind us. Play with our heart, be a bit crazy and we could pull off the odd result and shock a few people like we have in the past."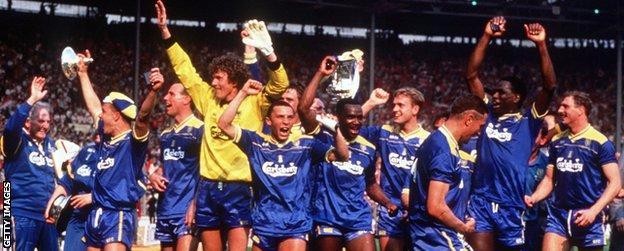 The 'Crazy Gang' were just as famous for their spirit, camaraderie and upsetting the odds - rising from non-league football to the top flight - as they were infamous for their outlandish dressing-room antics.
Arnold insisted that a player exodus in the winter is not solely to blame for Bristol's place at the foot of the WSL 1 table.
Rather, it is "a lack of team spirit" that eventually prompted the Vixens to sack Edmondson - a manager who Arnold insists would be a hit with any "big club" - and turn to Scotsman Willie Kirk.
As the only top-tier side in the women's game in England not associated with a men's club, Bristol Academy see identity and spirit as their greatest strength.
"I keep moaning that we haven't got the money and as a skint chairman I get boring," Arnold said.
"We haven't attracted as good a player as those we lost. We have had good players come in but we lost a lot to America and the bigger clubs.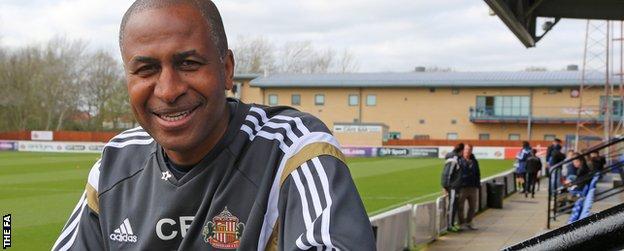 "The playing field isn't as level as it was, but you have to put up with that and get on with what you have got.
"We are not going to get the best and most technical players in the country, we haven't got the budget for that. What we can do is get a club where we get the fans behind us, get the atmosphere going and people play for the club.
"We want to get back to the spirit where everyone is playing for each other."
Barcelona found that out when a Vixens side fighting to secure their top-flight status last season managed to knock them out of the Champions League in November in front of a club-record crowd of 2,457 at Ashton Gate.
They have failed to win since, were knocked out of Europe with a 12-0 aggregate loss to Frankfurt in the quarter-finals and fell in the FA Cup fifth round against second-tier Everton.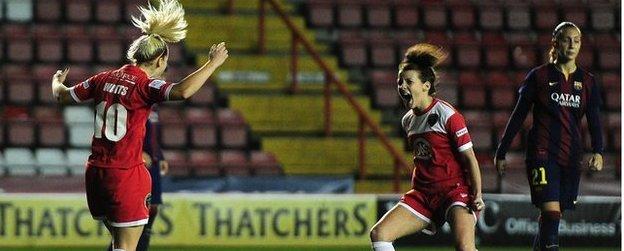 Bristol captain Grace McCatty, who played her final game of the season on Saturday before leaving to volunteer in Zambia, says the Vixens have struggled to reproduce the passion that they relied on in the past.
"We are not mad crazy, but we have always had that togetherness and enthusiasm," she said.
"We need to get back to that place. We've had a lot of players leave, core players, and we need those who have come in to buy into that ethos.
"We are a gang, from the Mini Vixens all the way to the senior team - we are the only club that is different to all the rest."
Kirk, who oversaw Saturday's 1-1 draw against Arsenal in his first game in charge, says "the key word is togetherness" at Stoke Gifford Park when the coffers cannot compare to that of Manchester City, Liverpool, Chelsea, Notts County and Arsenal.
The top-flight's only independent team
Bristol Academy are the only team in top flight that is not associated with a men's club.
Five clubs - Chelsea, Arsenal, Liverpool, Sunderland and Manchester City - are linked to their male counterparts in the Premier League.
"There is a spirit needed. There is also a huge need to produce our own players," Kirk told BBC Radio Bristol.
"There is money to spend in the transfer market, albeit not like Man City or Chelsea, but there is money to bring players in to freshen things up.
"It is going to to a huge challenge. In name terms we are the smallest club in the league, but that doesn't mean we will be the smallest club in the league.
"It is a challenge I'm looking forward to and hopefully that enthusiasm that I bring to the post will make sure the players are looking forward to that challenge every week.
"There are lot of positive to take from being an underdog.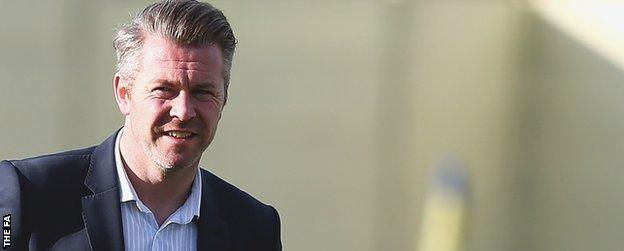 "But if other's expectations are not as high as that, there is nothing we can do about that, but we will certainly use the underdog tag to motivate us."
Avoiding relegation will be welcomed as success this season, but Kirk believes they can return to European competition.
"It would be fantastic to think that we could, but it is a different landscape now," said Kirk.
"Bristol had a lot of good things in place at the outset of the Super League, but now the so-called bigger teams - Man City and Liverpool - have got their house in order.
"For Bristol to be challenging will be very difficult, but not impossible. Certainly, cup runs and big days like beating Arsenal are possible at a club like Bristol."