Aston Villa: Premier League club give India women's football a fillip
Last updated on .From the section Women's Football
From the slums some girls came barefoot, wearing saris, ready to play football.
They lined up on a dusty pitch alongside girls with the latest football kits and boots for a training camp and tournament hosted by Aston Villa in New Delhi in December.
A few months later and 4,230 miles west, two girls, Pratibha and Aveka Singh, landed in Birmingham, clad in claret and blue to join the club's youngest and brightest starlets.
For Pratibha, 14, her first trip outside India was a 23-hour journey from Chhapra, Bihar to Villa Park where she trained at the club's development centre and joined a crowd of 39,294 to watch the Premier League side beat West Ham.
Asked what it meant to her, she said: "How can I tell you how much I love my mum? It is like that. I love football.
"I never thought about playing football, my grandad used to play and now I go back to my village and he plays football with me."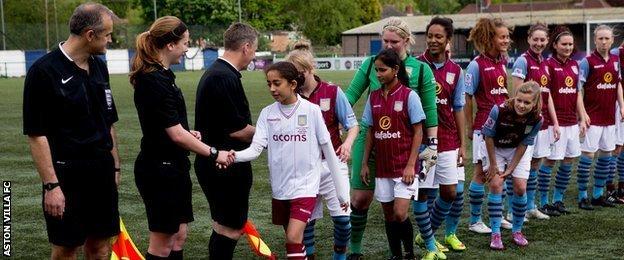 Football in a cricket-mad country was given a fillip last year with the high-profile Indian Super League proving hugely popular, having attracted several big names, including Italy and Juventus great Alessandro del Piero, ex-Arsenal winger Freddie Ljungberg, French stars Nicolas Anelka, David Trezeguet and former England and Villa goalkeeper David James.
Aveka, 11, who occasionally plays alongside 19-year-olds because of the shortage of young female players, did not need a platform anywhere nearly as glamorous to bring about dreams of playing in England for Villa, and for India's national side.
"First, football was just like a fun game to me but after getting the opportunity to play outside I was thinking of taking it up," she said.
"It means a lot to me, I would like to take it up as a career, I want to play internationally.
"India doesn't have too many opportunities, they don't have women's teams that play in cups or leagues. It is pretty tough playing there, it is tough to get the chances."
Aveka's father, Subir, smiles when he says: "She wanted to play football all her life.
"You really don't think some of these things are even possible and when she was born, they weren't. Today, it is more of a reality."
Aston Villa Ladies defender Jade Richards was part of the club's community team that helped bring girls from prominent Delhi schools, as well as underprivileged girls from slum areas of the capital, together to play football at the Delhi Dreams Girls Football Tournament, which Villa co-hosted.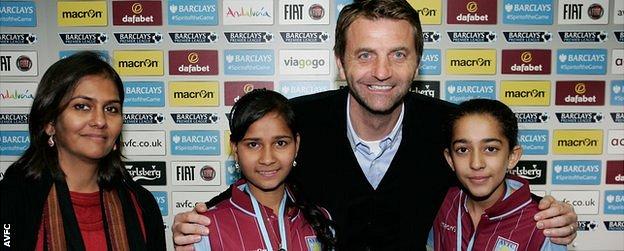 It was a trip that the 22-year-old says "changed her life".
"No matter what they were wearing they gave it 100% and they had huge smiles on their faces afterwards." Richards told BBC Sport.
"They came out and played their hearts out. It was an amazing atmosphere.
"The most touching moment for me was when one of the girls told me it was the best day of her life.
"It had nothing to do with any of the coaching we gave, it was just the opportunity she had to come out, the opportunity to express themselves and be surrounded by other girls that they might not normally play with and find they had similar interests."
Together, more than 120 youngsters turned out for the Delhi Dreams Girls Football Tournament.
Villa's involvement and backing proved crucial as the Centre for Equality and Inclusion (Cequin) - an Indian non-government organisation - lacked the finances to deliver coaching, host tournaments and, as Cequin director Lora Prabhu put it, "use football as a way to empower girls".
"It was a very timely partnership," added Prabhu.
"Sport is an effective medium to engage girls, to help build confidence levels, enhance leadership qualities, school retention and delay marriage.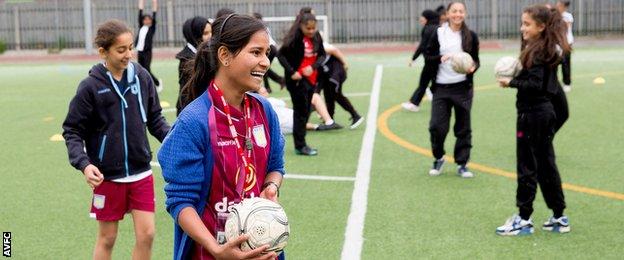 "Football encourages girls to access public spaces, to go out there and claim their public parks. In India, typically girls don't play outdoors and we want to change that culture. We want girls to come out in large numbers and be seen, to be visible.
"Girls' football is not taken seriously, but with Aston Villa with us as partners it gave it more visibility. The girls felt good about themselves, they were wearing Aston Villa jerseys. They felt good because usually it's the boys that are given all the attention and the jerseys, they are in the spotlight all the time. But on this rare occasion, the girls felt [they were] the centre of things."
On the pitch, there was no distinction between class, economic or cultural backgrounds.
Such social interaction, Prabhu says, is what makes the future of the women's game exciting.
"In India football really is not a sport for the elite," she said.
"There is very little money in football. Football is not perceived to have a future so children from affluent backgrounds don't really get into football, but it's those from weaker rural backgrounds who do come in. They are very good and talented but don't have the investment to take it forward.
"The idea is to create a buzz about the game, get children from various backgrounds to come out and engage in the sport, to enjoy it and to look for possibilities.
"Women's football is coming up in a big way and we do feel that there is strong potential to move the game forward."