Celtic: Squad 'good enough for Champions League' - Ronny Deila
Last updated on .From the section Celtic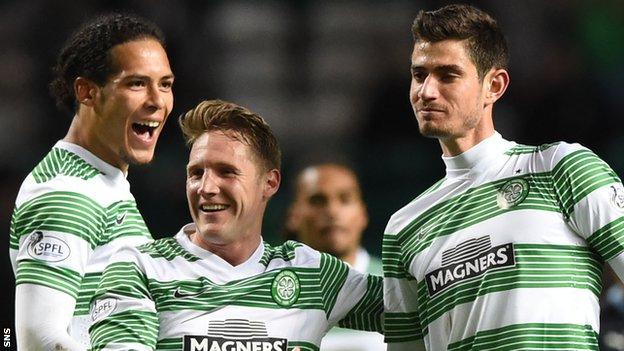 Celtic boss Ronny Deila says his priority this summer is to build up his squad, adding that he has no need to sell top players like Virgil van Dijk.
"We need consistency and the players who are here are good enough to take us to the Champions League.
"It is much more critical for us to get into the Champions League than to sell Virgil van Dijk."
Deila is having to consider his options in central defence, with the Dutchman's partner, 19-year-old Jason Denayer, heading back to Manchester City at the end of his season-long loan.
"He goes back to Man City and we have to look at what we do there - that is a challenge we have," said Deila, who believes 23-year-old Van Dijk can eventually play for a top side in one of the major leagues.
"We want to keep Virgil and we need him going into the Champions League qualification.
"He has a contract at Celtic and we don't need to sell Virgil van Dijk.
"He needs a good Champions League campaign to get the challenges he's after, he is a top-level football player, but still we can make him better.

"He should go to the biggest clubs in the leagues, not the small clubs in the biggest leagues with money.
"We want to be a selling club to big clubs, not to smaller clubs than we are ourselves."
Deila believes he is in a "totally different situation" to last summer, when he felt he needed to rebuild the squad inherited from Neil Lennon.
"But we want to get the squad even stronger and more competitive," he said.
"We want to get some players out and some players in as long as they are the right ones.
"But the most important thing is to continue to develop the players we have. I believe in them."
Deila admits that it is "not possible" for Celtic to attract a ready-made Champions League quality striker.
"The only we are going to do that is if they have been injured for a long time and we try to get them back on track or he has been sitting on the bench for a very long time," he said.
"We need to develop the next Champions League striker or we have to bring strikers back to Glasgow who are Scottish and love to play here."
Former Livingston, Dundee, Wolves and Hibernian striker Leigh Griffiths has emerged as first choice.
"If you look at the goals Leigh has scored after Christmas, he is the top scorer in Scotland and whether he can do it in the Champions League or not, we have to wait and see," added Deila.