Crewe Alexandra need to get fitter, says manager Steve Davis
Last updated on .From the section Football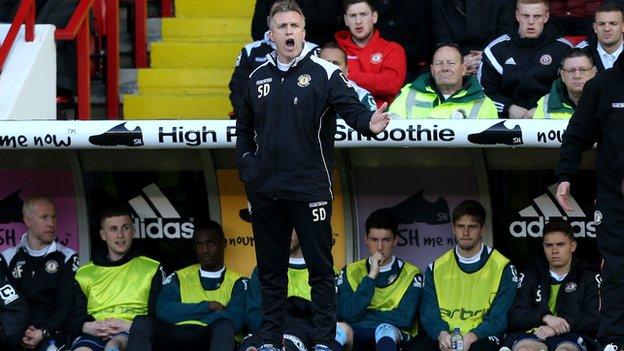 Crewe Alexandra manager Steve Davis will take full control of his players' fitness work next season in a bid to improve their stamina in matches.
The League One club can only afford to employ one fitness coach in Andy Franks - and Davis has taken on the added job of overseeing that department.
"Too many times this season I felt we had to make substitutions far too early due to lack of fitness," said Davis.
"Some were unable to sustain the levels of fitness they need."
He added: "Some are naturally fit. Some aren't. Some need more work than others."
The overall fitness of the players has long been questioned by supporters in phone-ins to BBC Radio Stoke.
Crewe conceded 50 goals in the second half of matches last season - double the amount shipped in the first half of games.
The Alex clearly not a second-half side
Crewe conceded 75 goals in 46 League One matches - of which two thirds (50) came in the second half (and 28 were in the final 20 minutes)
That was a key factor in the Alex going into the final day needing a result to stay up for the second year running - a nervous Sunday afternoon which saw them lose at home to Bradford City but survive by two points.
And, particularly in the light of this season's poor start, which saw them lose their first five league games (conceding 13 goals in the process), Davis promised that there will be a lot of hard work done before next season starts on 8 August.
"It's not just a case of running them round the woods any more," he told BBC Radio Stoke. "It's a bit more than that. It's all about getting it right on the sports science.
"I felt when I first came in the players weren't fit enough. Maybe I've lost a little focus on that because of the trust you put in others.
"Most clubs have more than one sports scientist. We can only afford to employ one, so I've taken a greater understanding of it and I will take sole responsibility for it next season."