Sepp Blatter: Fifa president wants action on women's game
By Caroline Rigby
World Service Sports reporter
Last updated on .From the section Football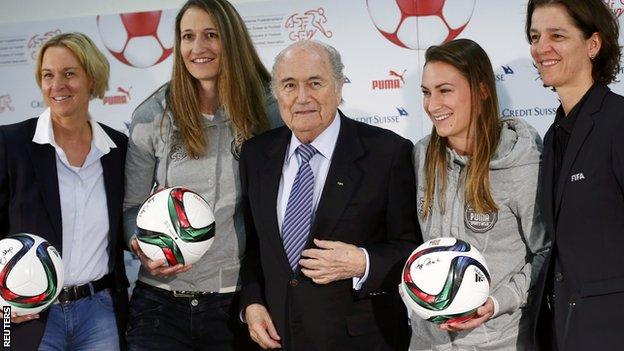 Fifa boss Sepp Blatter says women's football is "limping behind" the men's game in both profile and sponsorship.
The 79-year-old also thinks football is too "macho" and wants governing bodies around the world to employ more females in positions of influence.
In 2004, Blatter, 79, was heavily criticised for suggesting female footballers play in "tighter shorts" to improve the game's popularity.
But he says he feels like "a little bit of a godfather" to women's football.
"Women's football is still limping behind a little bit," said Blatter, who is seeking a fifth term as president of world football's governing body.
"To get new partners for women's football is difficult because the focus is on men's football."
Karen Espelund, the only female member of Uefa's executive committee, told the BBC that women can "add value" to football and football's appeal.
"Football is by far the biggest sport in the world and the professional men's football is an extremely strong position," said the Norwegian.
"Girls and women add value to the total product and I find it a little bit strange that not more commercial people see that possibility."
In an interview with BBC Global News, Blatter also said:
women's football is not yet played "the way he would like it to be played", citing a lack of organised leagues in some countries

female access to football stadia remains a "problem" in parts of the world, like Saudi Arabia and Iran, because of cultural issues

he wants to change the Fifa statutes to make it easier for women to occupy positions of power around the globe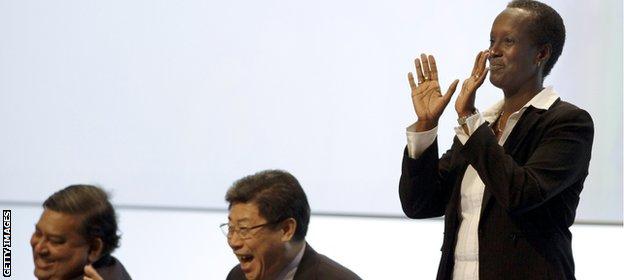 Blatter, who refused to answer questions on the upcoming presidential election, believes change is possible by increasing the quota of women who must be elected to Fifa's powerful executive committee.
The number of women on the committee is currently one, after Burundi's Lydia Nsekera became the first - and so far only - female elected onto it in 2013.
Moya Dodd, Asian Football Federation vice-president, and Sonia Bien-Aime, president of the Turks and Caicos Islands Football Association, are also on the executive committee but as co-opted members.
Last month, Bien-Aime also became the first female elected onto the executive committee of the Confederation of North, Central American and Caribbean Association Football.
Blatter confirmed he will attend this summer's Women's World Cup in Canada "whatever the result" of the presidential election.
Starting next month and consisting of 24 teams and 52 matches, it will be the biggest women's football tournament in history.
Blatter said it was a big opportunity to showcase the women's game and said it was "up to the ladies" to put on a great event.
"There will be over 20 cameras in each stadium, there will be goal-line technology and there will be a lot of the public there," he said.