Concerns over Setanta Sports Cup fixtures
Last updated on .From the section Football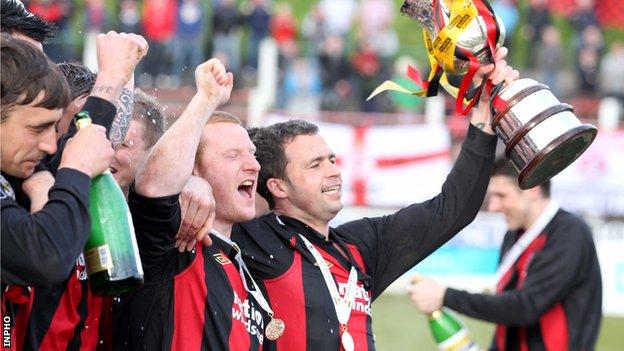 This year's Setanta Sports Cup has been thrown into doubt after Thursday's quarter-final draw was postponed.
The reason behind the postponement is believed to centre on the fixtures schedule, with the one-leg quarter-finals planned for 20-24 June.
Irish League clubs have voiced concerns over potential midweek games.
"We're happy to take part, but the whole competition seems geared towards the League of Ireland clubs," said Glenavon chairman Adrian Teer.
Irish Premiership sides Glenavon, Crusaders, Glentoran and Portadown will face League of Ireland opposition in the quarter-finals.
Dundalk, St Patrick's Athletic, Cork City and Shamrock Rovers are the Premier Division teams taking part.
Cork City's match has been pencilled in for Monday, 22 June - a potential encounter with the Lurgan Blues could lead to Glenavon's withdrawal from the competition.
"We have been in contact with the IFA and explained that a midweek game at Cork would not suit us, and in the case of us getting that draw we would play the game on the Saturday," Teer told the News Letter.
"If they cannot meet this request then we may have to withdraw."
Glentoran chairman Stephen Henderson believes the tournament could "disappear off the radar" if the 2015 competition does not go ahead.
"The fear is that the Setanta could be lost forever if it is postponed this year," he added.