Leeds United: Massimo Cellino back on club board
Last updated on .From the section Football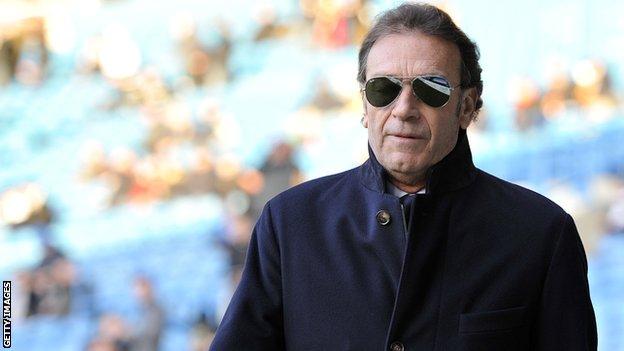 Leeds United owner Massimo Cellino has been granted permission by the Football League to return to the club's board.
A statement said the Italian had taken up the role of chairman with immediate effect after passing the Football League's Owners' and Directors' Test.
Cellino was banned from being involved until the end of the season after being found guilty of tax evasion in Italy.
He had previously stated he did not intend to return to the club until he had cleared his name independently.
In January, against the League's decision to disqualify him as owner.
He was subsequently given permission by the League to attend the club's final match of the season against Rotherham on Saturday.
During the game, supporters chanted their support for head coach Neil Redfearn, whose position is currently uncertain, but Cellino is reported not to have been at Elland Road for the fixture.
Redfearn's contract expires this summer and it is uncertain whether his deal will be renewed under the club's current regime.
And Cellino admitted he is undecided on the coach's future.
"I need to decide whether Neil is best for the club and can lead us back to the Premier League," he said.
"I am in love with Neil and I don't want to talk to anyone else about the job. I made sure he had a clause guaranteeing he would pick the team because I don't want a coach I control."
David Hockaday, Cellino's first appointment as Leeds manager, was sacked after six matches, while replacement Darko Milanic left after just 32 days.