New York derby: 'A spectacle unlike anything we've seen'
Last updated on .From the section Football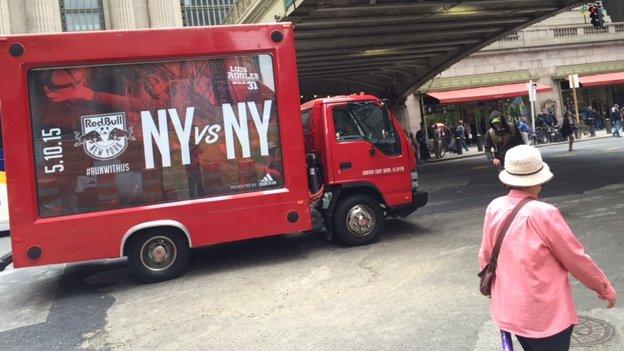 By Graham Ruthven, MLS football writer
Rivalry is the essence of football, culminating in the fixture every fan looks forward to more than any other - the derby.
For Celtic and Rangers fans, there is the Old Firm derby, which dates back to 1888. El Clasico, between Barcelona and Real Madrid, was first played over 86 years ago. The fiercest derbies tend to be the oldest ones.
But can you invent a derby - as Major League Soccer has done with Sunday's match between the New York Red Bulls and New York City FC? The former - founding members of the league in 1995 (albeit under the name of the MetroStars) already have sworn enemies in DC United, but now have a new derby to contest, with Manchester City-owned NYC FC moving onto their patch this season.
Most footballing rivalries are based on decades - sometimes even centuries - of animosity, so can the New York derby be described as a rivalry at all?
"Not really," says Bradley Wright-Phillips, the Red Bulls' top scorer last season. "DC United are our rivals. There's no history between the Red Bulls and New York City, it's just that we share the same city.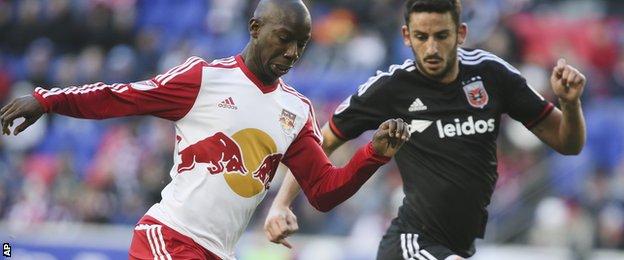 "But I'm sure in years to come it will be a massive rivalry. That's why it's exciting."
Wright-Phillips, the former Manchester City striker, might not feel the tension that comes with a traditional derby, but the rivalry is already fierce between the two sets of supporters.
"The fans don't like each other," says Nick Chavez, a NYC FC fan and blogger. "NYC FC fans have taken a lot of abuse, not just from Red Bull fans but from fans around MLS. It should be a spectacle unlike anything else ever seen in an MLS match."
For all that MLS has undeniably grown over the past decade or so, the division has struggled to cultivate the sort of rivalry that drives almost every other division around the world. The league is counting on the New York derby to become North American football's defining contest.
Turf wars
As such a cosmopolitan city, it comes as no surprise that New York hosts its own brand of footballing culture. However, the Red Bulls - and the MetroStars before that - have largely struggled to capitalise on that local appetite for the sport, boasting just the ninth highest average attendance in MLS last year.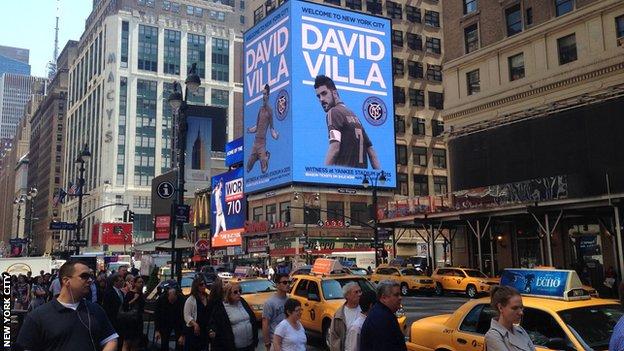 However, the introduction of New York City FC has fluttered a red rag at the Red Bulls - with both clubs now scrambling for ticket sales and supporters. The two teams might not have played their first derby, but the battle has long been raging off the field - with billboards and adverts promoting the clubs commonplace across the Big Apple; overlooking freeways, on the subway and even in Times Square.
And to a certain extent the drive to push fans through MLS turnstiles has worked, with a crowd of over 43,000 supporters welcomed to Yankee Stadium for NYC's home opener in March. The Red Bulls have also enjoyed a bump in attendances, with the club now boasting its highest number of season-ticket holders and a sell-out expected at Red Bull Arena on Sunday (00:00 BST kick-off).
However, it's not just each other the Red Bulls and NYC FC are fighting, but the New York sports sphere in general. With two NBA teams, three NHL teams and NFL teams all within the New York/New Jersey metropolitan area - as well as the New York Cosmos, who play in the USA's second tier - MLS has found it difficult to stand out in a crowded marketplace.

"New York is the most crowded sports market in the world, but we also consider New York's litany of options for people to spend their time - Broadway shows, family shows, museums - to be our extended competition," explains Joseph Stetson, Red Bulls' vice president for communications and marketing. "So we want to take the approach of selling live soccer as a great experience, for family, friends' night outs, dates…"
Social media has also become a battleground for the two clubs, with the Red Bulls firing shots across the Hudson River by mocking NYC FC's distribution of song-sheets at home matches. Rival fans group The Third Rail responded by pointing out the fact the Red Bulls actually play outside the city's five boroughs - in Harrison, New Jersey.
As far as they see it, New York only has one team.
'The Man City way'
When Jason Kreis was appointed New York City FC head coach, he was sent to England to work under Manchester City manager Manuel Pellegrini and head of elite development Patrick Vieira for six months.
This induction was designed to give Kreis a grounding in what the Premier League club calls 'the City way' - a grand plan to implement a uniform footballing identity on the three teams under the City umbrella - Manchester City, New York City FC and the Australian A-League's Melbourne City.
"The City way is modelled after Barcelona a little bit," explained Kreis, a MLS Cup winner with Real Salt Lake in 2009. "They want their teams, both at Manchester City and New York City and down in Melbourne, to be possession-orientated teams. I think the easiest way for me to say it is that it's all about the ball."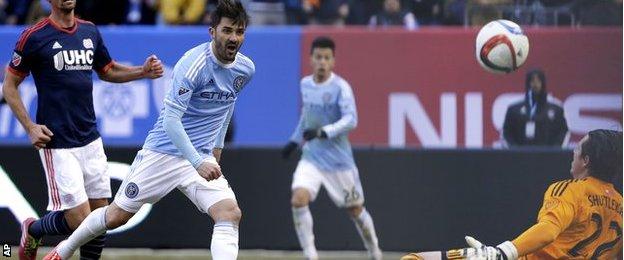 But will Kreis - who was headhunted for his trademark attractive style of play at Real Salt Lake - have the players to implement such a style of play? The standard in MLS is significantly lower than in the Premier League, so can there be any real sporting correlation between NYC FC and Man City?
"It's a good goal for us to shoot for," says Chris Wingert, a native New Yorker now playing for NYC FC. "At this point we don't have the same calibre of player as they do at Manchester City, but there's still a style of football that we want to emulate.
"It's also about replicating the winning mentality that they have as a club. We went over to England in pre-season and learned from them in training sessions. They have a great product and we will do our best to emulate it in every way we can. From that we found out what City is all about."
What can we expect in terms of the football?
The New York Red Bulls (before that the New York/New Jersey MetroStars) were once a club synonymous with glorious failure. With every expensive, big-name signing that flopped, their reputation as MLS's great white elephant was accentuated - going 18 years without picking up a single piece of major silverware.
However, after two years with Mike Petke in charge, and now with Jesse Marsch in the dugout, the Red Bulls have finally become the force they were always meant to be in MLS - winning the Supporters' Shield (the trophy awarded to the team that finishes top of the regular season table) in 2014 and reaching the play-off semi-finals last season.
With Thierry Henry no longer the club's figurehead following his retirement at the end of last season, Wright-Phillips (who scored 31 goals in 33 games last season) has taken on the mantle up front - with former Charlton Athletic winger Lloyd Sam, French forward Peguy Luyindula and USA international Sacha Kljestan also key players for the Red Bulls.
"We like entertaining our fans, especially at Red Bull Arena, so the game will be quick and lively because that's how we play," said Wright-Phillips. "They'll want to show that they belong here in New York too, but we know that we can beat any team in MLS."

For all their pre-season bluster and hype, New York City FC have so far failed to live up to their billing. Kreis's side have won just one of their opening nine fixtures, with a recent injury to star man and headline act David Villa compounding their misery.
Without Villa, NYC FC have struggled for goals - as they continue to wait for the arrival of Frank Lampard, who was signed by the club in July 2014 but will not arrive in the Big Apple until the end of the current Premier League season.
Kreis assembled his squad over just a few off-season months, and it shows. US international Mix Diskerud has impressed in the central midfield role that Lampard will surely command when he eventually arrives, but New York City FC remain a terribly unbalanced team with little in the way of squad depth.
The cliche states that in derbies the form book goes out of the window. NYC FC are relying on as much on Sunday.
What might the future hold?
A crowd of 25,000 fans is expected at Red Bull Arena - where attendances average around 19,000, illustrating how this match has captured the city's sense of sporting occasion. "It's massive for the city to finally have a real derby," says Wingert, who grew up in Long Island.
Some fans, particularly on the Red Bulls side of the divide, still need some convincing. "You can't manufacture 20 years of history, you can't manufacture the on-field battles that engrain the emotions," explains Viking Army (a hardcore Red Bulls supporters' group) member Bob Larson.
But given the combined effort by both sides and the league to sell this match as a heavyweight clash, this fixture will surely become one of MLS's biggest and most enthralling fixtures. In fact, going on the anticipation ahead of the first one - from fans and media - it might already be there.
MLS commissioner Don Garber has set the target of growing the league into one of the world's best by 2022. If North American football is to make good on that promise, turning the New York derby into one of the world's most compelling fixtures will be key.