Fifa vote: Figo, Van Praag, Prince Ali to meet amid pull-out rumours

By Richard Conway
BBC Radio 5 live sports news correspondent
Last updated on .From the section Football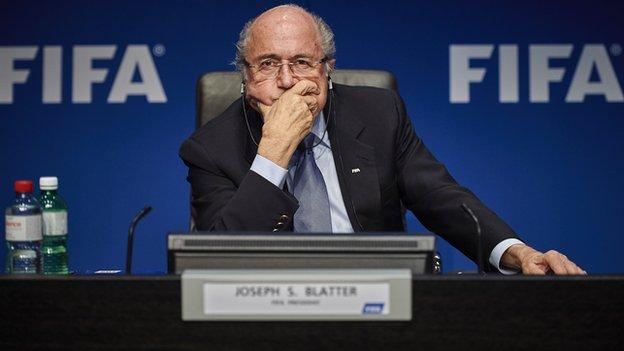 The three rival Fifa presidential candidates to Sepp Blatter will hold talks in Switzerland on Monday with rumours one or more will pull out.
Dutch FA chief Michael Van Praag, ex-Portugal international Luis Figo and Fifa executive committee member Prince Ali Bin Al-Hussein will meet in Nyon.
There is speculation one, or even two, candidates may drop out and support the best challenger to Blatter, 79.
Uefa is based in Nyon but the talks will not be held at its headquarters.
It is thought the candidates will use the opportunity to decide how they can best proceed given that Blatter is the overwhelming favourite to be re-elected.
An announcement could potentially be made in the days following the meeting.
Sepp Blatter in focus
Born: 10 March 1936, Switzerland
Has a degree as Bachelor of Business Administration and Economics from the University of Lausanne
Played football in the Swiss amateur league
Fifa technical director 1975-1981 and general secretary 1981-1998
Was elected as the eighth Fifa president on 8 June 1998
On Monday Prince Ali, of Jordan, said he would not be distracted from the task of trying to oust Blatter from office.
"I will continue the race until the end," he said in a statement.
Blatter, the Fifa boss since 1998, is seeking a fifth consecutive term of office and has yet to issue an election manifesto.
Speaking to reporters earlier this year he said his "mission" within football's world governing body had not yet concluded.
In March, Blatter rejected a joint offer from the BBC and Sky to take part in a televised Fifa presidential election debate.
The vote - which will be held on 29 May in Zurich at Fifa's annual congress - requires the winning candidate to secure a two-thirds majority in the first round of voting. If subsequent rounds are required then a simple majority is all that is required for victory.