Celtic: Ronny Deila is April's Premiership manager of the month
Last updated on .From the section Football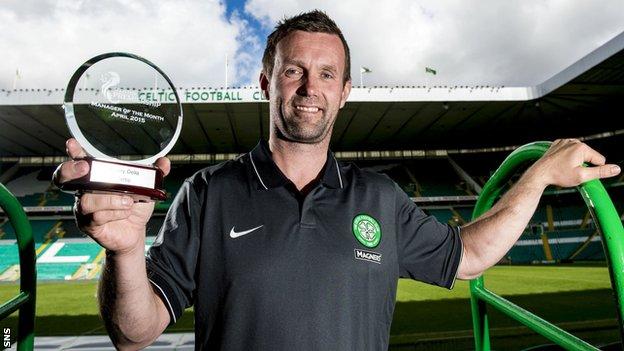 Ronny Deila picked up the Premiership manager of the month award saying he was not surprised to miss out on PFA Scotland's annual award.
"What John did up in Inverness was very good and he has a big chance to win a trophy as well," said Deila.
"So I'm very happy for him. I think he deserved it."
Deila, who joined Celtic last summer after leaving Stromsgodset, thinks the odds are against Celtic managers winning such awards because of the higher expectations involved.
"We have so much more money than the other clubs and a lot of what you are judged on is how you do in Europe," he said.
However, he was delighted that Celtic midfielder Stefan Johansen had won the player of the year award, while defender Jason Denayer took the young player accolade.
"We had a lot of players in the team of the year as well," he said.
"If we get awards and have other clubs wanting our players, we have done something right and hopefully there will be more of that in the future."

Deila, whose side won five league games and drew one during April as well as losing their semi-final to Inverness, insisted that the monthly awards were not a big deal for him personally.
"It's an award to me, but for me it is the whole staff," he said.
"We work together every day and they complete me and we work very good together, so this is a reward for everybody.
"And, of course, without the players I don't think we get this reward, so this is a team sport and I take this as a recognition for good work as a group.
"It was a good month, but since Christmas we have had a very good spell of games and results and some very good play.
"April was not any different. It was the same as the month before."
Celtic retained the Scottish title last weekend and lead Sunday's opponents Aberdeen by 11 points.
"We have our goals and that's what's important - we have to reach them and we have reached a lot of the goals this year," added Deila.
"We have to be happy to have won the league, but everybody knows that the next step is coming and that's the Champions League."