Hibernian seek reform discussions on play-off rules
Last updated on .From the section Football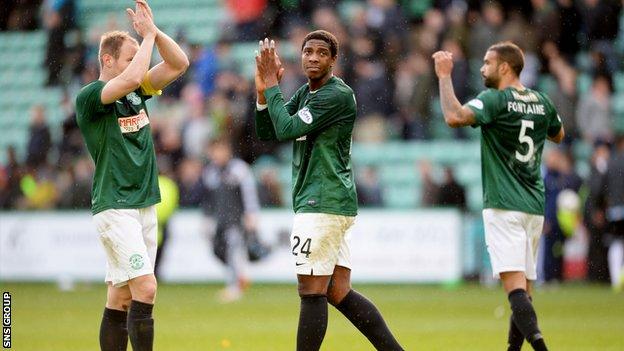 Hibernian are again calling for a re-evaluation of play-off rules on income.
Adults will pay £15 for the Easter Road tie against Rangers or Queen of the South on 23 May, with season ticket holders prohibited from free entry.
"The introduction of play-offs is a good thing," said Hibs chief executive Leeann Dempster.
"But for us, the outcome regarding season tickets has been disappointing at a time when Scottish football needs to do more to promote the game."
On Thursday, Rangers reversed plans to admit season ticket holders without a fee by announcing £5 entry for their home game against Queens.
Hibs, along with Hearts and Motherwell, recently failed in a bid to halve the play-off levy payable to the Scottish Professional Football League to 25% of gross income.
And the Edinburgh club were told they were granted permission to grant free entry to season ticket holders for last year's play-off final defeat by Hamilton Academical because they had sold them before the rules were in place.
A statement from Dempster read: "The debate has been ongoing since October, when the board of the SPFL sought to introduce minimum pricing and to strengthen the rules to ensure that season tickets are not valid for play-off matches.
"I would have liked to be announcing that we were able to allow our season ticket holders in for free but we have been left in no doubt by the board of the SPFL that to do so would be to breach the rules on differential pricing."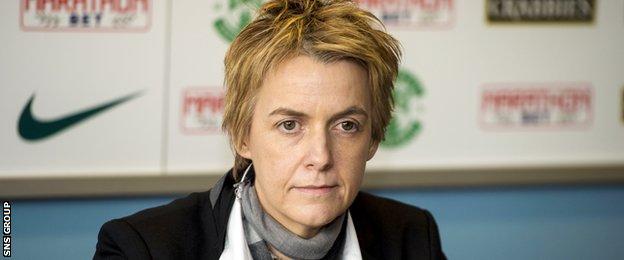 Hibs received a £500,000 parachute payment for going down last season and will be due another £250,000 if they do not go straight back up.
"We fully accept that the levy is intended to help fund clubs through relegation," added Dempster.
"Our club was at the table when the SPFL was formed and the original rules agreed.
"Our experience of the competition and the interaction and expectations of supporters has led us to the conclusion that collectively we need to re-evaluate the current rules, particularly in relation to season ticket holders.
"This will help to avoid future conflict between clubs, their supporters and the league body. We would like to positively contribute to that discussion.
"There is no deduction permitted for match operational costs therefore the club has to pay the full costs of staging the match, and obviously the VAT element of the match receipts.
"At a time when we are seeking to build a squad for next season, we are in no position to lose money on a match. The only way left open to us is to offer the match to supporters as inexpensively as we can, knowing that the price has to be open to all."