Simon Petulla: Jersey boss to play his Muratti team in RAF friendly
Last updated on .From the section Football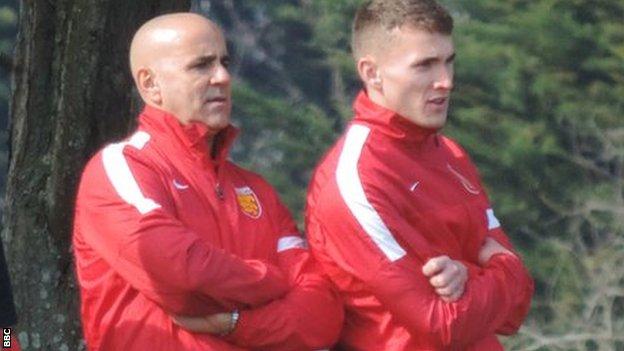 Jersey women's football manager Simon Petulla has said he plans to play his Muratti starting team in their final warm-up match against the RAF.
The friendly is on Jersey's Liberation Day, which celebrates the anniversary of the Liberation of the Island from German World War II occupying forces.
"I don't know if it was planned that way but I think it'll be a good occasion," Petulla told BBC Sport.
"We'll be looking to play our starting team for the Muratti."
Holly Muirhead and St Paul's Jemma Daniels will sit out the game with injury, while Libby Barnett is away.
The Muratti final against Guernsey will be played at Footes Lane on 17 May.
Jersey's men are also playing their RAF counterparts as they prepare for a busy period featuring the Muratti and Island Games.
"We've had to set a programme of training which is practically every day of the week and the girls have really been dedicated and stuck to it," added Petulla.
"We can't really be better prepared, it's just up to the girls now on the day."
Jersey women's football squad for RAF friendly:
Catherine Overbury, Michelle Bichard, Aimee Le Quelenec and Lara Couvert (all Grouville); Sara Luce, Kelly Hughes, Sophie Botterill, Sylvie Spinola, Fiona MacKinnon, Marta Ascensao, Jess Vieira, Jodie Botterill, and Rosie Corbett (all St John); Lauren Quemard, Candice Parsons, Eve Watson and Catarina Andrade (all St Paul's) and Chantelle Audrain (St Peter).