Ivory Coast sack sports minister Alain Lobognon
By Oluwashina Okeleji
BBC Sport
Last updated on .From the section Football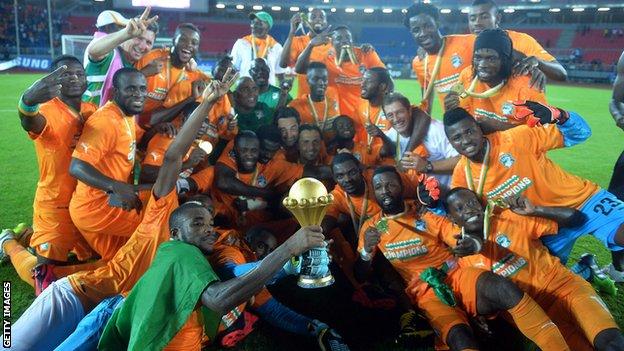 The Ivory Coast sports minister Alain Lobognon was sacked on Wednesday, as the investigation continues into unpaid bonuses which should have been given to the country's victorious 2015 Africa Cup of Nations squad.
"The prime minister received me this morning. We talked about the end of my mission at the heart of Government, at the request of the President of the Republic," Lobognon posted on twitter.
Lobognon paid the price for the non-payment of bonuses promised to players and officials by the Ivorian government for winning the Nations Cup in Equatorial Guinea in February.
There has been a lengthy delay in the money reaching some squad members, prompting both coach Herve Renard and midfielder Serey Die to question why.
"They promised to do a wire transfer. Some people got part of it but I never received anything," Die told Radio Cote d'Ivoire.
His outburst led to a public spat between the ministry of sports and the country's football federation with both parties blaming each other.
Last week the Ivorian government took action by sacking state treasury manager Patrick Yapi, and an internal government investigation is now being conducted.
"I can say with confidence that investigations are underway and are still ongoing," government spokesman Bruno Kone Nabagne said.
"The first results were presented and the Head of State asked that the investigation is conducted thoroughly.
"It is important to emphasise that all those involved will be found and punished accordingly."
The Elephants beat Ghana's Black Stars 9-8 on penalties in the tournament's final in Equatorial Guinea to clinch their second African title.
An excited Ivorian President Alassane Ouattara gave each member of the 23-man squad a house worth $52,000 (£34,000) and the same amount in cash upon their arrival.
There were also six-figure rewards for the Ivorian Football Federation and the team's technical staff - in total the government has shelled out more than $3m (£2m) in celebration of the victory.
Before his sacking, Lobognon had blamed the players for not alerting his office soon enough when the funds failed to reach their respective bank accounts.
"We would have long resolved this issue if the players had come out in the open early enough to say their bonuses were never wired to their bank accounts, " he had previously said.