Agony and emotion as relegation tussle takes another twist
Last updated on .From the section Football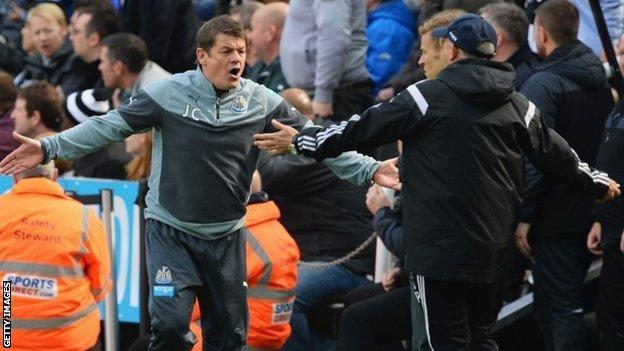 The battle to stay in the Premier League is shaping up for a "grandstand finish", according to West Brom manager Tony Pulis.
After a thrilling day down at the bottom end of the table on Saturday, the Baggies are safe following their draw at Newcastle, but just three points separate four teams in and around the bottom three.
With just two games remaining, Hull, in 18th, are two points adrift of Newcastle and Sunderland but the Black Cats have a game in hand.
A point further clear are Leicester, who have won six of their last seven matches.
"If you look at the bottom of the table and Saturday's results, it's fantastic," said Pulis. "It's great credit to the managers down there who have really responded to the threat of relegation and geed their teams up. It's going to be a grandstand finish."
How Saturday's drama unfolded
12:45 BST - Bottom three: Sunderland, QPR, Burnley
The afternoon kicks off at Goodison Park, where Sunderland are hoping to steal an early march on their relegation rivals.
13:54 BST - Golden Graham
Bottom three: Hull, QPR, Burnley
After large periods of Everton domination, Sunderland take a fortuitous lead when Jordi Gomez's shot is deflected into the Everton net via Danny Graham.
14:35 BST - Black Cats on the up
Bottom three: Hull, QPR, Burnley
Sunderland have done it. A second deflected goal - this time credited to Jermain Defoe - means they record a 2-0 victory at Goodison Park and move up to 14th in the Premier League.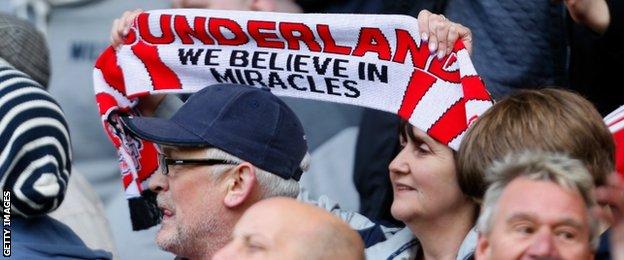 15:06 BST - No stopping the Foxes...
Bottom three: Hull, QPR, Burnley
Leicester take just six minutes to go in front against Southampton, courtesy of Riyad Mahrez. A second follows for the same player 13 minutes later and the Foxes are well on their way to victory. Newcastle drop to within a point of the bottom three.

15:30 BST - ...or the Villans
Bottom three: Hull, QPR, Burnley
Another rejuvenated, relegation-threatened team score - Aston Villa taking the lead against West Ham through Tom Cleverley.
15:31 BST - Can it get any worse for Newcastle?
Bottom three: Newcastle, QPR, Burnley
Now we've got a story on our hands. Newcastle are into the bottom three after falling behind to Victor Anichebe's goal for West Brom.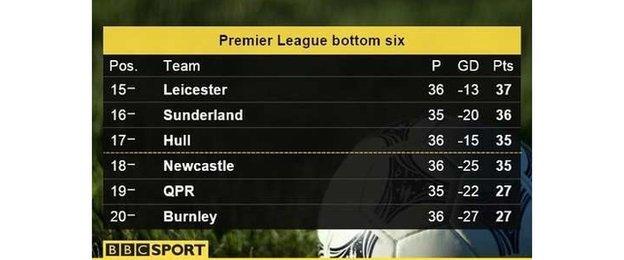 15:41 BST - Magpies fly above Tigers
Bottom three: Hull, QPR, Burnley
Ah, hang on... there's still life in the old Magpies. They level against the Baggies through Ayoze Perez and put Hull back into the bottom three. But the Tigers are at home to Burnley, who haven't scored since Sean Dyche was in short pants.
16:19 BST - Toothless Tigers
Bottom three: Hull, Burnley, QPR
The distance between third-bottom Hull and the team directly above them - Newcastle - goes from one point to two when Danny Ings puts Burnley in front. The Clarets need West Brom to score against Newcastle to avoid going down today.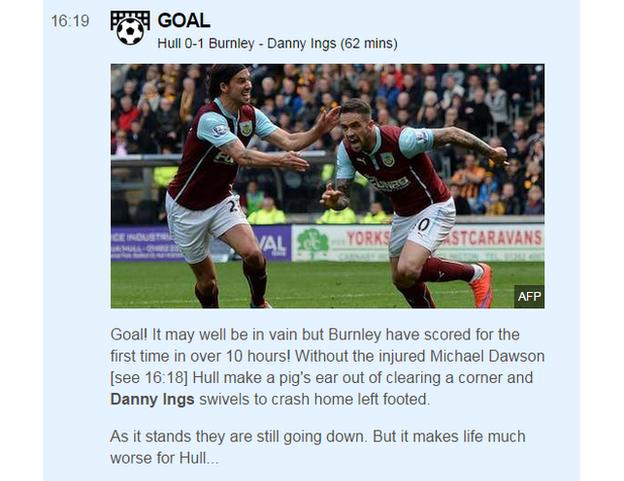 16:52 BST - 36 down, two to go (for most!)
Bottom three: Hull, Burnley, QPR
Full-time whistles blow around the country and Hull are up against it with two games to go. Their opponents Burnley are down anyway, despite winning. No winners at the KC Stadium today. More on Hull's desperate plight below.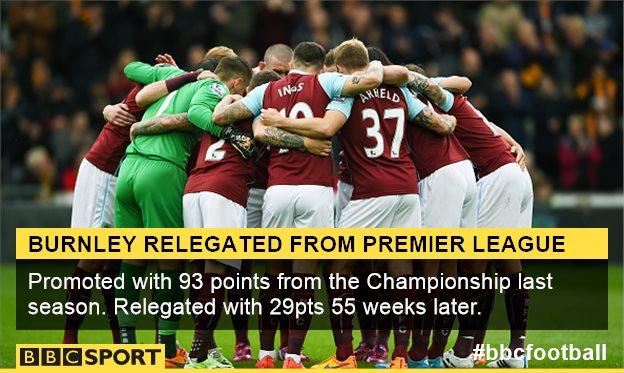 What it all means
Crystal Palace are safe, as are West Brom. Aston Villa, Leicester and Sunderland are all heading in the right direction too after picking up victories against West Ham, Southampton and Everton respectively.
Hull endure a disastrous day. They drop into the bottom three, two points adrift of safety with two games to go.
They are down but not out, unlike Burnley who are relegated despite beating the Tigers and ending a run of more than 1,000 minutes without scoring.
It is also looking grim for QPR, who must win at Manchester City on Sunday to have any chance to surviving.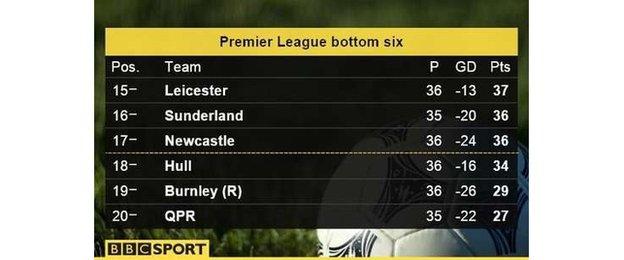 'An awful weekend'
If the volatility of league standings was entertaining for the neutral, spare a thought for the managers involved - and none looked more distraught than Hull City's Steve Bruce at full-time.
"It's a huge disappointment - it has been an awful weekend," he said after defeat to Burnley, adding his side "didn't play" and with games at Tottenham and at home against Manchester United to come, they "have a mountain to climb".
His opposite number on the day Sean Dyche said his relegated side were in "decent shape to bounce straight back" and an inability to score goals was ultimately what led to their immediate return to the Championship.
Sunderland manager Dick Advocaat conceded his side were second best on the day despite leaving Merseyside with three points.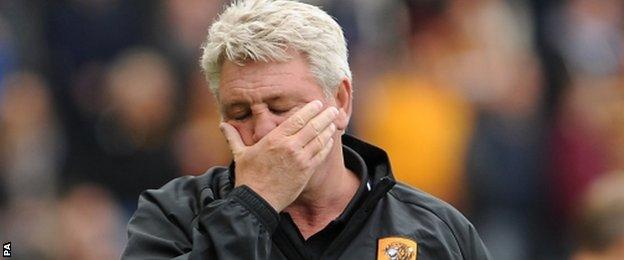 Carver's relief
Newcastle's draw with West Brom - at the end of a week where Derby boss Steve McClaren reportedly turned down the chance to manage the club and captain Fabricio Coloccini wrote a letter of apology to fans - ended a run of eight defeats.
"The brilliant thing for me was that it was like being in a football stadium again. Everybody was so focused on the football, including me," said manager John Carver.
Baggies boss Tony Pulis said he will try to change "one or two things on and off the pitch" this summer as they guaranteed their Premier League status and Villa boss Tim Sherwood said they will be "going all out" to repeat the feat.
"It's edgy. Every mistake is costly," said Sherwood. "If we can get ourselves safe next week, which is possible, then we have a two-week preparation for the FA Cup final."
Despite winning six games in seven, Leicester still only have a three-point cushion on the bottom three, prompting manager Nigel Pearson to state they "have work to do".
"It transpires that we needed the run we have had to give ourselves a chance. When you get to Christmas with the position we were in we were hoping we'd get to the final day with it still being in our hands," said Pearson.
Remaining fixtures
Hull have it all to do, and it's a tough ask as they visit Tottenham and host Manchester United in their final two games of the season.
Sunderland, too, have it tough. After hosting Leicester, they will visit Arsenal and Chelsea. The Black Cats are two points clear of Hull.
Here are the games which count...
Two from six: the relegation run-in

10 May

16 May

20 May

24 May

Aston Villa (38 pts)

-

Southampton (A)

-

Burnley (H)

Leicester (37 pts)

-

Sunderland (A)

-

QPR (H)

Sunderland (36 pts)

-

Leicester (H)

Arsenal (A)

Chelsea (A)

Newcastle (36 pts)

-

QPR (A)

-

West Ham (H)

Hull (34 pts)

-

Tottenham (A)

-

Man Utd (H)

QPR (27 pts)

Man City (A)

Newcastle (H)

-

Leicester (A)

*Burnley (29 pts with two games to play) are relegated