Theo Walcott on brink of 'golden years', says Arsene Wenger
Last updated on .From the section Arsenal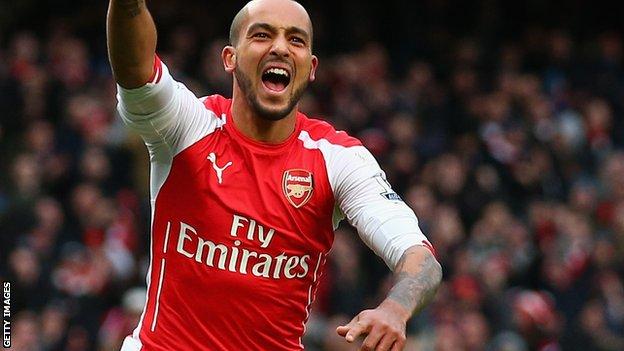 Arsenal boss Arsene Wenger is determined to benefit from Theo Walcott's "golden years" and expects the player to agree a new contract.
Walcott has a year remaining on his current deal and has been linked with a move to Liverpool.
The 26-year-old can operate wide and up front but as he enters his prime Wenger expects him to blossom as a striker.
"Being 26 to 32 is the best age as a striker and I wouldn't like to miss that golden age," he said.
"He can be transformed. He is naturally gifted to play in this position."
Comparisons with Arsenal's record scorer Thierry Henry have hung over Walcott for years but Wenger feels the England international, who has scored 72 goals in 297 appearances, may finally be able to step up.
Wenger keeps the faith
A combination of knee and groin injuries have limited Walcott to just 21 league appearances over the last two seasons. He has never been present for full a league campaign in nine years at the club, with 35 games in 2011-12 his best return.
"I work with him in both situations, as a striker and as a wide player but the quality of the runs is so fantastic with the pace he has," Wenger said.
"When he was younger he was rushing his finishing but he is a good finisher now."
Even if a new contract cannot be agreed this summer, Wenger is determined to keep hold of Walcott, who signed a three-and-a-half-year deal in January 2013.
"He is part of us," Wenger said. "Of the whole squad he is the player who has played the most games for us.
"He loves the club and I think he wants to stay. Once a player accepts talking to you, that means his first wish is to stay.
"If then you cannot find an agreement, that has nothing to do with loyalty.
"I don't think his desire is to leave."