Jurgen Klopp: Borussia Dortmund coach delights in improved form
Last updated on .From the section European Football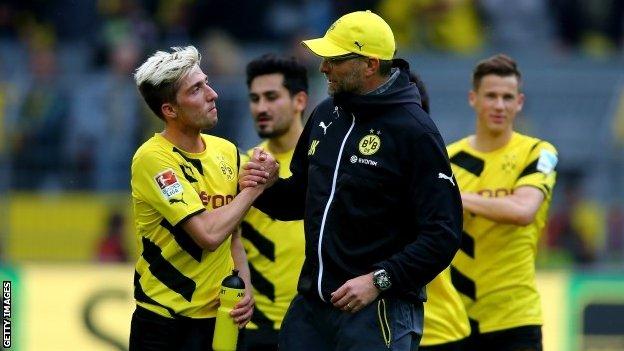 Borussia Dortmund boss Jurgen Klopp has joked he would have announced his resignation sooner if he had known it would improve their form.
"If I'd known before the start of the season that we'd put such a winning run together, I'd have announced my departure back then," Klopp said.
"Seventh place feels brilliant."
Dortmund have finished in the top two for the past four seasons, but were in relegation trouble for most of this season and were in bottom place in February.
Klopp's final game of his seven-year spell as Dortmund boss will be the German Cup final against Wolfsburg on Saturday, 30 May.
"There are still things we can achieve this season and that's quite cool considering where we've come from," Klopp said.
Dortmund could have gone sixth had Augsburg not beaten champions Bayern Munich 1-0.
"We joked around in the changing rooms because it's typical that just when you need Bayern, they let you down," said right-back Lukasz Piszczek, who returned from injury in Saturday's 2-0 win over Hertha Berlin.
"In all seriousness though, we only need to focus on ourselves. The chance to finish the season on a high note is now firmly in our own hands."