Garth Crooks's team of the week: Terry, Gerrard, Grealish

By Garth Crooks
Football Analyst
Last updated on .From the section Premier League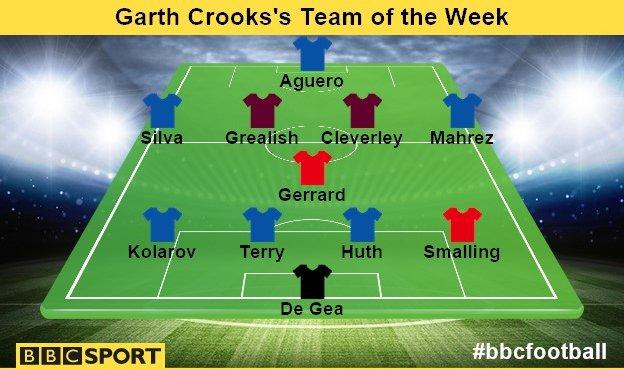 We've got two more weekends to go in the Premier League, and the one just gone threw up plenty of entertainment.
Manchester United strengthened their grip on fourth place, while Tottenham were hammered by Stoke.
Here are the players who I thought excelled and have earned themselves a place in my team of the week.
GOALKEEPER - David De Gea (Manchester United)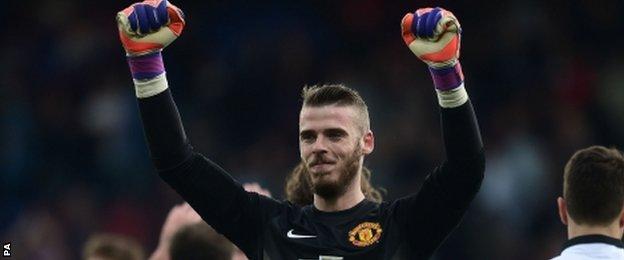 De Gea's two excellent saves to deny Glenn Murray were the reason why Manchester United came away with all three points against a battling Crystal Palace at Selhurst Park. His first save, when Murray's shot appeared to have beaten him, was sensational - how he got his right hand to the ball and steered it past the post was extraordinary. Imagine if United hadn't secured a Champions League spot next season. De Gea would probably be joining one of the foreign giants. Now there's a sobering thought.
DEFENDER - Chris Smalling (Manchester United)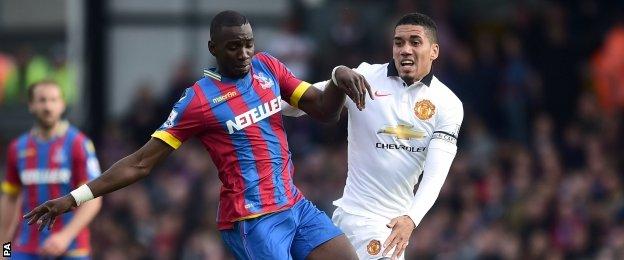 This young man is starting to fill the big shoes left by Nemanja Vidic. There has never been any doubt about Smalling's ability to defend but there has often been some concern about his ability on the ball. Against Crystal Palace he not only looked more competent in possession but he appears to be taking more responsibility organising his defence. At the beginning of the season United fans were taking about the need to buy two central defenders. I think they only need to buy one now.
DEFENDER - Robert Huth (Leicester City)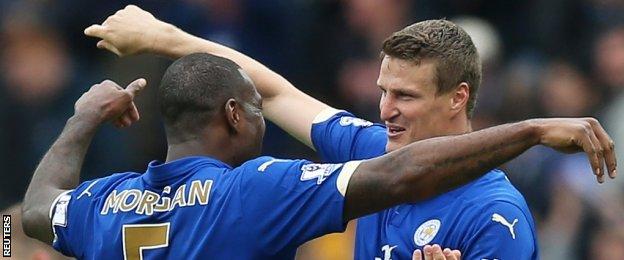 Huth came into a Leicester side at a time when they were leaking goals and looking decidedly shaky at the back. The loan signing of the former Chelsea and Stoke centre-back has been another inspired decision by Foxes manager Nigel Pearson, who has been accused of being weird. The only thing weird about Pearson is his ability to think outside the box, and purchase players that others have disregarded. It was another rock-solid performance by Huth who has brought much-needed confidence to a side that looked a certainty for the drop.
DEFENDER - John Terry (Chelsea)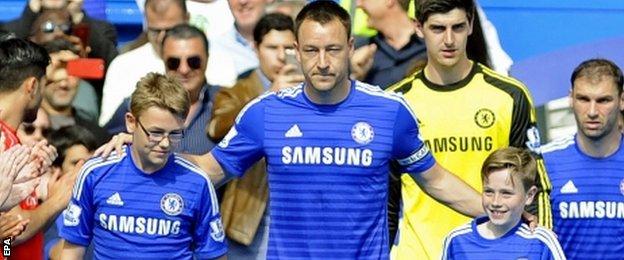 It was a delight to see Chelsea take the handbrake off against Liverpool and return to something like the side we saw earlier in the season. Often the inspiration behind those impressive performances was John Terry and now the Premier League title is in the bag, he took it upon himself to lead the charge against the Merseysiders. If anyone was going to mark their first game as champions with a goal it had to be him.
DEFENDER - Aleksandar Kolarov (Manchester City)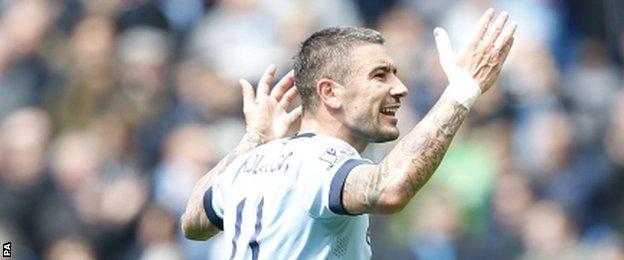 I am not entirely sure how good Manchester City's performance was because QPR were so poor. The opposition's failure to stage a credible contest suited players in the City side who love to play when they have time on the ball. Kolarov is one of those players who can hurt you with the ball at his feet and the defender took great delight in making sure QPR left the Premier League conceding a goal and a beating they won't forget in a hurry.
MIDFIELDER - Steven Gerrard (Liverpool)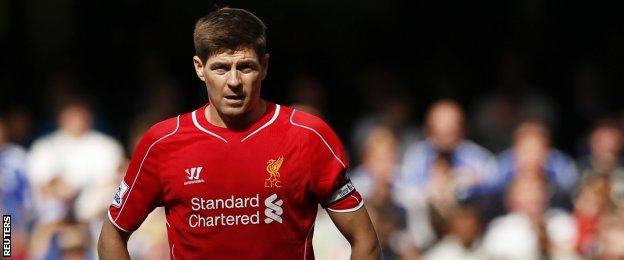 It was a delight being at Stamford Bridge just to witness the entire stadium rise to its feet in honour of Steven Gerrard's contribution to the game as he left the Bridge for the last time as a Premier League payer. He's been a thorn in Chelsea's side for many years and once again the Liverpool legend played his part in making life as difficult for Chelsea as humanly possible. But none of that seemed to matter as he acknowledged the heartfelt applause.
MIDFIELDER - Jack Grealish (Aston Villa)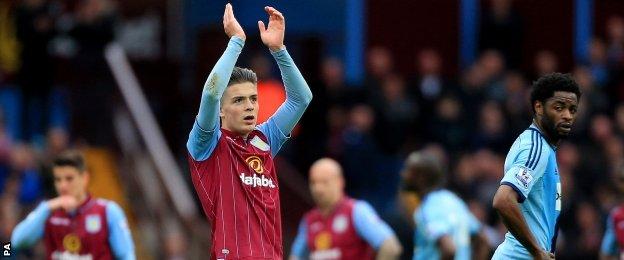 Tim Sherwood says he's petrified about the prospect of being relegated but I don't know why when Aston Villa have the capacity to produce homegrown talent like Jack Grealish. The kid was fabulous against West Ham and demonstrated so many elements of the game that excite fans. The vision he showed for Gabriel Agbonlahor's chance late in the game was nothing short of Charlton-esque. Grealish is yet another homegrown player who seems to have benefited from the diverse nature of a football club whose priority is producing the best footballers it can afford, no matter where they come from.
MIDFIELDER - Tom Cleverley (Aston Villa)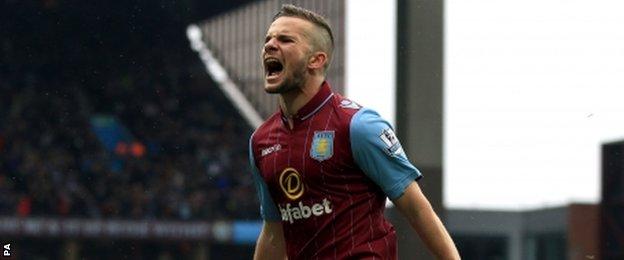 Tom Cleverley must feel on top of the world. Having been disregarded by Manchester United and questioned about his contributions for England, he's now playing the football that got him into the United team and selected for the national side. I'm not sure if it's the goals - his third in as many games - the support of Fabian Delph and Grealish in midfield, or the arrival of Tim Sherwood. Whatever it is, Cleverley looks an international player again and Aston Villa are going places.
MIDFIELDER - David Silva (Manchester City)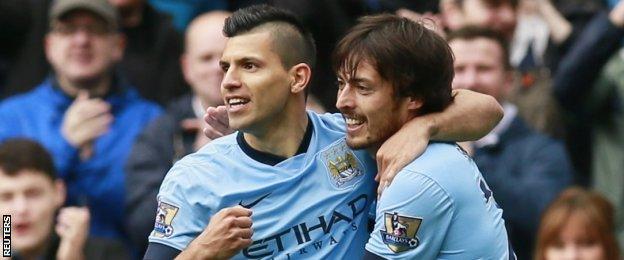 David Silva will not have many easier games than the one he experienced against QPR. The Spaniard strolled through this encounter without a care in the world and not much opposition either. By the time Silva had finished with them, QPR's fate had been sealed. Rangers are now condemned to a season in the Championship.
MIDFIELDER - Riyad Mahrez (Leicester City)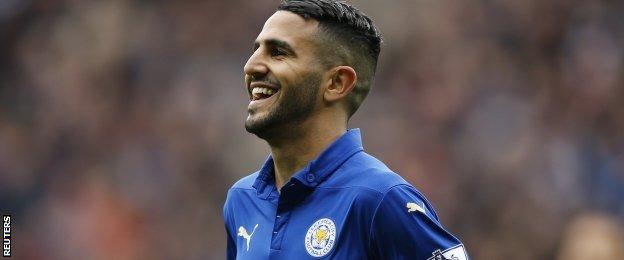 I can't believe I'm watching the same Leicester team I saw three months ago. Against a team still searching for the points to secure a Europa League position, Leicester City made a normally enterprising Southampton look ordinary. The combination of Riyad Mahrez, Leonardo Ulloa and Jamie Vardy has transformed the Foxes' attacking options and made them a force to be reckoned with, particularly at the King Power Stadium. It was the Algerian international's two goals and infectious play behind the front two that caused Southampton untold problems.
STRIKER - Sergio Aguero (Manchester City)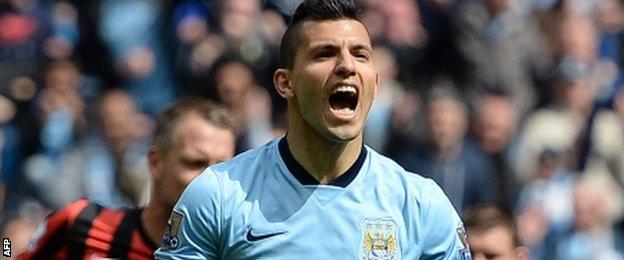 It hasn't been City's finest season but their performance against a trounced QPR might have been their finest hour. The longer this game went on the more I felt sorry for Rangers as Aguero was continuously hitting them with knockout blows - three to be exact. In fact I'm not sure if the ref should have stopped it or Rangers manager Chris Ramsey should have thrown the towel in.
Map out the road to Premier League and cup glory by predicting the scores for all the remaining ties in the Premier League and the FA Cup final and see how your guesses fare against BBC pundit Mark Lawrenson.