QPR need a revamp from top to bottom, says Jermaine Jenas
Last updated on .From the section Football

Former QPR midfielder and MOTD2 pundit Jermaine Jenas explains what his old club needs to do next following their relegation back to the Championship after a single season in the top flight.
QPR's relegation proves that their players are not good enough for the Premier League but the real problem at Loftus Road is the lack of a long-term plan.
I played for QPR from January 2013 until the end of last season and stayed on all summer doing my rehab after suffering a cruciate ligament injury in April of last year.
During my time there, it was not being run as a Premier League club. For too long, the thinking was just to chuck money at the team.
There has been no organisation, no vision, and no discipline in the way things were done.
That is why I think it is unfair to blame relegation on the manager Chris Ramsey, or even his predecessor Harry Redknapp.
'The club needs a revamp from top to bottom'
It is the same with trying to pin it on the players too. There are a lot of good pros in that squad.
Yes, one or two of them were not quite up for the fight, but most of them did their best - they were just part of a system that was failing them.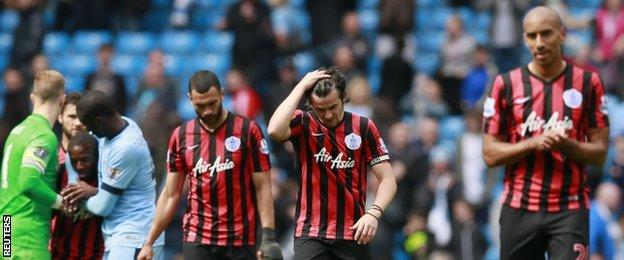 There is a point where the manager has to accept responsibility but, even at the start of the season, Harry had those concerns.
I think it was a wake-up call for him that things were not right when he had to go on a pre-season tour with only 12 outfield players.
For me, the club is being run by some really nice people who are not 100% sure of what they are doing, and have taken some bad advice in the past.
I think the reason Les Ferdinand is now director of football is because the owners have realised their mistakes.
Hopefully, even if Ramsey is not manager next season, he will stay around as well.
The club needs a revamp from top to bottom and there is a huge rebuilding job to be done.
'Bad eggs are down to poor transfer policy'
I have heard QPR midfielder Joey Barton putting their problems this season down to one or two "bad eggs" in the squad, and it is something I had experience of at Loftus Road too.
The club's recent transfer policy has been to pluck players from here, there and everywhere.
When you do that, you are probably buying on the basis of talent rather than the mentality and personality of a player, and you are asking for trouble.
People like Clint Hill, Robert Green, Bobby Zamora, whom I played with at QPR when we were relegated in 2013 and are still at the club, are examples of the type of attitude you want from your players.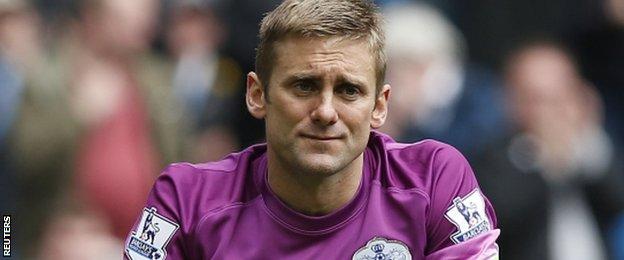 No matter how much money they are earning, it hurts them if they are not performing well individually or as a team. When things are going badly, there is a point where they say "right, we need to do something about this".
But unfortunately, when I was at the club, there were a few players whose thinking was along the lines of "if we go down, then it is OK, I will just leave".
That hung over the club at the start of the following season too because some of them had not left yet and nobody knew if they would be staying or not.
We basically just winged it to bounce straight back up because enough good players were still in contract, we bought Charlie Austin and stretched the loan system to the absolute max.
That is how we did it, but it is not the way to run a club properly.
And I cannot see it happening again this time, because it is hard to see the squad staying together again.
'Some new blood to create a new QPR'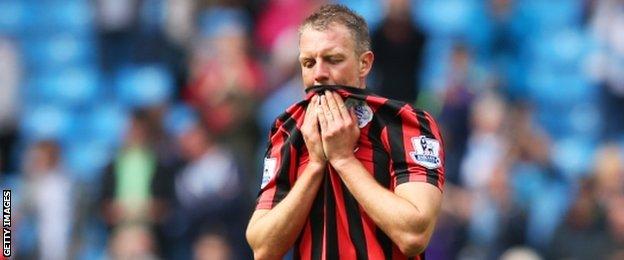 QPR have 13 players who are either free agents in the summer or on loan and returning to their parent clubs.
A lot of the people who are in their last year of their contracts were at the club when I was there. Some of them went down last time, and helped us bounce straight back.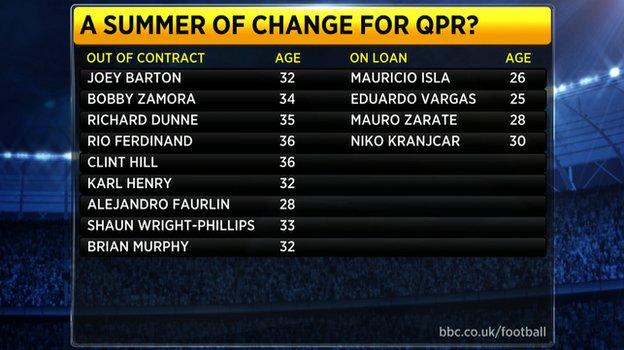 This time it is different. Look at their ages. They are all my friends and I am very close to all of them, but they are not the future of the club.
They will know it too. These are the type of guys who will give an honest opinion of themselves and the club. They will agree it is time to bring in some new blood to try to create a new QPR.
They could have a different manager too. I've known Chris for a number of years and I am confident he will be a good manager. I am not sure what the future holds for him at QPR, though.
For starters, I am not sure he was their number one choice to take over in February, which sort of fits into the way the club has been run.
This was a really tough job for anyone to take on, because the transfer window had closed. He just came into the mayhem that was surrounding the club at the time and has tried to do the best he can.
Yes, they have gone down but there have been some games like the wins at West Brom and Sunderland where they have been brilliant.
Against Chelsea in April they were really unlucky to lose and I was thinking that Chris cannot be far off the owners going "this is our guy".
But, results like Sunday's 6-0 defeat by Manchester City are clearly not going to help his cause. I think the players are still on his side but I am not sure whether that will keep him in his job.
'QPR should follow Saints' example'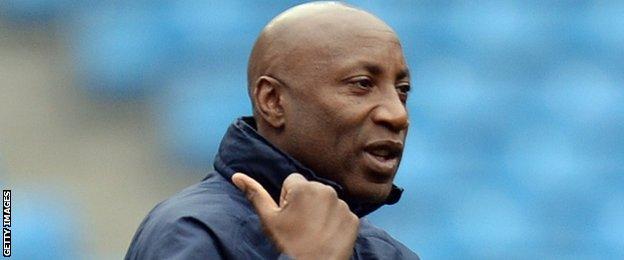 Whoever is in charge, QPR have to rethink their whole approach.
Southampton are the stand-out club for how to get it right and their model is the one that Rangers should adopt.
They dropped as far down as League One but went back to their roots and concentrated on developing young players.
Saints had to be patient but they are reaping the rewards now.
Next year is going to be a tough year for QPR, whatever happens over the huge fine they potentially face for breaking the Football League's Financial Fair Play rules the last time they were in the Championship.
But it might be the opportunity to start putting a long-term vision into place.
Ideally, that would be based around young players who can take them into the top-flight, and keep them there next time.
But the important thing is that they form a plan and stick to it.