Gareth Cowin: IoM face Liverpool and Everton in Olympian's honour
Last updated on .From the section Football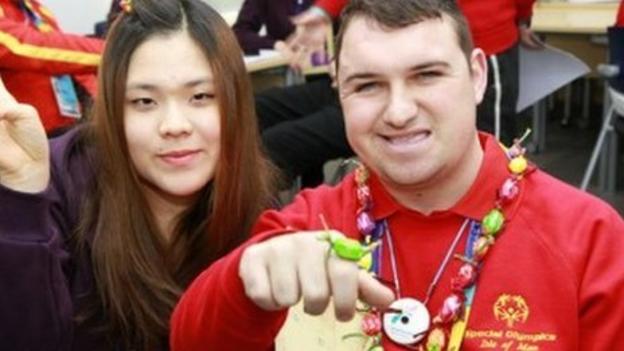 A Manx football side will compete against teams from Liverpool, Everton and Manchester City in the Gareth Cowin Memorial Tournament later this month.
The competition was set up two years ago in memory of the Olympian, who died in South Korea, whilst representing the island at the Special Olympics in 2013.
The Isle of Man FA's disability team is now managed by Gareth's dad, Kevin.
He said: "Gareth loved his sport and he would have absolutely loved to play in a tournament like this."
The 25-year-old, who died after becoming ill, had been hoping to help the Isle of Man defend their floor hockey title in PyeongChang.
A spokesman for Special Olympics Isle of Man said he was a "keen all-round sportsman and a truly special person".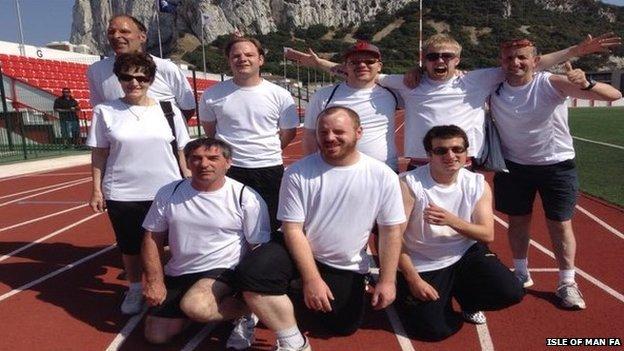 He had previously won a gold medal in football for the Isle of Man at the World Summer Games in Athens.
Isle of Man Football Association chairman Frank Stennett said the purpose of the competition is to provide a competitive small-sided football tournament for players with learning difficulties in Gareth's memory.
He said: "The tournament is unique and purposeful and allows our players to compete against real quality opposition."
All those competing in the competition have a degree of learning difficulties.
The tournament will get under way on 23 May at the Liverpool County FA grounds in Walton Hall Avenue.
Teams taking part include Liverpool County FA, Manchester City FC, Everton FC and Pontefract, with Southampton FC and Gibraltar FA to be confirmed.