Oldham manager Darren Kelly gets death threat
Last updated on .From the section Oldham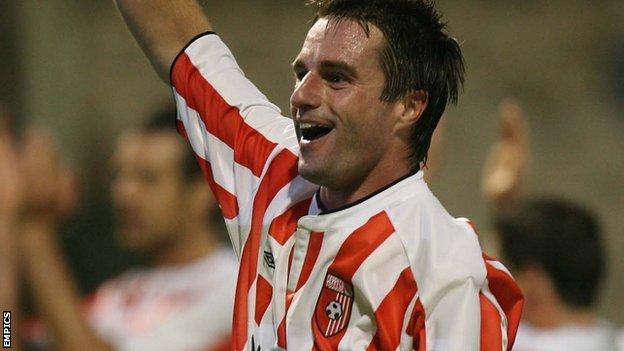 New Oldham manager Darren Kelly has received a death threat, which has been reported to the police by the club.
The 35-year-old Northern Irishman has since had to refute claims that he is a supporter of the IRA.
In January, the League One club decided against signing convicted rapist Ched Evans after threats to the club's staff and their families.
Some fans have threatened to boycott Oldham's matches following the decision to employ Kelly.
"Oldham Athletic AFC are aware of threats made against individuals connected with the club," said a club statement.
"These matters have been passed to the police and the club will be making no further comments on this subject."
Kelly, who was a defender for Derry City, Carlisle, Portadown and York, will be assisted by Dean Holden, who had been in temporary charge of the first team after Lee Johnson moved to Barnsley in February.
Speaking after his appointment, Kelly said: "Is it a risk? Absolutely. From the supporters, the chairman and the board side of it, but do I think it is a risk? No, and I think I'll prove that."
Oldham finished 15th in the table, seven points above the relegation places.