Cardiff City owner Vincent Tan buys Belgian club
Last updated on .From the section Football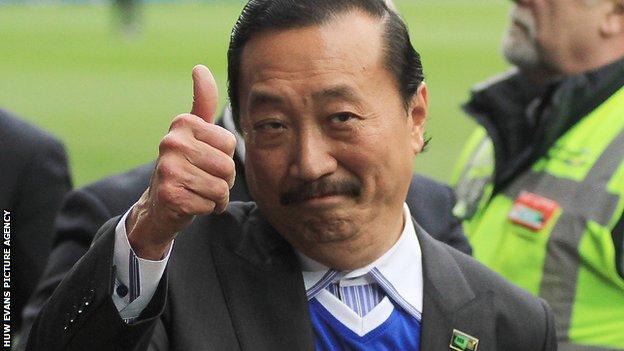 Cardiff City owner Vincent Tan has bought Belgian first division club KV Kortrijkt.
The Malaysian-billionaire is expected to pay around five million Euros for the West Flanders-based outfit.
KV Kortrijkt are currently fifth in Belgium's top flight with three games to go.
It is Tan's fourth football club following on from the Bluebirds, Sarajevo as well as his minority stake in Los Angeles FC.
Ken Choo, Cardiff City's chief executive, will serve as a director for Kortrijk.
He said Kortrijk's owners - the De Gryse family - have signed "an agreement" with Tan "regarding the sale of shares" in the club.
"Both the De Gryse family and Tan Sri Vincent Tan prioritise the local anchorage of the club and want to secure an ambitious Pro League side in Kortrijk for the long term," Mr Choo said in a statement.
"A number of clear arrangements have been made to ensure that the club maintains its identity, while the daily management of the club will not change.
"All existing agreements shall be honoured. Moreover, Tan Sri Vincent Tan is very happy with the incumbent management and the way the club is presently run.
"Tan Sri Vincent Tan sees clear potential for further growth and shall visit the club shortly to give further explanations of his vision."
Tan changed Cardiff City's home kit from blue to red in 2013 before changing it back to blue again in January.
But Belgium-based journalist Hermine Van Bayvren from VRT - Flanders public broadcasting, says supporters hope they will not be any strange changes for their club.
"It's a club that's not in debt so maybe that's is the reason Mr Tan wants to buy the club," she said.
"There will definitely be no changes in the colours of the club because they already play in red and white.
"They are happy with the investment but also maybe a little bit afraid because he is an eccentric owner and they don't want him to do anything weird with the club."