Ellan Vannin receive 'chance' to reach ConIFA World Cup
Last updated on .From the section Football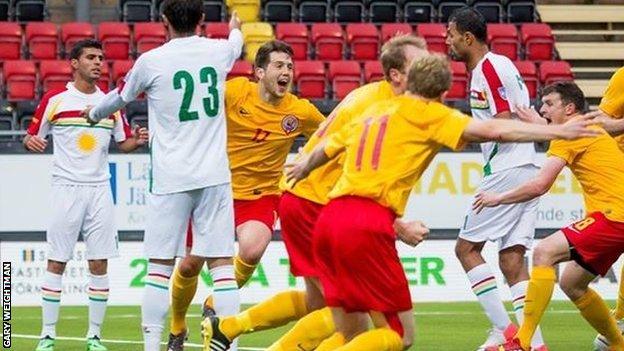 The winner of a new tournament to be hosted in the Isle of Man will qualify for next year's ConIFA World Cup.
The Ellan Vannin team will compete against teams from Hungary, India, and the Channel Islands at the end of May in a bid to reach the World Cup for nations and regions outside FIFA.
Last year the Manx side reached the final of the inaugural ConIFA World Cup in Sweden.
A team spokesman said it is a "golden chance" to qualify outside the Euros.
The team will also use the tournament to warm up for this summer's ConIFA European Cup.
Spokesman Gary Weightman said it is "fantastic" that ConIFA have sanctioned the tournament.
The matches will be held on 30 and 31 May at the Bowl in Douglas.