Premier League relegation: Hull will go down - Savage
Last updated on .From the section Football

In his regular BBC Sport column, Robbie Savage looks at how Hull City manager Steve Bruce will cope with his side's situation at the bottom of the table and the Tigers' prospects of climbing out of the relegation zone with two games to go.
Things look pretty grim for Hull City right now and one of the few positives for them is that they cannot go down this weekend.
Even if they lose to Tottenham, the Tigers are safe for now because Sunderland and Leicester play each other on Saturday and at least one of those teams could also still be relegated regardless of that result.
Probably the worst thing for Hull is that survival is no longer in their hands but I know manager Steve Bruce well from playing under him at Birmingham for three years and, despite the seriousness of their situation, he will be doing his best to keep the mood buoyant in training this week.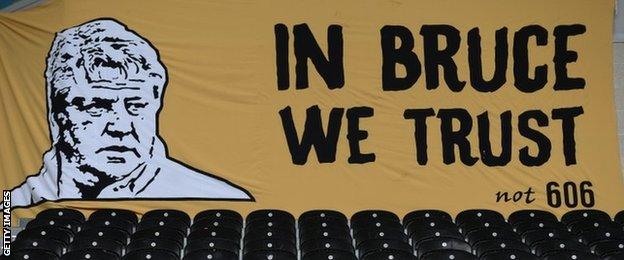 I don't think he will let the pressure get to him, and even if he does, he will not show it.
His problem is that the same cannot be said for his players.
Hull are currently two points adrift of safety and I think they need four points from their last two games to have any chance of staying up, but it is hard to see them getting anywhere near that.
It will be difficult enough for them to get the results they need at Spurs on Saturday and at home to Manchester United on the final day even if they play well.
But if they play as badly as they did in the second half of their defeat by Burnley last weekend then they have no chance whatsoever.
Did nerves affect Hull's players?
I have never heard Bruce talk about one of his teams the way he did after that game. It certainly never happened when we were together at Birmingham.
Bruce said he was "totally shocked" by how poorly Hull had performed. He felt his players had been nervous and edgy and had not been able to handle the expectation that they would beat Burnley.
Nerves never affected me when I played - I found it difficult to watch games because I could not influence them but I was happy as long as I was on the pitch and could make a difference.
But then again I was never in such a make-or-break situation at this stage of a relegation battle.

At Leicester, Birmingham, Blackburn and Derby, even if we had been struggling all season we were either safe by the end of April or already down long before then.
It looks like the situation got to the Hull players, despite Bruce's best efforts. They would have known that Burnley was a must-win game with two such tough opponents to come.
You have to think now that they have missed their chance of staying up.
Bruce the manager
Clubs:
Sheff Utd (1998-99), Huddersfield (1999-00), Wigan (2001), Crystal Palace (2001), Birmingham City (2001-07), Wigan (2007-09), Sunderland (2009-11), Hull City (2012-present)
Trophies:
0
Premier League promotions:
3 (2002, 2007, 2013)
Relegations:
1 (2006)
Highest PL finish:
10th (Birmingham 2003-04 and Sunderland 2010-11)
Furthest reached in FA Cup/League Cup:
Final (Hull in 2013-14 FA Cup)
Even if they nick a point at White Hart Lane, they end the season against United and Bruce's record against his old team is notoriously bad.
He is yet to beat them in 21 attempts as a manager and has lost 17 of those games.
Bruce does not mind being the underdog, and he will still believe he can win that game if he has to. The real question is whether his players will too.
What has gone wrong?
I did not see Hull's defeat to Burnley coming but then I did not expect them to be in any sort of relegation danger either.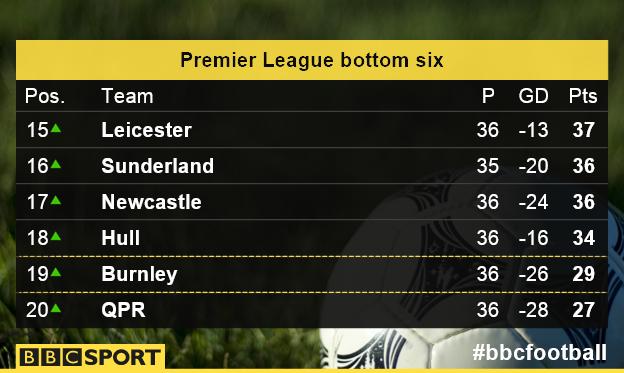 Their league form was poor at the end of last season but they reached the FA Cup final and I expected them to kick on, especially with the amount of money they spent in the summer.
Bruce has splashed out £42.6m, including Dame N'Doye who arrived in February, but he does not have much in the way of any improvement to show for it.
Only five teams have an inferior points-per-game record since January 2014 and all of them have been relegated either this season or last.
Premier League points per game since Jan 2014

Team

Games

Points

PPG

Hull City

55

48

0.87

Fulham

19

16

0.84

Burnley

36

29

0.81

QPR

36

27

0.75

Norwich

19

14

0.74

Cardiff

19

12

0.63
Midfield seems to be their problem area, and Bruce was unlucky because two of the players he bought to strengthen that department - Robert Snodgrass and Mohamed Diame - have missed most of the season with injury.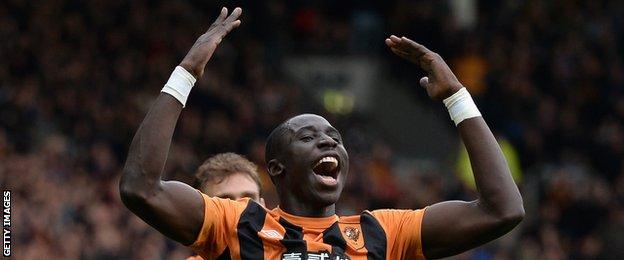 Diame has only made two substitute appearances totalling 46 minutes since 3 December, but he is still Hull's highest-scoring midfielder with four goals.
Tom Huddlestone was the team's driving force last season and people were talking about him getting an England call-up, but going forward he has not contributed anything like as much this time around.
Tom Huddlestone in the Premier League

Season

2013-14

2014-15

Games

36

29

Goals

3

0

Assists

2

2

Chances created

59

21
Alongside him, Jake Livermore has also struggled to repeat the form he showed when he was on loan last season, and when you add it all up you can see why Hull struggle to create chances, let alone score goals.
The Tigers are at their best when they play with a high-tempo, working hard in midfield and putting teams under pressure like they did when they gave Chelsea such a good game at the end of March.
But that has not happened regularly enough, which is why they have been around the relegation zone for most of the season and fell back into it last weekend.
Sadly for Bruce, that is where I think they will end it too.
Robbie Savage was speaking to BBC Sport's Chris Bevan.