Setanta Sports Cup postponed to 2016 as clubs fails to agree dates
Last updated on .From the section Football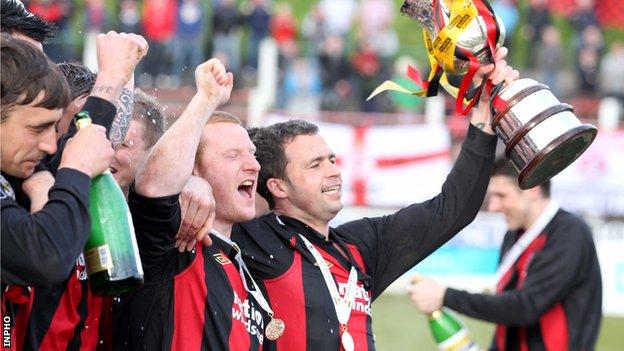 The Setanta Sports Cup will not take place in 2015 after clubs failed to agree on dates for this year's matches.
Irish League clubs had voiced concerns over potential midweek games in the cross-border competition against League of Ireland opposition.
The draw for the quarter-finals was postponed two weeks ago.
Chairman of the Setanta Sports Cup committee, Milo Corcoran, insisted the tournament still "has a lot to offer" and vowed it will return next year.
Irish Premiership sides Glenavon, Crusaders, Glentoran and Portadown were scheduled to face League of Ireland quartet Dundalk, St Patrick's Athletic, Cork City and Shamrock Rovers in the quarter-finals.
Corcoran explained the reasons behind the postponement.
"Over recent months, we have been trying to find dates that can work for the broadcaster, the IFA clubs and the FAI clubs.
"Unfortunately, despite the best of intentions, it has not been possible to do so, even if I felt we were close to achieving agreement with all of the clubs required at one stage.
"Despite the setback, it is my hope that with time over the coming year, we will find a solution in 2016."
Glentoran chairman Stephen Henderson had previously voiced concerns that the tournament could "disappear off the radar" if the 2015 competition did not go ahead.
"The fear is that the Setanta could be lost forever if it is postponed this year," he added.