Southend United: Peter Schmeichel inspires Bentley
Last updated on .From the section Southend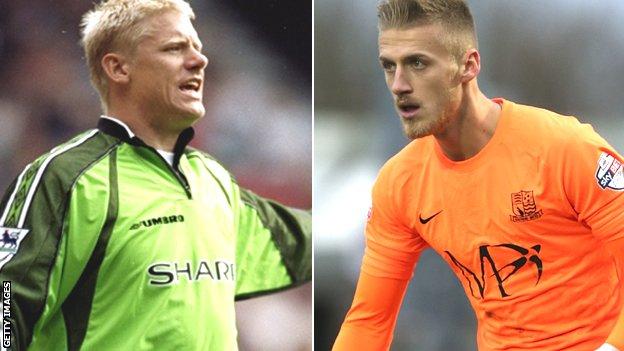 Without Manchester United legend Peter Schmeichel, Southend goalkeeper Daniel Bentley would not be one step away from playing in a Wembley final.
The 21-year-old has broken the club record with 12 consecutive home clean sheets, a run of form which has seen him named Football League Young Player of the Month for April.
And if he can extend that record to 13 in Thursday's League Two second-leg play-off semi-final against Stevenage, he will go a long way towards achieving that Wembley ambition.
At 10, Bentley was told by Arsenal academy coach Alex Welsh to make a choice between playing at left-back or in goal.
Having grown up with Schmeichel as his hero, the decision was not a difficult one. When manager Phil Brown took charge of Southend in 2013 he was also struck by his young goalkeeper's likeness to the Dane.
"I watched him on the training ground and everything about him was almost Schmeichel-esque," Brown told BBC Sport.
"You could see in his approach he wanted to be the best he could possibly be."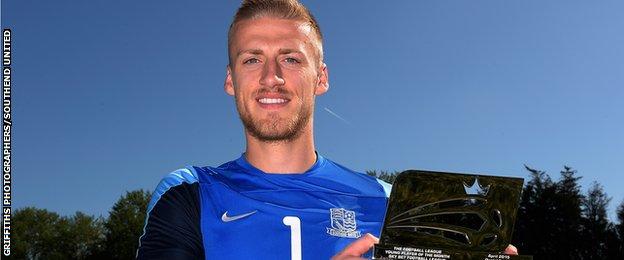 Luck played a part in Bentley's early progression, as a team-mate's holiday saw him grab the opportunity to put on the goalkeeping gloves during an under-11s match Welsh was scouting at.
After impressing between the sticks, he was given a six-week trial with the London club before being asked to make his choice of position.
"I loved Peter Schmeichel at the time and it almost became a no-brainer," he said.
"When I was in goal everything felt natural and like I was in the right place on the pitch."
Bentley's extraordinary record, which dates back to mid-November, earned him a place in the Professional Footballers' Association's League Two team of the year.
Yet, for such a young man, the Southend youth product remains incredibly humble about a landmark that previously dated back to 1981.
"It is an achievement that I will cherish for the rest of my life but I really cannot take credit alone for it," Bentley added.
"There were plenty of defenders in front of me who played a massive part in helping me get that record.
"If the record were to end against Stevenage but we still got through to Wembley, I would be ecstatic."
| Bentley's record-breaking clean sheets | |
| --- | --- |
| 15 November: Southend 1-0 Hartlepool | 29 November: Southend 2-0 Northampton |
| 19 December: Southend 0-0 Burton | 28 December: Southend 0-0 Dagenham |
| 10 January: Southend 0-0 Plymouth | 31 January: Southend 1-0 York |
| 10 February: Southend 2-0 Cheltenham | 21 March: Southend 0-0 Cambridge United |
| 03 April: Southend 2-0 Mansfield | 11 April: Southend 1-0 Tranmere |
| 14 April: Southend 2-0 Newport County | 25 April: Southend 1-0 Luton |
Having played only four matches for the Shrimpers, Bentley made headlines in January 2013 when then-manager Paul Sturrock brought him on as a 90th-minute substitute against Oxford United.
The Johnstone's Paint Trophy southern area semi-final was heading to penalties, and Bentley was viewed as a specialist spot-kick stopper.
After successfully saving Alfie Potter's penalty to send his side through to the regional final against Leyton Orient, Bentley was determined to not find himself pigeonholed.
"It was a gamble from the manager but it did work," the Wickford-born player said. "I went onto the pitch knowing that my job was to save them and I knew I could.
"But it was important for me to not just let myself be seen as a penalty specialist, I had to stamp my authority on the shirt and I have managed to do that over the last couple of seasons."
Brown's appointment as manager gave Bentley an opportunity to showcase his potential and when the ex-Hull manager started him in the first match of the 2013-14 season against Plymouth, the keeper kept his first of 19 league clean sheets that season.
He has kept 40 clean sheets in 110 appearances for Southend so far and his ambition to play in Premier League continues drives him forward.
"I have aspirations to play at the highest level," he said. "Coming from League Two at my age I am not going to go into a Premier League team and play straight away.
"For goalkeepers it is vitally important to play games and I have been able to build invaluable experience at Southend and I am very thankful and fortunate to get a chance here.
"The best way to achieve my dream for me would be to go through the leagues with Southend. It is a very romantic idea but sometimes opportunities come along that are too big to miss."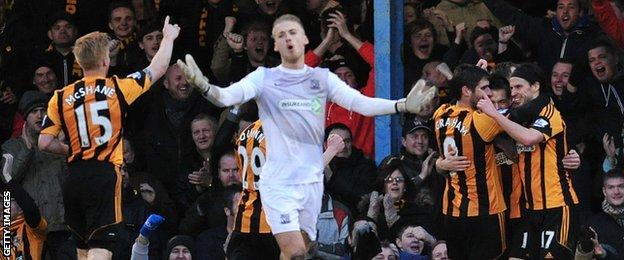 And Brown acknowledged that a player of his goalkeeper's ability and promise has the makings of achieving the high goals he has set for himself.
With Southend on the cusp of reaching League One after three years in the lowest division of the Football League, Brown believes Bentley can reach those heights with his local club.
"He has every tool that's required to be a goalkeeper in the Premier League, except experience," the 55-year-old explained.
"Dan is very selfish, motivated and driven to succeed himself but he also has that empathy and loyalty to this club and that's a skill-set in itself.
"He was born in Wickford, just down the road from the football club, and he wants his local team to succeed and to be at the helm of that."
Despite that lack of experience Bentley added that his long-term sights were on achieving the "ultimate honour" of playing for England.
He queried: "If you only set your sights so far how do you ever get any higher? I have always been a believer that if you do not aim for the top you will never get there."