Fifa: Tahiti FA chief Reynald Temarii banned for eight years
Last updated on .From the section Football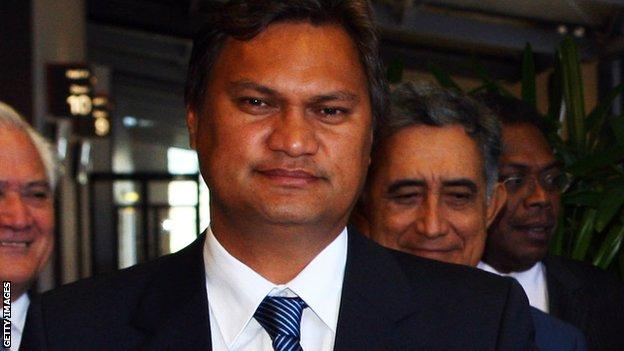 Former Fifa executive committee member Reynald Temarii has been banned from football for eight years for accepting money from former Asian Football Confederation chief Mohamed bin Hammam.
Temarii was found to have violated Fifa ethics codes relating to "conduct, loyalty, confidentiality, conflicts of interest and offering and accepting gifts", a Fifa statement read.
The head of the Tahiti FA accepted 305,000 euros (£220,000) from Bin Hammam in 2011 to cover costs arising from an appeal against an earlier ban.
That suspension, handed down in 2010, came after Temarii, along with fellow executive committee member Amos Adamu, offered to sell his vote in the bidding process for the 2018 World Cup to reporters from the Sunday Times.
Both men were stripped of the right to vote in the 2018 and 2022 hosting contests as a result.
Tahitian Temarii, who was also president of the Oceania Football Confederation at the time, lost his subsequent appeal and served a one-year ban, while Nigerian Adamu was suspended for three years.
Qatari Bin Hammam, another former Fifa executive committee member, was initially banned by world football's governing body for bribery before the 2011 presidential election, in which he was standing against incumbent Sepp Blatter.
Bin Hammam overturned that verdict only to be suspended following a review of AFC accounts by Fifa, which accused him of repeated violations of the ethics code during 2008-2011.